Listen To This!
Vancouver band, Fond of Tigers.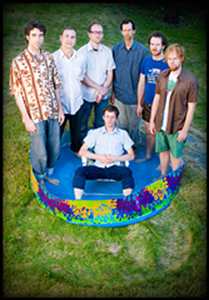 Orchestral, growling and rife with the anxious mathematics of technical jazz and space rock, Fond of Tigers unleashed their sprawling debut album, A Thing to Live With (Drip Audio), late last month. The Vancouver seven-piece ensemble proves that if this city has ever looked longingly at the musical collectives that seem to be born almost exclusively of Toronto or Montreal (see indie rock juggernaut Broken Social Scene and the lure of Torontopia), we don't need to any longer; we're growing an arsenal of talent in our own backyards, and have been for years.
While A Thing to Live With is the band's first collective release, many of its members have sharpened their teeth in other Vancouver groups, including keyboardist Morgan McDonald's work with The Buttless Chaps, trumpet player JP Carter in Great Aunt Ida, and drummer Skye Brooks in The Inhabitants, the generic diversity of which lends an aural texture to Fond of Tigers that is hard to put a finger on, but difficult to ignore for its uniqueness. (Buttless Chaps, Great Aunt Ida, and The Inhabitants draw from musical traditions rooted in alt-country, indie rock, and jazz, respectively).
A Thing to Live With opens with "The Suburbs are for Lovers," whose smart darkness contrasts with the wild, almost improvised sounds of tracks like "Elkore" and "Here You Are, Hated" later on in the album. The calculated tension leads to moments of frenetic release and creates a careful, insistent record that has all the dynamism of the Tigers' live performances.
Since A Thing to Live With was recorded live, free of the magic of layered drum effects or studio tricks, what you hear is what you get, and the sound carries a distinct pathos, joy, and nostalgia that translate directly to the band's live delivery. Music of this kind requires the full engagement and focus of its players, and from the looks of recent performances at the Vancouver International Jazz Festival and a CD release party last week, Fond of Tigers is, to put it lightly, fond of what they do. Their love of their craft carries them well past the slipstream of local rock star fame.
Listen to Fond of Tigers here.
Jackie Wong edits The Tyee's Music Pix and assists in editing Tyee Books.

comments powered by

Disqus