A Trail of Paper Hearts: Rediscovering Elliot Smith
Music for the week of June 2-9 by Quinn Omori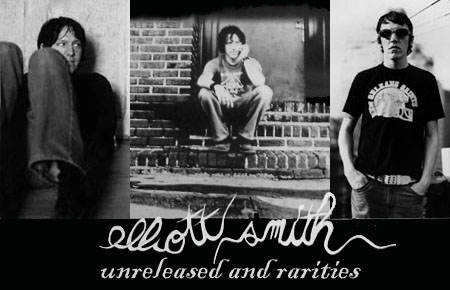 I can recall the passing of quite a number of musicians, since songs started to truly bury themselves into my consciousness, maybe 15 odd years ago. I remember where I was when 2Pac was shot. I remember putting on Guitar Romantic when 3/4ths of the Exploding Hearts died in a tragic car accident. And, of course, I remember when Kurt Cobain committed suicide. The thing about the latter though, is that I was only 12. I remember asking my mother if we could drive down to Seattle (she said 'no'), but I don't think it really affected me as much as it would have had I been a little older. When Elliott Smith committed suicide, however, I can remember exactly where I was (right here in front of my computer, in fact).
The news spread via the internet, starting as a series of anonymous rumours ("he plunged a knife into his heart?"). With the tortured nature of so much of Smith's songwriting in mind, the entire scenario came across like someone's sick idea of a joke. But by late evening on Tuesday, October 22nd, 2003, the rumours became headlines when SweetAdeline.net (Elliott's official website) confirmed that the singer-songwriter had indeed died the day before. It was the first time that I can remember feeling some sort of sadness about the death of someone that, other than through music, I didn't know at all.
This, however, is not an introduction to Elliott Smith. If you aren't already familiar with his hushed sounds and graceful songwriting, I strongly suggest acquiring a copy of Either/Or, and coming back to this article afterward. Elliott left behind a large amount of officially released material, especially considering his too-brief time on earth. So, if you're unfamiliar, there's a lot out there to discover at your local independent record store. What I want to highlight though, is the very large body of songs that sit as b-sides, soundtrack additions, or are otherwise unreleased.

Description:

There are two versions of "Miss Misery," neither of which is on a proper album, but it just might be Smith's most "famous" song. The full band version graces the Good Will Hunting soundtrack, and in some coup d'etat for good music, received an Oscar nomination for best song (it lost to Celine Dion). Conversely, there's a piano- only version that has thus far been relegated to unreleased status. Elliott's jump from indie label Kill Rock Stars to Dreamworks coincided with a fleshing out of his relatively lo-fi sound that was met with some criticism.

Personally, I was always a fan of both the more "intimate" earlier arrangements, as well as the orchestral flourishes that graced some of his later work. If there's anything to be said of the contrast between the complementary versions of "Miss Misery," it's that if it's good, it doesn't matter how you dress up a song.

Notes:
Description:

This was on a compilation that came with first issue of the zine, Yeti, but is my absolute favourite Elliott Smith song. Again speaking to the idea that excellent songwriting outshines sound any day of the week, the recording of "Angel in the Snow" is muddy and amateur sounding, featuring only two guitars and two Elliotts singing in tandem. A love song through in through, it also has some characteristic twists of insecurity. I know for a fact that this is one of Music Picks editrix Jackie Wong's favourite songs. How's that for a celebrity endorsement?

Notes:
Description:

Elliott's final album, From a Basement on the Hill, was released posthumously, after being sequenced by members of his family. Although Smith often spoke of it as a double album, the album's packaging contained a lone disc when it hit record store shelves. Demos from Basement started to surface, and it became clear that songs with certain themes (drugs, violence, etc.) had been left out of the record. It was an unfortunate decision, as it meant that many people would never get to hear songs like this. At the same time, considering the situation surrounding the completion of his final album, it was entirely understandable. Shortly before his passing there was news that Elliott was getting better.

He had kicked his addictions, and had exorcised many of the demons that drove him to depression. His suicide was a surprise to everyone close to him. So, in retrospect, it's easy to see how lines like "not just now when it's easy to stay clean, when no one sees when you're bleeding" may have hit far too close to home for his family.

Notes:

More unreleased Elliott Smith songs are available at SweetAdeline.net and ElliottSmithBSides.com.

There is also an Elliott Smith Memorial Fund that provides funding for the arts for abused children.
comments powered by

Disqus