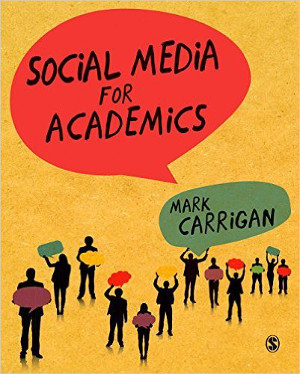 When it comes to social media gurus, I'm always reminded of the old adage: in the land of the blind, the one-eyed man is king. I've encountered many of these self-promoters in real life, as well as in print, and I've noticed that while they're skilled at exploiting the business world's discomfort with new media, they're not so good at managing it themselves.
Which is why I greeted Mark Carrigan's how-to guide, Social Media for Academics, with a raised eyebrow. The cover copy promised the worst: the book would teach academics how to publicize their work. Sure, I thought, because that's what we all want to see more of in social media: amateur marketing.
Personally, I rather like academics for having the courtesy to write long, think deeply, and stay out of Twitter. I was not happy to see someone encouraging them to do otherwise. In fact, I was warming up to send a snotty tweet to the book's author, until I actually read what he had to say.
That other old line about never judging a book by its cover? That one is true too. Despite the title, Carrigan isn't offering yet another one of those shallow how-to books full of dubious digital marketing tips. It's a genuinely valuable piece of research. And it's a good place for anyone in any line of work to begin if they're thinking about using social media for professional purposes.
When it comes to using social media, the problem for academics, professionals, and business people, as well as anyone who wants to gripe about their neighbours in Facebook, is that they are publishing. And it's an industry fraught with hazards. There are the legal ones of course. Did you libel someone? Are you infringing on copyright?
And then there are the social hazards. Did that tweet you intended as a joke enrage the internet? Or maybe they just hated your movie/article/photograph/blog/comment-at-a-conference... the list of things that might piss-off the Internet is endless. And the outrage can feel quite random to anyone not plugged into fast-changing social trends.
People who feel forced to swim in the social media streams often want to learn a foolproof way for promoting whatever it is they do, preferably before earning some nasty backlash for accidentally breaking social rules about which they knew nothing. Also, they don't want to look like fools.
It's a tall order. And it's a problem that industry can't even throw money at, since it's often the digital marketers – or tweet-monkeys as they're more commonly known – that make a business look venal, ignorant and/or ridiculous. Last week's failed coup in Turkey reminded me of Kenneth Cole's hilariously tone-deaf tweet attempting to promote the fashion brand in 2011 via the wave of protests that became known as the Arab Spring. "Millions are in an uproar in #Cairo. Rumour is they heard our new spring collection is now available online at..."
Was that tweet-monkey raised by wolves? People were challenging dictators and dying for it and the tweeter thought that joke was adorbs? (Is it any wonder marketing gets such a bad name?)
But therein lies the problem with all publishing and the reason everyone needs an editor: at some point you're going to say something that is better reserved for chatting with your cronies who love black humour.
Since social media are editor-free zones – which is why I suspect so many journos are reluctant to use Twitter, in particular – users all have to develop some internal editor that does a combination of things. The best posters I've seen have a good stage actor's sense of what pleases an audience, a journalist's awareness of who the audience is and what they want to know, a talented comic's sense of timing, an ad copywriter's pithy way with prose, and a political strategist's feel for when to introduce a controversial new idea.
In short, there is no fast-and-easy way to learn how to use social media for professional purposes. It involves developing a very particular kind of good judgment that isn't admired in every social circle – just the one in which you're operating. Which is why I'm always so suspicious of digital consultants and their half-baked ideas for addressing the problems of organizations negotiating the online world.
Prioritizing purpose, and your audience
But what makes Carrigan's book such a stand-out is that it will go a long way to educating that internal censor. He could have titled it Social Media for Every Business since the book offers a sophisticated discussion of the nature of social media, complete with a long list of books and articles to help readers understand its subtleties.
Carrigan is a sociologist who practices as a "digital sociologist" at the University of Warwick and he has spent much of his time on the way to his Ph.D. blogging and posting. He has a user's sense of how online publishing works in addition to a researcher's overview of what is happening in the field.
As he notes, writing a book on how to use social media is something of a fool's errand – the landscape is changing so fast that by the time the book is out, it's already dated. So he doesn't talk about the quirks of specific platforms. (Which is just as well, since during the time it took to get the book to print, Snapchat's audience has surpassed Twitter's.)
Instead, he compiled a book that will teach readers how to understand social media well enough to figure out how they can use it effectively, for their particular purpose.
"The real concern of this book is how existing scholarly activities (things like writing, publishing, networking and engaging) can be enhanced through social media and perhaps transformed in the process," Carrigan writes.
I would add that the book is also useful for anyone who wants to understand social media as a publishing phenomenon.
Although social media have been around for more than a dozen years – early entrants like Friendster launched in 2002, MySpace arrived in 2003, and Facebook followed in 2004 – many people still don't grasp that they are a synthesis of interpersonal communications and publishing, which is what makes them such a nightmare for professionals to negotiate.
Most kids stumble into social media because their friends use it, and because they're young, they use it primarily to create an identity, which is probably why so much social media advice focuses on "personal branding." But adults already have multiple identities and are serving a number of masters. So for anyone in the workforce, using social media is like living in a reality TV show as imagined by the movie, The Truman Show. You're dealing with both the real world actors in front of you, while playing to thousands of anonymous watchers.
Carrigan talks a great deal about how to manage the conflicting identities. He even notes that because he uses social media primarily for work-related posts, some of his personal pals declined to be his digital friends. And he questions a number of the myths being peddled about common social media practices, including things like "self-branding."
He brings an academic's questioning eye to subjects like social media "authenticity," a concept that has been pushed by the anti-privacy lobbyists and the tech companies, particularly Facebook. They argue that there's something wrong – "inauthentic" – about behaving differently in private than in public or withholding private information. A position that, not coincidentally, serves their data-collecting industry.
Most of all Carrigan advocates thinking about why you're using social media before you start. Make a list of the audiences you want to reach. Think about why you're taking a significant amount of time to post and chatter. What's in it for you? And what's in it for your audience? Be warned: if you're offering your audience nothing of value while posting endless self-promotion, it will backfire.
But perhaps the most valuable thing in Carrigan's book is the attitude that seems to inform the writing of it – the notion that the key to using social media well is seeing the various platforms as tools that should serve the users, not the other way around.
He's promoting something I rarely see in discussions of new media: independent thinking. Carrigan's book actually teaches people how to think-through what they, personally, are doing online and question its benefits. Inevitably, some people will realize there's little value for them in social media.
Which means seasoned social media users will find his book almost as useful as the novices. And if I had my way, it would be mandatory reading in all those quickie courses on how you, too, can be a social media guru.
© Shannon Rupp. For permission to reprint this article please contact the author: shannon(at)shannonrupp.com.