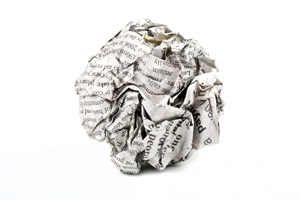 Outsiders Still: Why Women Journalists Love, and Leave, Their Newspaper Careers
Vivian Smith
University of Toronto Press (2015)
Before that small army of young women heads off to fill the majority of seats at Canada's dozens of journalism programs, someone might want to give them a warning via the book Outsiders Still: Why Women Journalists Love, and Leave, their Newspaper Careers.
Not only will reporter-wannabes learn that they're training for a collapsing industry, they'll discover that men will fill most of the jobs that remain. Sadly for the women who dominate journalism schools, men have long been hired in newspapers at a rate of 2-1.
For journalism students who want to know these disturbing facts, author Vivian Smith has collected the stories of 27 female journalists, ranging in age from 25 to 61. She breaks her subjects into three groups: the over-50s, the under-30s, and those in between, and looks for common threads in their anecdotes to weave into a meaningful tapestry called narrative analysis.
Smith sets the tone for the book with an introduction recalling her own experience working the national desk in the Globe and Mail's Toronto newsroom in 1987. She was eight months pregnant when the newspaper's publisher, Roy Megarry, eyed her swollen midsection and greeted her with, ''Are you still here?''
It was clear even to Smith he was joking. ''But with that,'' she writes, ''the end of my newsroom career began.''
Some of Smith's informants tell similar tales about the ways in which they're not quite comfortable in newsrooms. But for every tale of a sexist editor, there is a matching tale of a decent one. Smith chose her sources from five regional dailies -- the Victoria Times-Colonist, the Calgary Herald, the Winnipeg Free Press, the Hamilton Spectator and the Halifax Chronicle Herald. Unfortunately, we don't get to hear from women who worked in Canada's biggest daily, the Toronto Star, or from those who work in the national dailies.
Many of the concerns Smith records seem generic. Like every woman in a demanding professional gig, these women stress over meeting their work commitments while struggling to pick up children from daycare on time. There's much discussion of the glass ceiling in newspapers, but judging by the endless media chatter about it, this seems like a society-wide problem.
Some interviews complain about the employer's indifference to work/life balance but most recognize that unpredictable hours go with newsgathering. As one young city editor puts it, ''You can't schedule the news.''
Although I don't think this was Smith's intention, newsrooms emerge as relatively progressive places, albeit homes of the overworked and underpaid. The Calgary Herald, for example, has had an on-site day care ''forever.'' (One of the limitations of ''narrative analysis'' is that it tends to be short on details, so we don't learn how long the company has been doing this.)
In another narrative, Elissa Barnard, a Halifax Chronicle Herald arts writer in the over-50 group, recalls the stress of being a critic with a baby. She returned home to write a review (due by midnight) only to be greeted with a hungry infant. Forced to choose between a screaming baby and a yelling editor, she (wisely) opted to meet the demands of the former.
The result? Her editor -- who also happened to be the baby's godfather -- was understanding. The review ran a day late. No harm, no foul.
'What the hell am I doing this for?'
Where this book seems like a cautionary tale for the hordes of young, female journalism students is in its glimpse of the work itself. It's astounding just how boring newspapering jobs seem to have become. Take away the deadline that keeps their adrenaline pumping, and these writers are talking about the dull business of documenting bureaucracies and promoting good causes. For some, the highlight of their news reporting careers will be the city hall beat in a small city. Meanwhile, over in the soft news sections, they get to write about the annual run for cancer or some other dull-and-worthy thing.
That's perfectly pleasant work, of course. And it's a good job, as long as it comes with union salaries and protections. But why would anyone sacrifice anything for something so unsatisfying, let alone spend tens of thousands of dollars getting an over-priced degree that leads to an underpaid job?
That's the real question raised in interviews with the youngest cohort who are far less concerned with gender issues than the question of whether they'll even have a newspaper job.
As the Hamilton Spectator's Emma Reilly notes, you just can't think too hard about the state of the industry -- which emerges in the interviews as precarious, poorly paid, and thankless -- or it becomes impossible to do the job.
''You think, 'What the hell am I doing this for? I'm working so hard and I get nothing,''' Reilly says.
The sense that the work is pointless, partly because so few people are reading it, is the subtext of many of these interviews. Some of these women went into journalism hoping to change the world, and they mourn that readers often ignore stories about social issues. Meanwhile, they're also frustrated that editors prefer hard news -- factual stories about politics and democratic institutions, including the courts and crime.
Smith's questions about how gender shapes news coverage leads to responses that sound like an unconscious echo of newsrooms of the past. Going back to the Victorians, newspapers have always hired ''girl newspapermen'' to get ''the woman's angle'' as if all women think alike.
But there were some refreshing answers. The Calgary Herald's Jen Gerson, a general assignment reporter in the youngest cohort, resists Smith's premise that gender dictates everything. Gerson tells Smith she has no sociopolitical agenda and she didn't go into journalism to change the world. For her, journalism's appeal is that it is never boring. She takes joy in interviewing people and figuring things out.
''I just love doing the daily gruntwork,'' Gerson says. ''And whether or not it makes an impact or a change in anything is beyond my ability to control.''
Gerson is also alert to the changing technology. So she has taken it upon herself to learn the tech skills she thinks are necessary though her employer (like all old media) is lagging behind. As a result, the self-taught videographer is now training her older colleagues.
Mainly for insiders
In many ways, Outsiders Still is a book for insiders. It requires readers know something about journalism culture and newspaper history to make sense of some of what these women are saying.
The book's other limitation is that ''narrative analysis'' is long on perceptions and short on details. Relatively little is written about Canadian journalism history and there's even less about women's place in it, so I would have appreciated more facts and figures.
I would have also appreciated more follow-up questions in some of the interviews. For example, Smith notes that Licia Corbella, a senior editor and columnist at the Calgary Herald, has ''a bit of the messiah in her.'' She quotes Corbella discussing how she prefers to remain a columnist rather than shoot for becoming the editor-in-chief or a publisher because she prefers to ''help shape where society goes.''
Oh, how I wish Smith had probed Corbella's messianic urges. When she was hired at the Calgary Sun more than a decade ago, a magazine published by the Billy Graham Crusade interviewed Corbella, a fundamentalist Christian.
''I know God has enriched my life so much…,'' Corbella is quoted as saying. ''He's used me to proclaim the Gospel in a newspaper that reaches 400,000 people a week.''
The joke among journalists was, ''Hmmm… isn't that a conflict of interest?'' But it also speaks to the newspaper industry's high tolerance for eccentrics. Still. Even in the era of corporate concentration homogenizing news outlets. In another field, Corbella might have been shunned as a zealot. But her presence on the Herald's editorial board tells us that's a newsroom where there is still a genuine commitment to freedom of speech and a range of ideas.
And for future journalism historians, I'm sorry that fact isn't documented in a book.
Then again, I also think it's churlish to review any book for what it isn't.
It's fair to say Smith answers the question that kicks off her book. ''…I never stopped asking myself what daily print journalism, and by extension, the sociopolitical agenda in Canada, was losing by so many women's voices going unheard on the pages of daily newspapers.'' And she provides a useful snapshot of some women's experiences in this period of media upheaval.
But there's an underlying message in this book that I'm not sure Smith intended when she was writing it a few years ago. It tells women who would-be journalists that things are getting worse in what remains of the industry. In short: they should run, run screaming.
So I suggest you give it as a gift to a journalism student near you, just in case the J-school forgets to put it on her reading list. It may well be the most valuable thing she learns all year.
© Shannon Rupp. For permission to reprint this article please contact the author: shannon(at)shannonrupp.com.