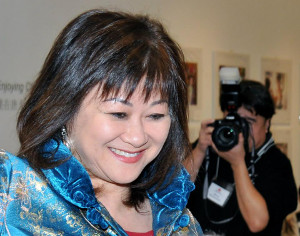 According to Conservative MP Wai Young, she won't be reading this story.
Young was the target of a good deal of social media mockery this week, after audio of a speech made at a Vancouver church in late June revealed her comparing her party's actions to that of Jesus Christ, among other statements (including one about the 1985 Air India bombing she later recanted).
The public derision was considerable for the MP as she rounds out her first term, but she may not have noticed -- because Young also told the congregation she doesn't read newspapers.
"I wanted to say to you I do not read the newspapers anymore, because most of the facts in there are not factual," Young said. "I have personally experienced and seen in the last four years in Ottawa that journalists all think they're columnists."
Her remarks echoed those of Conservative Party of Canada communications staffer and former VP of Sun News, Kory Teneycke last month.
Teneycke himself would have been behind the scenes at the now defunct right-wing news station when it was accused of fabrication a few times, such as when it held a fake citizenship ceremony for broadcast. The network recruited six bureaucrats to play the role of "new Canadians" for the stunt.
And Teneycke seems to think such actions are standard procedure across the industry.
Just weeks ago Teneycke told Global reporter Tom Clark that his party's controversial ads are better than news because they are "truthful."
So, at least some of the Conservatives say they aren't watching or believing the news, because it's making up nasty stories about Conservatives and their policies. But their actions tell another story.
Media bashing 101
When something the party doesn't agree with is printed, Tories have been quick to react -- sometimes attacking reporters and columnists personally.
The party has sent several fundraising letters complaining about their media coverage and the "Ottawa elite" press gallery.
One February fundraising pitch took aim at Toronto Star columnist Heather Mallick for a piece slamming the government's mission against ISIS as driven by Stephen Harper's ego.
"It's a despicable piece of writing," reads the letter attributed to political operations director Fred DeLorey. "And it's just further proof the media elites are looking for any opportunity to attack the Prime Minister and our Conservative government -- even while we work hard to protect Canadians from the threat of terrorism."
The letter goes on to say the Ottawa media elite are trying to turn Canadians against the Conservatives before asking for 15 bucks.
University of Toronto political science professor Nelson Wiseman said the Tories' attacks on the media are an attempt to maintain credibility with their supporters.
"The media, in their opinion, doesn't report the facts the way they'd like them reported," Wiseman said. "There are an infinite number of facts that can be reported, and people feel that the specific facts that one selects reflects a bias."
Wiseman said the Conservatives are also playing to sentiments held towards reporters by some people.
He said surveys show the public's trust in journalists has gone down over time, which makes them a target for political points.
"It's certainly not as low as it is for politicians or used car salesmen, but it isn't what it once was," he said. "And that means there's a certain audience for that."
But Wiseman also pointed out the Liberal Party played the media persecution card near the end of its last term as government.
Lydia Miljan, an associate professor of political science at the University of Windsor, said it comes down to a clash of cultures.
Miljan said in studies she's done, journalists tend to personally support left-wing parties like the NDP which means they approach issues from a different starting point than the Conservatives.
"There is a difference of opinion, and I think that the mainstream media do tend to look at the world somewhat differently than conservatives," she said. "So when conservatives are attacking the media, they're basically saying, 'They're not giving us a fair hearing.'"
She said many in the Conservative Party really do believe the media is against them and are also thin-skinned, which adds to the animosity.
Untruthful, yet fit for ads
Despite the belief by Young and Teneycke that news doesn't contain facts, last autumn the Conservatives were hell bent on passing legislation that would have allowed them to use news reports in campaign advertisements.
Leaked documents showed the Conservatives were cooking up legislation that would have enabled them to use copyrighted material from news outlets in partisan ads without getting permission or paying the owners of the material.
Some argued such a law would infringe on the constitution, and at the time law professor Errol Mendes told The Tyee he would offer his services for free to any news organizations wanting to fight it if passed.
"[They're] just like any other organization, but here's the problem; [politicians] are the only entity which can pass laws and can say, 'We're protected by the law,'" he said. "It's an abuse of their democratic power."
In the end, the Conservatives bowed to pressure and stopped the legislation.
Have I got a story for you!
Nor does disbelief in the media's usefulness prevent the Conservative party from slipping reporters the odd story -- or an email that becomes an odd story.
That's what happened in 2013, when PMO communications officer Erica Meekes sent an unsolicited email to the Barrie Advance full of information meant to embarrass Liberal leader Justin Trudeau.
In 2007, Trudeau made a speech in Barrie that ended in a deficit that couldn't be balanced for the event host, Georgian College, while Trudeau made money.
Event posters and a hotel receipt were included in the materials sent by Meekes and her email insisted the paper say it received the package from "a source."
It all blew up when the Advance said "Nuts to that!" and ran the story with a focus on how the PMO had sent them an unsolicited story idea.
Meekes' described her actions as typical media outreach done by the office.
With so much of the CPC's "typical" press outreach ranging from hostility and snubbing to opportunistic political positioning, it's easy to agree.
In fact, the country may be a more serene place if they actually didn't read the papers.