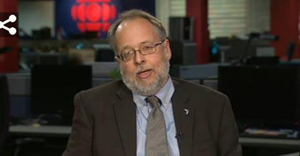 The Harper government will seek a second majority in an election sometime next year, and has signalled it will run on its economic priorities -- none higher than subsidizing and promoting the oilsands.
On Sunday evening CBC viewers were treated to a fascinating preview of the election conversation Canada needs to have, as Tyee contributing editor Andrew Nikiforuk, drawing on Tyee reporting, played a key role.
Nikiforuk appeared on CBC's The National politics panel discussing the plummet in oil prices and whether the Conservatives have bet Canada's future too heavily on petro-development. The much decorated journalist repeated points he's made in recent years on the Tyee -- that oil, and especially bitumen, is a highly risky commodity to base a national economy upon, given its price volatility, detriments to currency value and other sectors of the economy, and power to distort democracy.
He called for a long overdue national "adult discussion" on the pace and scale of petro-development and how to spend, or save, the revenues.
Watch the panel discussion here.
And find all of Andrew Nikiforuk's stellar coverage of energy and the economy for The Tyee here.
Rich and responsible: Norway's lessons
The CBC pegged the segment to the starkly contrasting success of oil-rich Norway -- another story the Tyee has covered in depth ahead of other media.
In summer 2012, Tyee contributing editor Mitch Anderson visited Norway to learn how the country parlayed its North Sea reserves into a now trillion-dollar reserve, securing financial sustainability for this and future generations of Norwegians. What has Norway done that might serve as a lesson for debt-ridden Alberta, and Canada under Harper?
You can read (and share) Anderson's nine-part series here.
A more recent article by Anderson noted that "Canada is one of the cheapest places in the world for Big Oil to do business," earning one-fifth the revenues on each barrel of oil equivalent that Norway does.
During Sunday night's discussion, Tim MacMillan, head of the Canadian Association of Petroleum Producers, waved away the Norwegian example. He said "comparing any one reserve to another is not always going to be accurate." But what if two nations pulled from the same reserve with starkly contrasting results? Norway doesn't mine oilsands, but it does provide a perfect case study because it and the United Kingdom began extracting the same North Sea oil reserves at the same time.
Under Margaret Thatcher, the U.K. took a much more Canadian approach than did Norway.
As Anderson noted in March of this year, Norway struck a far tougher deal with foreign oil firms while establishing its own state-owned oil corporation, while Thatcher sold off the U.K.'s oil industry, negotiated far lower royalties, and left investment decisions solely to the global marketplace. Result?
Norway has that $1 trillion in the bank and "enjoys fully funded social programs that most of us can only dream of. Meanwhile the U.K. is enduring another round of wrenching austerity and owes over £1.3 trillion -- about US$2.2 trillion. That massive debt grows by about $3.8 billion each week, while every seven days Norway adds another $1 billion to its bank account."
As Sunday's CBC panel segment drew to a close, Andrew Nikiforuk summed up:
"I think the low oil prices might encourage, let's hope, a national debate. We need a national debate about the pace and scale of this resource and what we are doing with the money and how we are going to address the liabilities such as climate change. You know, the Norwegians had this conversation and they came up with a very credible, very responsible and highly conservative solution, which was go slow and save the money."
Part of that conversation, too, should be whether Canada is being left behind in the global clean energy economy, and whether we should be investing more of our petro-wealth into developing that sector. That's just the subject Tyee and Tyee Solutions Society reporter Geoff Dembicki has been covering now for several years. Find his work here.
Most of our major media rely on big advertising dollars from oil companies.
Will Canada have the national conversation that Andrew Nikiforuk so eloquently called for Sunday evening?
Thanks to many of you, our reader supporters we call Tyee Builders, we are able to continue to provide the reporting and analysis needed to fully inform that discussion.
You can find out more about the Builders program by clicking here.
And you can follow all Tyee reporting about energy by clicking here.