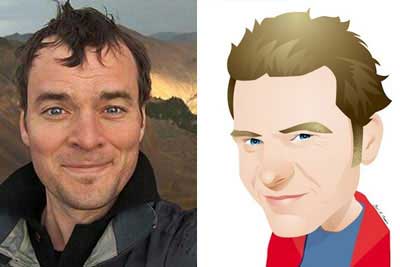 You've heard it said that every picture tells a story. Update that. Every cluster of data points tells a story -- and the person who can extract those stories and present them compellingly is suddenly in high demand.
Journalists now see this. As do marketers, activists, political analysts -- anyone in the business of reading data, sharing it and making sense of it for others.
But the field is evolving so fast that learning the latest techniques isn't easy. Until now. The Tyee is partnering with Langara College Continuing Studies to present on June 7 and 8 a two day bootcamp called Storytelling with Maps & Visualization.
The instructors are two of Canada's leading digital data practitioners, Hugh Stimson and Phillip Smith, each of whom has done top work for The Tyee and numerous other clients.
Smith and Stimson are increasingly sought after (in just the past few months they've conducted seminars in Caracas and New York City) because they are leaders in a fast expanding employment area. For example, what used to seem a geeky enterprise on the periphery of the newsroom is now driving the next generation of journalism, says Smith.
"The New York Times, ESPN, the Daily Mirror U.K., and many other major-name publishers have made big investments into telling stories with data. Their investments in 'data journalism' and 'explainer journalism' are starting to set the standard for what is expected by audiences when it comes to online storytelling.
"Over the last few years," he adds, "we've seen that data combined with a human story can produce award-winning journalism that impacts people's lives -- that's what Hugh and I are going to show participants in this data bootcamp."
But this course is hardly just for journalists. As the website says, this data-focused class is also for "activists, non-profits, social entrepreneurs and anyone with a story to tell."
So you don't need to be a code monkey to fit in. But do come prepared with a project in mind and ideally a data set or two.
"This is part workshop, part hack-a-thon, and 100 per cent hands-on: all participants will be expected to (with help from the instructors) complete and present a project at the end of the second day."
'The tools have exploded'
As the class website further explains, "you'll learn both the technical aspects of data cleaning and manipulation, as well as the more nuanced ways to effectively explore, investigate, map and visualize your data. Equipped with the latest software and the direct instruction and feedback from geoinformatics expert Hugh Stimson and The Tyee's own data wizard, Phillip Smith, you'll enter this intensive workshop with a messy data set and finish with a solid presentation of your intended project.
"Hands-on training will be provided for a range of data mapping and visualization software, including CartoDB, QGIS, Fusion Tables, OpenRefine and more."
If some of those names are new to you, that's to be expected. As Smith says, "The tools for collecting and presenting data online have exploded. There are now several free and commercial offerings for just about any part of the data production process.
"Scraping data from websites or PDFs, cleaning and de-duping data, putting data on a map, or exploring data visually -- it's all there now, and there are many options to choose from. Our workshop will help participants pick the right tool for the job."
Don't delay enrolling
The last time Stimson and Smith taught a Tyee Master Class it was sold out, so don't delay in enrolling. Unlike other Tyee Master Classes, this we are pleased to be offering with Langara College Continuing Studies. They are handling registration and will be happy to help you through their process. To register, call 604-323-5322 and request CRN 60643 Course CONF 1003: Tyee Master Class. If you have any specific questions, please call our Langara liaison Judi Piggott at 604-323-5931 or email her at jpiggott@langara.bc.ca.
If two days seems a bit of a time commitment, be assured that Stimson and Smith have designed their class to be streamlined and efficient. You'll pack a week's worth into a much shorter time.
Hugh Stimson is a mapmaker and data herder who helps values-based organizations with analysis and communications. Hugh has taught Geographic Information Systems to students and professionals at the University of California, the University of Michigan and the Smithsonian Institution, where he worked and studied in GIS, ecology and complex systems analysis.
Hugh currently runs a consultancy in Vancouver's Chinatown. Right now he's helping Georgia Strait Alliance and Raincoast Conservation Foundation map simulated oil spills in the Salish Sea, he earlier built a map of provincial carbon sinks and sources for the Tyee Solutions Society, and he assesses species, habitat and ecosystem services for groups like the David Suzuki Foundation, the Canadian Wildlife Service and the B.C. Forest Practices Board.
Phillip Smith is a veteran digital publishing consultant. For almost two decades he has provided expert advice and hands-on help to innovative and progressive organizations around the globe. Phillip is also a data journalism trainer, regularly delivering group and one-on-one trainings to professional journalists to assist with data-driven reporting projects.
Phillip's current focus is the field of "news innovation": the rapidly changing technologies and ideas that are shaping how users interact with journalism online. Over the last ten years, he has worked with daily online news operations, weekly and monthly news magazines, and forward-thinking book publishers, for example High Country News, Global News, Grist.org, Mother Jones, New Internationalist, OR Books, Rabble, as well as The Tyee.
Earlier in his career, Phillip developed software, online fundraising initiatives and advocacy campaigns for a number of leading-edge social-change organizations, including Amnesty International, Greenpeace, International Freedom of Expression Exchange, Make Poverty History, and the National Peace Corps Association. In 2008, he was the CTO for Ralph Nader's third presidential campaign, which raised more than a million dollars and got on the ballot in 49 states.
If you've concluded two days with these pros is what you need to get to the next level in digital mapping and storytelling, don't hesitate to enrol. Here is how.