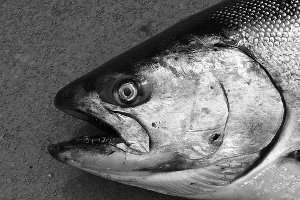 Would you eat fish from Japan? Nearly two years after a devastating earthquake and tsunami in Japan killed more than 15,000 people and damaged the Fukushima Daiichi nuclear plant, some people still believe dangerously contaminated fish could reach Canadians' dinner tables.
The debate should be well over in the view of the person entrusted with overseeing public health in British Columbia: public health officer Dr. Perry Kendall. Time and again Kendall has tried to explain that there is, to quote the headline on one of his press releases, "Nothing to fear from radiation in B.C."
Yet The Tyee has learned that Kendall became so concerned about calming the public fears that he considered unfounded that he urged the Department of Fisheries and Oceans to carry out a special round of testing as a "vital communications initiative."
Last December, Kendall's office said that such testing was no longer necessary because Ottawa had taken new safety measures. But then last month it appeared to reverse itself a second time, telling The Tyee that, due to "continuing misinformation on the internet," it would ask Ottawa yet again to conduct new fish testing in 2013.
One widely read publication has repeatedly told a different story about risk and contamination of fish by Fukushima's reactors. Vancouver weekly newspaper the Georgia Straight published several long feature stories on the radiation subject by award-winning journalist Alex Roslin, two with cover paintings of deformed three-eyed fish, with headlines such as "Japan's Fukushima Catastrophe Brings Big Radiation Spikes to B.C." and "What are Officials Hiding about Fukushima?"
Given what is at stake, this is no small difference of opinion. Is B.C.'s senior medical health officer wrong in assuring us that Fukushima radiation poses no risk for British Columbians? Or has the public been misled by reports that the threat is being ignored?
Fukushima's fright
The March 11, 2011, earthquake that struck Japan caused a series of equipment failures, nuclear meltdowns, and releases of radioactive materials at the Fukushima I Nuclear Power Plant. It was the largest nuclear accident since the Chernobyl disaster in 1986 and only the second one (along with Chernobyl) to measure Level 7 on the International Nuclear Event Scale.
The nightmarish disaster in Fukushima inevitably raised questions about possible impacts on British Columbia's population, air, water, and fishing industry.
After the crisis, pharmacies and military surplus stores in B.C. said people scrambled to buy medication for radiation exposure and supplies like Geiger counters and gas masks, despite Kendall's warnings that taking the medication (mainly potassium iodide) in the absence of high radioactivity can be harmful.
Such fears were bolstered by some of the media, Kendall told The Tyee. For example, he said key claims in the Georgia Straight stories were scientific "nonsense."
Kendall's deputy Dr. Eric Young said, "There is so much miscalculation and misunderstanding evident in the articles it is hard to know where to begin."
The Georgia Straight has since retracted some of its reporting about radiation threats. At the top of its Aug. 3, 2011 story headlined "Japan's Fukushima Catastrophe Brings Big Radiation Spikes to B.C." is appended this note: "Editor: This story has rectified information on how levels of radioactive iodine-131 detected in the air in Canada after Fukushima compared with the Canadian Nuclear Safety Commission's ceiling for iodine-131. The original story mistakenly said that ceiling was exceeded. We regret the error."
However Roslin, the author of the stories, defends the overall thrust of his pieces, providing The Tyee with lengthy rebuttals to critics, which are in this pdf. He writes that "any amount of radiation is unsafe and dangerous," and, of Kendall's agency, "I got the impression its overriding priority after Fukushima was to reassure the public — more than to monitor possible problems."
Kendall decries 'cherry picking data'
Expectant parents in Vancouver reading the Aug. 3, 2011 edition of the Straight could have been unsettled to learn "some impacts" from Fukushima "may have already occurred in North America" because infant mortality in eight cities in the U.S. Northwest jumped 35 per cent after the disaster, according to a website called Counterpunch which quoted data from the U.S. Centers for Disease Control.
Kendall replied that: "This has clearly been demonstrated to be a case of cherry picking statistically expected variations from the norm, has no biologically plausible causal link, and does not reflect any link to measured radiation in the atmosphere.... This analysis had been widely debunked by multiple sources within days of its first appearance."
When reporting on a test of Japanese fish catches last June, the Straight said: "All of these catches exceed Japan's 100 Bq/kg ceiling for cesium in food, but none would have surpassed Canada's much higher ceiling, which is 1,000 Bq/kg."
Kendall replied that: "The Japanese are now using an action level for radioactivity in food that is one tenth of the international, Codex Alimentarius level (100 vs 1000 Bq/Kg). They have done this to reassure consumers and customers of their diligence and their product safety. To turn this around and talk about the percentage of samples exceeding the Japanese action level, as being proof of dangerous levels, is disingenuous at best."
Another story in the magazine said that, "Some migratory B.C. salmon stray into Japanese waters or could traverse a vast mass of radioactive water — now slowly making its way eastward across the Pacific — which is expected to reach the North American west coast by 2017." Kendall replied that the notion of a mass of radioactivity crossing the Pacific and hitting the North American west coast at some point in the future is absurd, because radioactive isotopes would not hang together in a pool any more than a puddle of dye would.
Others doubt the likelihood of the last scenario too. "I've talked to lots of fishermen and the issue of radiation never came up," said Maurice Cardinal, business development director of the B.C. Salmon Marketing Council. The salmon that B.C. fishermen do catch come down the coast from Russian by way of Alaska, he added. The longest salmon trip is roughly 8,000 kilometers total and "it would be a stretch to think they would ever go near Japan."
Kendall's plea to feds
Last June, in yet another attempt to allay public concerns, B.C.'s provincial health officer privately asked federal officials to test migrating salmon and tuna for possible radiation after the quake. But the federal government declined his request, calling it unnecessary because very little radiation had been found in fish reaching Canada to date and many other kinds of monitoring were ongoing.
In making his plea, Kendall wrote to Robin Brown at the federal fisheries department's institute in Sidney, B.C., on June 4, 2012. (The letter was obtained by The Tyee through the freedom of information law.)
"We would not send same letter today," deputy provincial health officer Eric Young told The Tyee last December. "We are happy with their response, and much more reassured then we were at that time."
Among the many reasons, Young said at that time, is that Washington State monitors salmon (posting the results online) and all have been found safe so far, and his office is also part of a joint provincial-federal-American scientific fish-monitoring group that meets each month.
But last month, Young's office appeared to reverse itself a second time, telling The Tyee that, due to "continuing misinformation on the internet," it would yet again ask that new fish testing be done later in 2013. "The reason for that is the continuing misinformation about risk that one finds on the internet related to possible contamination," he said.
Kendall's letter sent last June might appear to some more driven by the need for public reassurance than by scientific necessity.
He began by writing that British Columbians were worried about decisions by the Canadian Food Inspection Agency (CFIA) and the Department of Fisheries and Oceans (DFO) to not do any more testing of Pacific salmon or other migratory fish that return to B.C. waters.
"There remains great public concern about the potential for radiation contamination in these fish species because of the emergency at the Fukushima Diiachi nuclear power plant in Japan," wrote Kendall. He cited a dozen messages from citizens, First Nations communities, and repeated articles in local newspapers about a perceived risk.
He added that he was aware that scientific data showed very low levels of radiation in the marine environment and that DFO and CFIA testing in summer 2011 had revealed no concerns. Yet new reports of tuna off the coast of California with slightly elevated cesium levels were rekindling local public worries.
"Given this level of concern and potential disastrous impact on the industry, we are officially requesting that CFIA and DFO revisit their decision to not test salmon or tuna returning to British Columbia shores this coming season," urged Kendall.
"While it is unlikely that we will detect radiation levels that are of concern it is critical that we can say with confidence that we are monitoring the safety of this important fish source ... We are prepared to be supportive partners in this vital communications initiative."
A response letter was sent to Kendall, signed by three officials Brian Evans, chief safety food officer of the CFIA; Paul Gully, senior medical advisor of Health Canada; and David Butler-Jones, chief public health officer of the Public Health Agency of Canada. They assured Kendall that Ottawa had already taken many measures to protect the B.C. food supply from Japanese radiation.
For instance, in August 2011 and February 2012, the CFIA tested domestic migratory fish for radionuclides and all were found safe. Domestic milk and fish samples collected in B.C. three months after the quake were tested with the same result. Moreover, the CFIA, Canada Border Services Agency and others had stepped up import controls on Japanese products. The design of Health Canada's surveillance program called the Total Diet Study was amended last year to be conducted in Vancouver for both imported and domestic foods.
[Click here to see Powerpoint: "March15-2012-Radiological testing of air and water in BC after Fukushima."]
'Leave it to the scientists'
"I believe the science put in front of me," said New Westminster NDP MP Fin Donnelly, the party's fisheries critic. "I am not convinced now there is any radiation risk, but I remain open to any new evidence. I'd like to leave it to the scientists, who know more than the politicians.
"But I would add that so many cuts have been made to DFO and CFIA and other departments that it may be tougher for them to do the kind of testing that's needed to really make sure Canadians are safe."
The Tyee was unable to interview any Health Canada scientists employed by the Canadian government, due to the Harper government's tight restrictions on who can speak to the media. (A report was released last February to protest this policy. In fact, some American scientists told The Tyee they are pleased to speak freely because their press policy "is not like what you have in Canada.")
"On the basis of available information to date from CFIA, U.S. agencies and private testing, the CFIA approach is sound," Christina Burridge, executive director of the B.C. Seafood Alliance, told The Tyee about the current state of fish testing. "I am confident that if that information changes so would the CFIA approach."
If Donnelly is looking for other sources with their own testing and measures of risk, he could listen to several American scientists.
Can fish test results from Washington or Alaska apply to B.C. as well? "Yes, absolutely," said Gary Freitag, a fish biologist and associate professor of oceanography at the University of Alaska, who also sits on the Pacific Salmon Commission. The vast majority of salmon in Alaska — which is mostly Chinook and a bit of Coho — come up from Washington state, through B.C., because there is more food in his state, he told The Tyee.
The state government of Alaska in an April 2011 press release echoed Kendall, saying: "Food harvested from the sea is very unlikely to have any harmful levels of radiation and is safe to eat. The great amount of water in the ocean quickly dilutes the concentration of harmful radioactive material."
Freitag generally agrees with this view. "I'm not a bit of afraid of any seafood product caught in this area, and I eat a tremendous amount of it," he said, because there is not much Alaska fish getting over to the Japanese exposure area. "The fish caught in our area, if they are exposed, must have a very, very low dosage, because the ocean dilution factors are huge. Speaking personally, however, I would definitely be leery of Japanese farmed fish or shellfish imported here."
Regarding tuna, test results from Oregon last October found radiation levels in fish far below anything that would pose a risk to humans who consume the fish, although the findings were preliminary and more fish remain to be tested.
An interdisciplinary team of scientists from Oregon State University and the National Oceanic and Atmospheric Administration collected and tested fish caught off the U.S. West Coast both before and after the 2011 quake.
The Oregon scientists did indeed find trace amounts of the radioactive isotope Cesium-134, which they said could only have come from the Fukushima reactors. "It's very interesting scientifically," said Delvan Neville, a graduate researcher with OSU's Radiation Health Physics program. "But it's nowhere near enough to be concerned about food safety." People are constantly exposed to radiation from the natural environment, Neville added. To increase their normal annual dosage of radiation by just 1 percent, a person would have to eat more than 4,000 pounds of the highest (radiation) level albacore they've seen.
Make tests broader: math prof
Amongst the critics of government's nuclear safety claims, the leading Canadian spokesperson, who is most often cited in alternative media, is Gordon Edwards, a math professor at Montreal's Vanier College and president of the Canadian Coalition for Nuclear Responsibility.
In speaking to The Tyee from Quebec by phone, Edwards began with the caveat that "I am not the expert on food radiation, and I couldn't really comment on what officials in B.C. have done."
Still, he has definite opinions on what should be done. Edwards said to test the fish for only the first year after Fukushima is wrong because radiation builds up in food chains over a long time, even centuries. "I'm very sad if they have the attitude that if they found low levels only in the first year, then more testing is a waste of time. That is Alice in Wonderland science." After all, he added, the mercury level of fish in northern Quebec was not considered a risk until it had already affected people.
His coalition's website lists 211 radionuclides and Edwards said all those would be present in emissions from Fukushima.
"I expect they are monitoring only for a very few. Cesium-134, for example, gives off a distinct gamma radiation, but you can't test that way with the other types. There are many radionuclides that are very toxic but very hard to detect, like plutonium and strontium-90. If you don't look for them, you won't find them." (Young responded to Edward's theory: "Is his hypothesis that the fish swim through an area with radioactive water from the Fukushima plant and select out plutonium and strontium and somehow avoid the cesium?")
Much post-Fukushima testing has already been done, as noted above. Yet Edwards still remains unsatisfied. For example, in 2011 the British Columbia Centre for Disease Control (BCCDC) did test drinking water in Metro Vancouver water plants and found no measurable radioactivity. "Why did they not test for plutonium? Seems silly not to do the measurement!"
Often when health officials test water, he continued, they only look at gamma radiation, and yet there are three major forms — alpha, beta and gamma — and the first two are harder to detect. "I don't know if they tested for all of them, but I suspect they only tested for gamma." (Yet in fact, the BCCDC did test the water for all three.)
Can government scientists' claims be trusted? After a long thoughtful pause, Edwards replied: "I'm not saying it's absolutely true or false, it's not so black and white. You must realize that all governments have a vested interest in reassuring the population. So there's a certain amount of perhaps justified paternalism here, in the sense of thinking 'we don't want people to have sleepless nights.'
"There's two levels of irrationality that should both be avoided – one is to overstate the danger to a ridiculous degree, and the other is to understate it. I think both are doing a disservice to people. But I'm not in B.C. Perhaps they are being vigilant. If so, good for them."
The Tyee also asked Roslin if readers could gain an impression from his stories that officials' claims are generally untrustworthy. "I think that would be a misinterpretation," he replied. "I quoted doctors who are critical of the lack of monitoring by various governments, scientists who have done good work in this field, and government officials who made reasonable statements."
In the end, B.C. deputy public health officer Eric Young doesn't expect any press release, scientific study or media report to put the issue totally to rest. "I would eat fish from Japan, absolutely," he said. "Canadians are at far higher risk from smoking and obesity. We want to give people the true facts and let them decide, but unfortunately some people will never be persuaded by facts."
At least one person who's not worried about eating radiated fish is MP Fin Donnelly, but for a quite different reason. "I'm a vegetarian," he chuckled. "A little lower down the food chain."