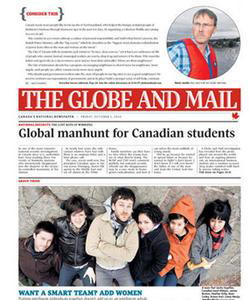 The Globe and Mail experienced the wrong end of a revolution over the weekend. The Twitterati stormed the Bastille because of the paper's refusal to acknowledge a blogger's claims that columnist Margaret Wente was plagiarizing some of her screeds.
The story is still unfolding, but it appears the rebels have won. As this piece went to bed, The Globe's editor-in-chief, John Stackhouse, took a shot at damage control by announcing that Wente would be disciplined.
"The journalism in this instance did not meet the standards of The Globe and Mail, in terms of sourcing, use of quotation marks and reasonable credit for the work of others," he told his own media reporter.
This is a turning point for legacy media in Canada as the news and information gatekeepers. The public forced The Globe to address allegations that have been circulating for at least three years by calling them out in the public square -- Twitter, the blogosphere, and The Globe's own online comments section.
Meanwhile, Wente's column defending herself is doing little to quell critics. Her explanations don't speak to most of the incidents the blog Media Culpa details, and she dismisses blogger Carol Wainio as "a self-styled media critic" with a vendetta against her.
"She has been publicly complaining about my work for years. Her website, Media Culpa, is an obsessive list of accusations involving alleged plagiarism, factual errors, attribution lapses, and much else," Wente writes.
Apparently Wente hasn't been keeping up with the TwitterView of her nemesis. Media Culpa blogger Wainio has taken on the sheen of a Woodstein. The woman who spoke truth to power. The one who afflicted the comfortable and comforted the afflicted (presumably Wente's long-suffering readers).
Wainio is declining to speak to media and told former journalism professor John Miller that she isn't looking for attention.
"I have no qualifications to discuss these things," she told Miller. "It's not a human interest story, it's an ethics story, and best to talk to people who know that field."
The Globe's public editor Sylvia Stead publicly addressed the accusations on Friday, and her post might have put an end to all this, had she not marshaled such an inept defence of Wente.
Her one brief post offered a stunningly disingenuous response to a legitimate complaint. In defending Wente, Stead allows that "there appears to be some truth to the concerns but not on every account."
Okay, so it's just a little bit of plagiarism then? Which I assume is like being just a little bit pregnant.
In her response to calls for an explanation, Stead referred to Wainio as an "anonymous blogger." Then there's another line that "it takes a little time to properly look into these matters." Waino responded to that by reporting she had been in correspondence with Stead over her concerns on May 26, 2011, more than a year ago. Wainio quotes the letter she received in response and it suggests thinly veiled threats of a libel suit if Wainio didn't stop posting her investigations of Wente's columns.
Stead's piece reads like a high-handed attempt to discredit a legitimate critic by pretending she's too obscure to acknowledge. Wainio, by the way, is an artist and a professor at the University of Ottawa. She makes a persuasive case clearly and well, with none of the ad hominem attacks we associate with the blogosphere. Hardly the sort of crank letter-writer that all newsrooms ignore.
Loaded with taboos
Just as revolution in one country used to make the rest of the monarchy nervous, The Globe may well be sparking grief for other old media corps. Much of the chatter has been about how old media have failed to cover what the wags are calling "Pilferin' Peggy." Even the Brits are on it -- The Guardian reported the Canadian kerfuffle Monday. Postmedia's Chris Selley commented too, but the Toronto Star -- the big gun -- was silent until late Monday night, reporting that Wente was disciplined. Particularly surprising is that CBC Radio's Q, which employs Wente as a media panelist to curl a lip at the sins of other journalists, hasn't touched the controversy.
The first old media writer to break ranks posted on Sunday. Maclean's Colby Cosh wrote a witty, insightful piece analyzing the accusations and the defence themselves. He notes that some of Wente's prose bears a remarkable similarity to pieces by well-read Ottawa Citizen columnist Dan Gardner, and condemns what he calls Stead's papal bull.
"If neither Wente nor Stead believes that Wente had Gardner's piece immediately to hand while composing her own column, then the rest of us are, on statistical grounds, left with no alternative but to declare them the biggest pair of Siamese-twin imbeciles of all time."
While conspiracy theorists who've never seen the inside of a newsroom like to suggest that the lack of coverage on Wente's long-rumoured liberties imply mass media solidarity, that's simply wrong. Sure, for some writers laying low might be a case of careerism and keeping an eye on a potential employer in an ever-shrinking market. Or it could be a general sense that those who live in glass houses shouldn't throw stones. But for the seasoned old hacks in the big outlets I'd wager it's something else.
Media tend not to report on each other, outside of business stories, because it looks petty and self-serving. Sometimes other writers are friends. Just as often, they're enemies. Either way, no one wants to be predatory. One columnist exploiting the misery of another looks like schadenfreude. Or worse: a blatant attempt to discredit a competitor or seduce another outlet's readers and advertisers by showing them up.
Despite the self-righteous tone of the Twittersphere, plagiarism is not as cut-and-dried as one might think. No one can own an idea. (Copyright protects the original expression of an idea, not the idea itself.) Sometimes something in the zeitgeist inspires opinionators all over to pen their views on a subject. Sometimes they're similar. Last month everyone took a whack at the nature of criticism, for example, probably sparked by widespread arts cuts in newspapers. But who knows what prompted it. I doubt they were stealing.
On a personal level, I'd be surprised if there is a writer who didn't feel a pang of compassion for Wente as the online mob, with torch and TwitForks, grows. I'm no fan of Wente's column, but she served The Globe long and faithfully and deserved more protection than her bosses gave her -- especially if it meant saving her from herself.
Stead is much pilloried over this, but she too has been badly served by The Globe. She's in a no-win job. Generally a public editor is the public's representative and is drawn from some outside body -- academia, journalism think tanks, far-away papers. She shouldn't be an insider with more than 30 years at the company. Someone who, as retired J-professor John Miller puts it, "drank the Kool-Aid."
Stead reported to editor-in-chief John Stackhouse when this began and she writes using the royal "we," indicating she is the voice of the paper, not the readers' representative. In other words, she's a PR person. She can't be expected to investigate her own boss or her own actions of a year ago. Given the way it was structured, the public editor position is little more than window dressing.
Stackhouse also announced Stead would now be reporting directly to the publisher to eliminate the perceived conflict of interest -- although not the problem of having a lifer investigating her friends and enemies in the company. (No word on whether Stead is being disciplined.)
Traditionally in newspapers, the buck stops with the editor-in-chief, and it was striking just how long it took Stackhouse to stand up and speak to the controversy he describes as occurring in the last several days.
Circling the drain
Perhaps the most revealing thing that appeared last week at the paper had nothing to do with Wente or Stead at all. It was a column from The Globe's very own Princess Diarist, Leah MacLaren, in which she uses the paper to sell her own house. Which is charming, I gather, from her gushing copy. Just $599,000 and only "a dog's trot away from shops and cafes on Queen Street West and the leafy splendor of Trinity Bellwoods Park" in Toronto.
I'd say that was The Globe's Marie Antoinette moment: let them eat shelter porn.
Journalism was once defined as news gathering and analysis done on behalf of citizens, and I've taken that to include good consumer reporting -- which is something different than shilling for advertisers. But increasingly, The Globe reminds me of the sort of corporations that have come to define customer service as the customer's obligation to serve the company.
By contrast Wainio did the work of journalists: telling us something new that is in our best interest to know. The paper should have thanked her quietly a year ago, and possibly hired her to keep up the good work.
They could have handled the allegations then as newspapers usually handle these things -- privately. Most outlets have some variation on a three-strikes rule to allow for honest mistakes and because of a recognition that blatant plagiarism is less a sin than a psych problem.
Borrowing from such little known rags as the New York Times or a high-profile columnist like Gardner is practically the definition of career suicide. Responsible editors -- and decent human beings -- wouldn't just investigate the writer; they'd help her if there turns out to be "some truth" to the claim. Show me a plagiarist and I'll show you someone struggling and in need of some support.
Which is what any experienced journo will tell you -- we hate the sin, but we have compassion for the sinners. Most are in real trouble.
So what kind of a newspaper starts burying the truth and circling the wagons?
I'd suggest it's the same kind of newspaper that's circling the drain.
That's what I think the Wente brouhaha and the MacLaren real estate ad are really telling us: that The Globe is moving away from being a newspaper in the sense of being an outlet that delivers information that serves readers. It views them -- us -- as little more than something to exploit.
© Shannon Rupp. For permission to reprint this article please contact the author: shannon(at)shannonrupp.com.