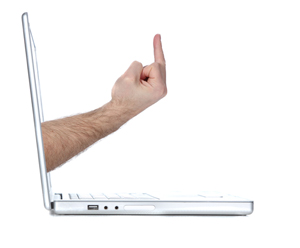 The recent explosion of social media has provided a quantum leap forward in human interaction, but with an unintended consequence: we are marginalizing our misanthropes. Hard to believe, but there are people out there who don't care what their cats are thinking, and are only mildly curious about what you had for breakfast. Fortunately, a new wave of antisocial media is on the horizon, opening the door for hermits to basically go on being hermits, but faster. These are just a few of the new sites and apps slated for launch in the coming year.
Cantstandyourfacebook
A place for enemies to connect, Cantstandyourfacebook.com helps you keep track of high-school bullies, ex-girlfriends, offensive relatives, loud neighbours, and the guy who asked for your number at the bar and never called. You won't find a "Like" button anywhere on the site, but the "Poke" feature will send a mild electric shock to the recipient the next time they log on. Be sure you update to the new "Crimeline" feature that keeps track of physical assaults between users.
Cantstandyourfacebook.com: Because the enemy of your enemy is probably a jerk too.
Shootsuite
Manage all of your antisocial behaviour on one simple dashboard with Shootsuite, a website for the well-organized gun-toting miscreant. Users can adjust their feeds to keep track of Tea Party rallies, conspiracy blogs, Newt Gingrich appearances, abortion clinic openings, and -- for the worldly nutter -- African warlords who will let you adopt a child soldier for just pennies a day. Don't overlook the NRA app that keeps you up to date on all the ways Obama is trying to take away your guns (this feature still in development).
Tomblr
Tom Cruise's private microblog, Tomblr lets Tom keep Tom up to date on all of Tom's activities that celebrate Tom. Recent posts include a photo essay of Tom in the kitchen, a power-point exegesis titled "What's Tom Doing in the Living Room?" and an elegiac couplet written in iambic tomameter describing how Tom got from the kitchen to the living room. Don't waste time searching for the "Login" page -- you are not worthy of Tom's words.
Fuckr
Share your life in photos! And by your life, I mean the embarrassing pictures you've taken of enemies you made on Cantstandyourfacebook.com. This one-stop photo album is just the place for the artful instagram pic of your neighbour getting arrested for urinating on a police car, the naked photos of your ex that you promised you had deleted from the camera, and your shoe-box memories from seventh grade scanned into your photo spread: "The Hurt Locker Room: My Life in Wedgies."
Twinter
What Twitter was to the Arab spring, Twinter is to the Alaskan winter, a place for lumberjacks and survival enthusiasts to follow each other from a comfortable, mountainous distance. Trending hashtags include #bearwatchingme, #bearfollowingme, and #beareatingme. The short-text format addresses the difficulty woodsmen have typing in the cold, while acknowledging the fact that the Inuit have 140 characters for snow.
ClinkedIn
We all know how hard it is to land that cush job in the prison library, but with ClinkedIn, you can network with your fellow inmates and really get your career off the ground. The go-to site for incarcerated professionals, ClinkedIn can help you get out of your dead-end job scrubbing pots and into the glamorous world of making license plates. Don't forget to write recommendations for your colleagues -- you never know when one of them may reciprocate by placing a large order for your custom-made shivs.
Hipstermatic
Too cool for the Internet? Does using technology make you feel like a sell-out? Do you wish you could take pictures of skateboarders casting shadows just by blinking your eyes and storing them in your brain for only you to see? Hipstermatic is the ultimate hipster photo site, connecting your images to your brain by the sheer power of not being a real site. If your photos are too cool to share with others, what better way to share them than on a site that's too cool to exist?