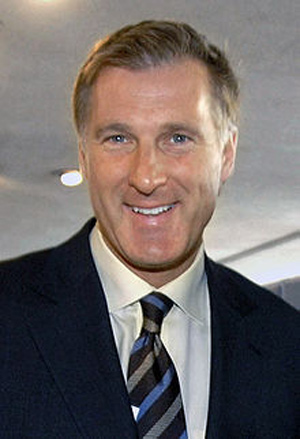 Parliament is set to resume in several weeks with the reintroduction of a copyright reform bill by Canadian Heritage Minister James Moore and Industry Minister Christian Paradis slated to be one of the government's top priorities. The bill is expected to mirror Bill C-32, the previous copyright package that died with the election in the spring.
That bill garnered some praise for striking a balance on difficult issues such as fair dealing, damages and the liability of Internet providers. However, its approach to digital locks -- which are used to control access to DVDs, CDs, and electronic books -- was roundly criticized by consumer, education and technology groups, since it effectively ensured that inclusion of a digital lock trumps consumer and fair dealing rights. The bill's digital lock rules largely mirrored those found in the United States.
The Canadian approach is difficult to understand if viewed solely from a policy or legal perspective. As a policy matter, concerns over digital locks was the top issue raised during the 2009 copyright consultation as well as in the hundreds of submissions to the Bill C-32 legislative committee. From a legal perspective, countries such as Switzerland and New Zealand have adopted a far more balanced approach, demonstrating that protection for digital locks need not eviscerate consumer rights.
The rationale appears to lie not in law or policy, but in politics. While U.S. pressure on Canadian copyright is nothing new, secret U.S. government cables demonstrate not only a massive behind-the-scenes lobbying effort to promote U.S.-style laws in Canada, but also a shocking willingness by senior Canadian officials to cave to the pressure.
Sharing strategy, offering leaks
In fact, newly released cables reveal that former industry minister Maxime Bernier raised the possibility of leaking the copyright bill to U.S. officials before tabling it in the House of Commons and a former policy official with Industry Ministers Jim Prentice and Tony Clement encouraged the U.S. to pressure Canada by elevating it on a piracy watch list.
Several Wikileaks cables released earlier this year chronicle the sustained U.S. lobbying effort on copyright. In a June 2005 cable, the U.S. talks about the "need to engage the legislative branch as well as relevant departments," proposes creating a bi-lateral working group, and offers to conduct training sessions for Canadian officials. A June 2006 cable discusses meetings with Bernier and then-Canadian heritage minister Bev Oda. A March 2007 cable reports on repeated meetings and attempts to elevate the issue as a top priority.
The cables also discuss a joint strategy with Canadian copyright lobby groups to allow for a "good cop, bad cop" approach, with the lobby groups using U.S. pressure "as a signal to the Government of Canada that they are willing to be 'more reasonable than the Americans.'"
In the face of sustained pressure, Canadian officials regularly assure the U.S. that reforms are on the way. The cables include confirmation that Prime Minister Harper personally promised then-U.S. president George Bush at the 2008 Security and Prosperity Partnership summit in Montebello, Quebec that Canada would pass copyright legislation.
Canadian action extends beyond repeated promises to act, however. A 2006 confidential cable recounts a meeting between Bernier and then-U.S. ambassador David Wilkins. The cable states that Bernier "promised to keep the Ambassador informed on the copyright bill's progress, and indicated that U.S. government officials might see the legislation after it is approved by Cabinet, but before it is introduced in Parliament."
While Bernier never had the chance to leak the bill -- he was shuffled to the Foreign Affairs portfolio before it was tabled -- other officials did provide the U.S. with confidential information. A 2007 cable reveals that Ailish Johnson, an official at the Privy Council Office, told U.S. officials "the mandate letters from the Prime Minister to the incoming Ministers of Industry [Prentice] and Canadian Heritage [Verner] charged both Ministers with introducing a copyright reform bill before the end of the year." The content of Ministerial mandate letters is not public.
Lobby us harder, Canada urged US
Given its insider access, the U.S. appears to be aware of legislative initiatives before almost anyone else. Another previously unreleased confidential 2009 cable discusses Canadian plans for an intellectual property enforcement bill separate from the copyright reform bill. The cable states "the government has completed legislation to enhance Canada's IPR enforcement measures. However, the government has no plans to introduce the bill in Parliament any time soon because no funding was linked to the legislation in the last budget." The government has never confirmed nor discussed the existence of such a bill.
The U.S. source for this information appears to be Andris Zarins, the RCMP's former national coordinator for intellectual property crime. A confidential 2007 cable reveals that Zarins told U.S. embassy officials that the government was drafting legislation to grant customs officers new seizure powers for counterfeit products and that it planned to create a new national intellectual property crime coordination office. Zarins also revealed forthcoming changes to proceeds of crime rules in copyright cases, which were amended in 2009 as he predicted.
The 2009 cable raises questions about the 2009 copyright consultation and Canadian encouragement of the U.S. pressure. The cable reports that Zoe Addington, a policy official with both Prentice and Clement, said the consultations would be used "as an opportunity to educate consumers and 'sell' the Government view."
Moreover, Addington encouraged the U.S. to intensify its lobbying efforts, stating "if Canada is elevated to the Special 301 Priority Watch List (PWL), it would not hamper -- and might even help -- the Government of Canada's ability to enact copyright legislation." Days later, Canada was elevated on the watch list.
The cables paint a discouraging picture of U.S. lobbying resulting in privileged insider access to government plans with Canadian officials eager to satisfy U.S. demands. Those efforts likely led to Bill C-32's digital lock rules, which seemingly had far more to do with U.S. pressure than Canadian policy.
While the Canadian government will undoubtedly claim that its forthcoming bill reflects a made-in-Canada approach, even the U.S. is not so easily fooled. A 2007 cable recounts an Oda press conference in which she told the media that a new anti-camcording bill was an independent policy change that was not the result of lobbying pressure from the U.S. The cable calls her response "disingenuous."