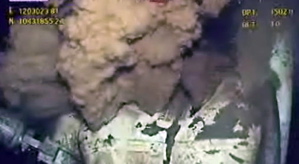 Six weeks into the worst environmental catastrophe the U.S. has ever faced, if you want to go deeper into the causes, risks, possible fixes and latest developments, you have to move beyond the big news outlets.
Here are ten web sites worth bookmarking for regular reference.
BP: Gulf of Mexico Response: Not as current as one would like (on Monday afternoon, the most recent update was from May 28), but they're literally on the scene.
NOAA: Office of Response and Restoration: The National Oceanic and Atmospheric Administration is tracking the spill and its impact.
Deepwater Horizon Response: This is "the official site of the Deepwater Horizon Unified Command," and it's cranking out a lot of information.
EPA Response to BP Spill in the Gulf of Mexico: The Environmental Protection Agency is really slow to update, but the data on air, water and sediment contamination are important.
Emergency.Louisiana.gov is updating frequently and well. Its May 31 Report on Oil Sighting throughout Coastal Louisiana gives us the least appetizing new term of 2010: "tar patties."
Sea Grant: Oil Spill in the Gulf of Mexico: Sea Grant is a consortium of universities in the Gulf states, and provides dozens of links to other sites.
In the media, the New Orleans Times-Picayune at nola.com is doing a superb job, as it did five years ago during and after Katrina. Look for plenty of breaking news plus links to video updates, photo galleries, and a public blog where readers can post their own updates. They're also talking about disaster fatigue -- more accurately described as fatigue with slow-moving government and corporate officials.
Speaking of blogs, two are covering the spill with some technical expertise. The Oil Drum gathers news from all over and adds analysis from a "peak oil" point of view. Who knew the Soviets used to seal off leaking and burning wells with nuclear weapons?
And Victoria's own oil-spill expert, Dr. Gerald Graham, is blogging the disaster at Marine Oil Spills -- which is also The Tyee's Blog of the Week.
Tenth on our list is Google crisis response: Gulf of Mexico Oil Spill. You'll find a good map of the current extent of the spill, plus a discouraging tally of estimated gallons leaked so far (just over 20 million on the afternoon of May 31.)