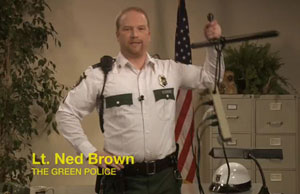 Audi's 'Green Police' Super Bowl commercial perfectly captures the successes and failures of modern environmentalism.
The advertisement, if you were not one of the millions watching the big game, shows an over-zealous 'environmental police force' busting consumers for unsustainable practices. In the opening scene an unsuspecting shopper, after choosing plastic instead of paper grocery bags, is slammed onto the price scanner, called "plastic boy," and told that "it is the wrong day to mess with the ecosystem."
The final scene shows an 'eco-road block' where the green police are cracking down on polluting cars and using aardvarks -- an apt choice, roughly translated from Afrikaans as 'earth pigs' -- to sniff out any other wasteful products and practices. Enter a late thirties male, not unlike the one in the grocery store, pictured behind the wheel of Audi's new 'clean diesel' automobile. He is approvingly flagged by an officer and told he is free to go. He happily pulls out of the road block and speeds away leaving overpolluters in the dust. The screen fades to black and viewers are told that 'green has never felt so right.'
The commercial aims for laughter, but the butt of the joke is unclear. The geeky yet authoritarian green police -- who Audi calls "caricatures of today's green movement" -- are an obvious target. And yet the legitimacy of environmental concern is central to Audi's message. It is precisely this concern that makes their new 'green car' attractive. Audi's 'clean diesel' technology promises consumers the power, prestige, and comfort of a luxury automobile without the danger, guilt or shame of polluting the atmosphere.
Audi's multi-million dollar Super Bowl spot communicates and ultimately legitimates the growing green influence that is likely to result in new and tightened legislation in the coming years. It also tracks popular anxieties over a disciplinary environmentalism -- anxieties that make passing serious legislation difficult.
There is much to criticize in the particulars of Audi's messaging. This is a highly creative case of greenwash -- 'clean diesel' has far better fuel economy than regular engines but still pumps considerable carbon into our atmosphere. And yet the environmental movement has much to learn from Audi's portrayal of them as a nerdy but repressive police force.
Too often those concerned with social justice and sustainability have adopted a language and practice of restraint: 'don't buy that, don't drive that, don't eat that, don't say that.' Compare this with advanced capitalism's permissiveness: 'buy it, drive it, eat it, say it' (if you have the cash of course). In simple terms, children prefer the parent who says 'yes you can' over the parent who says 'no you can't' (even if the latter -- 'the bad cop' -- has your best interests in mind). Environmentalists constantly caution restraint in the form of reduced consumption, tax increases, and increased regulations. These are important policies, but environmentalism's chorus of constraint tends to alienate a general public anxious about their economic security and status.
The business world is currently better than social movements and government at generating and marketing economic opportunity in the form of jobs, goods and services -- what people need and want. This is where the business world's legitimacy comes from, even if the opportunities they generate often come with big social and ecological costs.
To stem growing concern over ecological and social impact, business has been racing to declare their green credentials, and thus capitalize on an elevating eco-consciousness (hence the Audi audible called during the Super Bowl).
A more promising trend, however, is greens declaring their business credentials (a form of 'business-washing,' if you like). If environmentalists are serious about crafting sustainable economies, they need to be able to offer what the business community currently does: jobs, and the goods and services required for a life well lived. If frustrated by our current economy, then become a new economy.
One promising example is First Power Canada -- a social enterprise in British Columbia that installs renewable energy technology in remote First Nations communities often reliant on diesel for their energy needs. First Power also trains community members in renewables installation, thus increasing their job opportunities. Enterprises like First Power offer possibilities more than prohibitions. They are also slowly changing the nature of business away from simple profit-maximization towards broader social goals that are easier to achieve when financial profit is not the sole driver.
These enterprises are beginning to organize politically -- forming 'ethical chambers of commerce' -- that can speak as the 'business community' for environmental and social ends (the Business Alliance for Living Local Economies is one example). Speaking as a business-person carries more legitimacy than speaking as an environmentalist for the simple reason that the former is popularly understood to generate wealth while the latter is understood to limit it. Ecological and social enterprise productively challenges this perception and is a promising direction for the environmental movement and the larger society it seeks to move.
The Audi A3 TDI® will not get us there, but it has helped point the way.