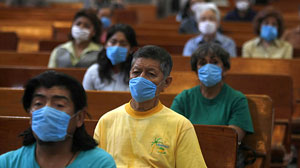 For four years I've been part of "Flublogia" -- an online community that has tracked H5N1 and fretted about a pandemic that might never come. By early this spring, the bird-flu news seemed to be drying up.
Indonesia was no longer reporting human H5N1 cases to the World Health Organization. Vietnam and China seemed to have the problem under control. Egypt reported a steady trickle of human H5N1, but there too we saw no sign of a mutation that might let the virus spread from human to human.
We flubies were using various search tools to find stories: Google Health and NewsNow were two key sources for news in English, but some of us were using computer translation to learn what was going on in the media and governments of the "hot-zone" countries. We never had enough information, but we drew from a worldwide network.
Then, in late April, H1N1 caught Flublogia completely by surprise. We had expected bird flu; we got another strain altogether, a weird hybrid of bird, swine, and human viruses. We had expected the outbreak to start in Java or Vietnam or China; instead it appeared almost simultaneously in the U.S. and Mexico. And it seemed to be killing an alarming number of relatively young persons, just as Spanish flu did 90 years ago.
The media, governments and health agencies seemed equally surprised. In the initial confusion, I saw my daily traffic -- which had been running around 300-500 visits a day -- spike to 8,200 on one day in late April.
Evidently, people weren't getting enough news from their local media, and had turned to blogs to learn more. But I was beginning to worry about the media coverage -- especially in North America and Britain.
Going for the local angle
That coverage was profoundly parochial. If all politics is local, so too, it seems, is all disease reporting. Local papers jumped on every local case with no more than cursory attention to the larger story.
And that was a very large story. Countries like China and Korea imposed draconian quarantine measures on incoming foreigners. But North American media again went for the "local" angle: our kids are stuck in a Chinese hotel instead of taking the courses they went there for.
I began to sense an irony: Google's global reach was bringing us mostly local stories from North America and Britain. While H1N1 staggered the Mexican economy and shut down a capital city of over 20 million people, Google linked to hundreds of stories about the inconvenience imposed on American and Canadian vacationers.
I already used Google Alerts about flu stories just posted. Now I went to Google.mx and created "alertas" for Spanish-language reports. Then I dusted off my very rusty Spanish and offered translated excerpts from those reports. Mexico's media were worried about a lot more than North American turistas: mothers dying in childbirth, scores of thousands thrown out of work, hospitals struggling to cope.
Tracking bird flu, I'd learned that hot-zone countries often gave their local media more freedom to report H5N1 outbreaks than they gave their English-language media. You needed to translate from Bahasa Indonesia or Vietnamese to find out the real story.
Now that H1N1 is widespread in the old bird-flu hot-zone countries, English-language coverage is superficially better. For example, Xinhua, the Chinese news agency, has built a fine English-language portal for worldwide swine-flu stories.
No deaths in China?
Yet Xinhua's reports are almost always just body counts: how many people are reported ill in one country or another. (For decades, Chinese media have been happy to report on disasters outside China.) And while Xinhua's reported over 9,000 H1N1 cases in China itself as of mid-September, it still claims no one has died from the disease. Hong Kong, meanwhile, has reported over twice as many cases and 13 deaths.
(Currently, it appears China is actively blocking my site -- and my other blogs as well. And all I've done is express surprise, not disbelief, at the lack of deaths.)
As winter reached Australia, New Zealand and Latin America, H1N1 hit them hard. Google Alerts gave me a good sense of English-speaking H1N1 coverage, and I saw that North American and British media were following the Aussies and Kiwis -- but totally ignoring Latin America.
They were ignoring a big story. Argentina, Brazil and Chile have suffered through a bitter winter of outbreaks and deaths, with school closures and overwhelmed hospitals.
I was now translating from Portuguese as well: H1N1 was moving from Brazil's temperate southern states of Rio Grande do Sul and São Paulo to the Atlantic seaboard and then into the Amazon. By mid-September, over 800 Brazilians had died of swine flu in four months.
Lessons deliberately ignored
Since a full-blown winter outbreak is likely to hit us, you would think our media would have covered the southern hemisphere in search of what we'd soon be facing. Very little of that happened. Perhaps some medical professionals and organizations like WHO were learning from South America and Australia, but the lessons weren't getting out to the larger public.
So parochialism was keeping our media from fully informing us. No doubt it was not just the media's fault; they give us what we want to know, and we've made it clear we don't want to know about the non-anglophone parts of the world.
But it's striking to see how much the non-anglophones want to know about us. Argentine, Mexican and Brazilian news sites have been full of reports about Michael Jackson, Barack Obama, Patrick Swayze and Ben Bernanke, not to mention our own experiences with H1N1. Latin America's media implied a better-informed, less self-absorbed audience than we are.
A few successes
This doesn't mean our media are total failures in covering H1N1. Canadian media have done remarkably well. Helen Branswell of The Canadian Press is respected throughout Flublogia as the best medical reporter anywhere. Caroline Alphonso and Andre Picard of The Globe and Mail are doing brilliant work (albeit usually on the Canadian scene). Individual newspapers, whether the New York Times or the Winnipeg Free Press, can do reliable reporting despite the financial woes of the newspaper business.
And we don't have the problem of outright political interference in flu coverage that some overseas media contend with -- notably in Indonesia and China, and probably in Egypt and Iran.
Relying on spin doctors
Still, our media have lacked much incentive to cover what is literally a global story. Few western reporters have the skills and backing to cover flu in Asia and the Middle East, so our media have had to rely on local sources in English like Xinhua and Fars. These are of course very competent spin mills, putting the best face possible on their health problems.
Other spinmasters are trying to exploit the public's patchy awareness of H1N1. The "vaccine safety concern community" is lobbying hard against inoculating the public against swine flu when the vaccine becomes available in the next month or two.
The paranoids and conspiracists see the pandemic as a trumped-up excuse for President Obama to declare martial law and turn the U.S. into a socialist tyranny. The anti-medical folks are swapping "natural" remedies for H1N1.
These groups are exploiting the online medium at least as well as most of the mainstream media and medical organizations. They're spreading what looks like outright nonsense (or at least personal axe-grinding). Some people are buying it, just as some people fall for Nigerian money-transfer scams.
Flu bloggers, caught in this whirlwind of information and malarkey, are trying to interpret flu news rationally. We rely on the mainstream media, both local and foreign, for most of our information. Governments and health agencies provide the rest. While a few of us are medical experts, most of us simply have to find sources we feel we can trust. Even then we have to be cautious about what they tell us. After all, H1N1 surprised epidemiologists just as the collapse on Wall Street surprised the economists last year.
We're extremely lucky, though, that this long-awaited pandemic has been relatively mild so far. It's enabled us to run a dress rehearsal for an all-out 1918-style disaster, to see where our plans hold up and where they don't.
When the next big pandemic comes along, I hope our media will have learned how to cover it better than they've covered this one.