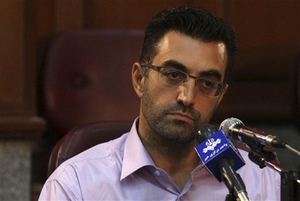 Last week, Bill Clinton went to North Korea to plead for the release of two American journalists who had entered the country illegally. The trip was a success and a fine example of a country insisting that its citizens be treated with due respect to their human rights. How different things are in Canada. For detained Canadian journalist Maziar Bahari, who was reporting completely legally from Tehran for Newsweek magazine, there have been only some polite diplomatic manoeuvres and the odd generic denunciation from the government.
It's time things changed. Maziar Bahari was reporting on the Iranian elections. On June 21 at 7 a.m., there came the classic knock at the door. Unidentified agents of the security services took Maziar into custody and pitched him into a Kafkaesque nightmare.
Since that morning, Maziar has been allowed one visit by his mother. His six-months-pregnant wife hasn't been allowed to speak to him. The authorities haven't even allowed him to see a lawyer. Last Saturday, Maziar was one of about 100 or so opposition leaders brought into court on vague charges of inciting a 'velvet revolution'. No defence lawyers were present at the court hearings and independent journalists weren't allowed in either. You can see an impassioned denunciation of the 'Stalinist show trials' and a plea for Maziar by CNN's Fareed Zakaria at the Free Maziar Bahari website.
So what is Canada doing? Well, I'm assured that there has been some behind-the-scenes action. The Canadian government has demanded access to a consul for Maziar, and representations have been made to the Iranian ambassador in Ottawa. But it's hardly Bill Clinton turning up, is it?
'Epitome of a balanced journalist'
The irony in all of this is that Maziar isn't just any journalist -- he's that rare creature -- an impassioned, objective insider. Just after the Islamic Revolution in 1979, Maziar made the difficult decision to become an exile, embarking on a lonely journey via Pakistan to arrive in Canada in his late teens, where he subsequently took up Canadian citizenship. Over the past ten years, Maziar has made countless trips back to his mother country as a filmmaker and journalist to report, reflect and act as a bridge between Iran and the West.
According to Maziar's Newsweek editor, Nisid Hajari: "Maziar's great value as our correspondent is that he's always been able to see the world through Iranian eyes, and to translate that perspective for readers in America and around the world. He is the epitome of a balanced journalist -- as evidenced by the fact that the Iranian press ministry has approved his credentials every year for 10 years."
Maziar is also an award-winning documentary filmmaker who has brought Iranian society and politics to life for a world-wide audience. Examples of Maziar's work include the touchingly intimate portrayal of Grand Ayatollah Sanei and his ministry, made for Al Jazeera, which can be viewed here. For Maziar's commissioning editor at Al Jazeera English, Flora Gregory, "it is a charming, insightful film about Iran, where modern preoccupations meet Islamic theology, and which goes beyond stereotyped clichés."
More recently, Maziar produced a series of historical documentaries for the BBC that covered the 1953 CIA coup in Iran and the subsequent reign and ultimate fall of the Shah. This is important work, explaining how Iran has got to where it is, going beyond the usual images of turbaned mullahs and women in chadors to show a diverse, complex and vibrant society that is surprisingly progressive and eager to engage with modernity and the world. At the tender age of 40 and in homage to his extraordinary career, Maziar was invited to curate a season of his favourite films at the International Documentary Film Festival of Amsterdam.
Polite won't do it
Canada and the West need brave journalists like Maziar. So does Iran. But we're not going to have Maziar with us by being polite or by just following protocol. We need to see political will and a political imagination from Canada -- one which says 'this man is important to us and to the world -- let him go free'. We need to see Maziar's name raised in the United Nations. We need to see the Canadian government defending its own and defending the right of free speech.
To call on the Canadian government to step up its support of Maziar, please sign the petition here and join the 'Free Maziar Bahari Now!' Facebook group.