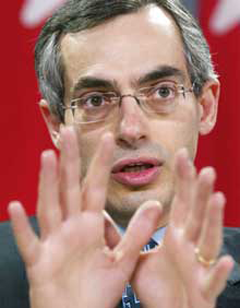 With attention mounting on the need for a national digital strategy, Industry Minister Tony Clement brought together 150 leaders from across the country last week for a major conference called Canada's Digital Economy: Moving Forward. The conference was designed to provide the government with expert feedback on the issue. While Clement got plenty of advice, it was his response, along with one from Canadian Heritage Minister James Moore, that left attendees with the sense that the government is at long last serious about prioritizing digital issues.
The ministers' comments came after a day of repeated requests for a bolder, more inclusive Canadian vision. Terry Matthews, one of Canada's most successful technology entrepreneurs, lamented how the country seemed to be "standing at the side of the information highway while other nations pass us by." He outlined dozens of possible reforms along with a warning against mimicking what the United States has done on intellectual property, which he said "has become so extreme that it inhibits creativity and innovation."
Googled up policy advice
Google was another vocal advocate for change in Canada, calling on the government to promote greater openness and suggesting that the Canadian Radio-television and Telecommunications Commission should factor the effect on the open Internet into all its decisions.
Meanwhile, outside the conference hall, dozens of Canadians followed along though a live webcast and posted their comments in a running discussion on Twitter.
With the public pushing for change, Clement and Moore closed the conference by leaving little doubt that they understand the opportunity and are determined to craft laws and policies that look ahead rather than behind.
'Opportunities unparalleled'
Clement went first, noting how much has changed in the year since Bill C-61, the much-criticized copyright bill, was introduced. He said it was "at least a somewhat different" public policy environment and committed to a broad copyright consultation this summer.
Canada last consulted on copyright in 2001, so the promise of open consultation alone represents an important shift in approach.
Moore was even more forceful with remarks unprecedented for a Canadian heritage minister. He emphasized the power of new technologies, saying that standing in the way of digital developments is akin to "trying to lasso a locomotive with cobwebs."
Moore continued, acknowledging "the old way of doing things is over. These things are all now one. And it's great. And it's never been better. And we need to be enthusiastic and embrace these things." He added that he will be "a cheerleader and push this and to fight for the right balance as we go forward. The opportunities are unbelievable and unparalleled in human history. We can lead the way. But we can't be timid and we cannot be constrained by the old order of doing things."
Looking forward
Moore concluded by setting the tone for the future fight over a national digital strategy with the call for a forward-looking approach: "I don't want to be in the automobile age debating the railway act. I want to be in the information age talking about the opportunities of tomorrow."
An effective Canadian digital strategy requires robust policies and solid leadership. Last week's remarks signal that the ministers offer a new perspective with commitments to more open consultation and to the development of polices that better reflect the real-world realities of new technologies, innovation, creators, and the reasonable expectations of Canadian consumers.
For Canadians accustomed to tired rhetoric, it was a welcome breath of fresh air.
Related Tyee stories: