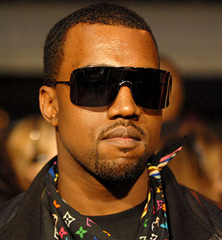 Barack Obama visited Ottawa and stayed almost long enough to grab a box of Tim Bits.
Bullets flew in Vancouver, while fires grew in Australia. It was a month of Slumdog Millionaires and bankrupt billionaires.
And I'm still in shock that Benjamin Button won the big Oscar of the year -- "Best Achievement in Visual Effects." Did Brad Pitt have repulsor rays? A cool Button-mobile?
Just one year left until you feel like borrowing a bong from Michael Phelps to survive those Gold Medal traffic jams and security checks. So now here are 25 Random Things about the last 28 days.
1.) It snowed on February 25 prompting many Vancouverites to complain that if they wanted snow in February, they'd live in Canada.
2.) The Port Mann "Super Bridge" deal fell apart and costs are so high, the BC Liberals may consider replacing it with fast ferries.
3.) B.C. Premier Gordon Campbell announced that the province will run a two-year deficit after which time, the Olympics will have sprinkled magic pixie dust on the province and we'll all be rich again. Yay!
4.) The recent spate of gangland slayings in Vancouver -- many of which featured innocent victims being caught in the crossfire – has prompted calls for gang members to receive either harsher sentences or better marksmanship classes.
5.) Thanks to a court order, the NDP now has access to 8,000 pages of government files regarding the $1 billion sale of B.C. Rail. The government felt the files had to be hidden away from public scrutiny because, um, the Liberals were embarrassed about their penmanship?
6.) In the speech from the throne the B.C. government announced plans to tackle homelessness in time for the Olympics, or at least tackle the homeless and put them where the world's TV news teams won't see them.
7.) Al Jazeera applied for a Canadian broadcast license and promised that they would say nothing more controversial than Don Cherry.
8.) U.S. President Barack Obama visited Canada, and for one brief moment, the Prime Minister looked almost Prime Ministerial. Then he double-dog dared the opposition to bring down the government and reminded everyone he's still Stephen Harper.
9.) The U.S. National Transportation Safety Board claims that Airbus A320 was brought down by Canada Geese. Fortunately George Bush was no longer President, or that may have been considered an act of war.
10.) A new study shows that Canada now has more artists than autoworkers, prompting Stephen Harper to declare car manufacturing "a niche industry" that needs to stop relying on government handouts to survive. Oops, that must be a typo… It appears he's considering giving them almost $3 billion dollars; that would fund an awful lot of galas.
11.) Asked what Central Canadian Liberal leader Michael Ignatieff learned about B.C. from his time as a teacher at UBC, his soon to be former spokeswoman Jill Fairbrother said, "Michael's strongest takeaway from his time in B.C. was the sheer beauty of the province and the magnificence of the mountains." Seriously, who could make this stuff up? Ignatieff apparently hopes to regain his party's status in the west with his knowledge that B.C. is pretty, Calgary has a big stampede and the prairies are really flat.
12.) B.C. launched "Anti-bullying day" where all sorts of kids wore pink to school, so that the bullies could pick on someone new for a change.
13.) The four RCMP officers who tasered Robert Dziekanski at the Vancouver International Airport in 2007 testified they felt Dziekanski was a threat because he was brandishing a stapler and was in a "combative posture." Presumably if he had a three-hole punch they would have shot him. And if he had a portable paper shredder they would have called in the SWAT team.
14.) Vancouver's Six Million Dollar Mats finally paid dividends when he beat the Leafs in a shootout. That salary...still crazy...but the sight of Toronto fans weeping in the streets? Priceless.
15.) So much for putting on the Ritz. The plans to build a Ritz-Carlton hotel condo in Vancouver were crushed like crackers after builders realized there was no point constructing a really tall new hotel now that the city has lose the Celebration of Light fireworks display.
16.) FOX TV's 24 entered the Obama era as the first television show to go completely carbon neutral. And from now on all torture devices will be biodegradable.
17.) Following the shameful release on the internet of photos depicting a severely battered woman who happens to be a professional singer, a whole bunch of mainstream media outlets published pictures of the battered woman, to illustrate how wrong it was to run those photos on the internet.
18.) Rush Limbaugh became leader of the Republican Party. The takeover was easy after it became clear that he could fit all the proud members of the party in the waiting room at his radio station.
19.) Steven Page left the Barenaked Ladies, citing irreconcilable differences over what to do with that million dollars. It seems that only Page ever really wanted a monkey. The remaining Ladies say that they feel positively clothed without him.
20.) After being photographed taking a hit from a bong, American amphibian Michael Phelps canceled a planned trip to Vancouver. So much for snowboarding with Ross Rebagliati.
21.) Disney has added an African-American Princess to the Barbie Family. Apparently Princess Tiana was introduced after it was discovered that Barbie had launched an unwinnable war against GI Joe and lost all of her savings investing in Raggedy Ann shares.
22.) A new study of British romantic nicknames shows that popular terms of endearment include "Chubby Cheeks, Fatty Bum Bum, Sexy Pig" and "Squidgy" -- which clearly explains why the British birth rate is plummeting.
23.) Ryanair Airlines started allowing passengers to use cellphones on flights. So far the phones have not been shown to interfere with aircraft equipment, but there are concerns they may prompt passengers to smuggle weapons aboard to stab the person next to them who won't shut up.
24.) Kanye West ranted on VH1 about the injustices suffered by Michael Jackson, OJ Simpson and the 21st century answer to Ike Turner, Chris Brown, begging the question, "does Kanye West hate black people?"
25.) And a new survey shows that Facebook and MySpace are now better places to find a date than the real world. It's also really cheap to take your first date for dinner in Second Life.
Related Tyee stories: