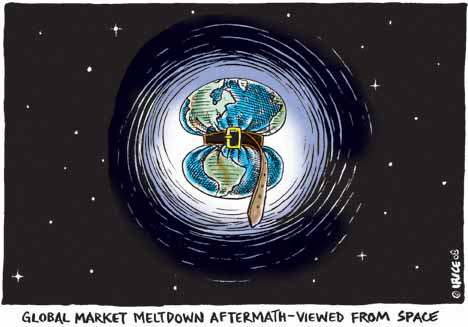 Barack Obama was elected as the 44th president of the United States -- immediately ending racism, stabilizing the global economy and destabilizing Fox News.
The American election was so inspiring that Prime Minister Steve thought it would be fun if Canadians could have another one. Unfortunately, we're not allowed to vote for Obama.
Vancouver got juiced as Happy Planet's main squeeze, Gregor Robertson, squeezed out Peter Ladner and the NPA.
Mayor Smoothie™, Gregor Robertson, made headlines for refusing to pay a $173 fine for riding two SkyTrain zones. The incident likely helped elect Robertson, since it proved a civic candidate had actually taken SkyTrain -- even if he didn't know which zone was which. Meanwhile, film crews in BC searched for the legendary Ogopogo, which was only slightly more elusive than NPA voters or Ballet BC audience members.
Polls show the BC NDP running neck and neck with the Liberals, while the Nadir Party™ held steady at 11 per cent of the vote.
An international survey shows that Canada now has the second best country brand in the world, right behind Disneyland and just ahead of McDonaldland.
General Motors stalled, but GM Place was in overdrive as Captain Canuck posted three straight shutouts before Lou pulled his groin and the entire province ached.
Now let's look back at November before the Governor General kicks us all in the crotches or, worse yet, kicks us back to the polls...
Public pursed
The ReformaTories decided to save money by ending public funding to political parties. Their next move is to save more money by ending elections.
After double-daring opposition parties to oppose his plan, PM Steve seemed so genuinely shocked at the prospect that his government could fall that it was clear he'd studied math with Joe Clark and didn't know how many seats equaled a majority. (That one's for history buffs and Rafe Mair).
Prime Minister Steve reached a free trade agreement with Colombian President Alvaro Uribe. The two markets do over $1 billion in annual trade -- and that's not counting cocaine for B.C. bud.
The ReformaTories once again proved their love for the arts by cancelling plans to open a National Portrait Gallery. After killing a project cities across Canada were willing to pay to host, it was clear once again that Prime Minister Steve doesn't know much about art, but he knows what he hates.
Alleged Environment Minister Jim Prentice announced that the ReformaTories will not do anything to help the environment at the expense of the economy, because, hey, it's not like air, water or trees have any real economic value.
Still think a coalition's a dumb idea?
Come home Paul Martin, all is forgiven
Former Liberal something-or-other John Manley announced he wouldn't run for the party leadership after discovering that nobody remembered who he was.
A recount showed that Liberal MP and former NDP premier Ujjal Dossanjh had won re-election by a landslide of 20 votes. Dossanjh felt this overwhelming show of support made it clear he should run to replace Stephane Dion.
A new poll shows Justin Trudeau as Canadian's first pick to lead the federal Liberal Party. However, when the only other choices listed were Stephane Dion, Bob Rae, John Manley, Ujjal Dosanjh and Michael Ignatieff, Canadians also preferred Maggie Trudeau.
The Devils made them do it
High school cheerleaders for the Delta Sun Devils shocked um… no one really… when they ran across the football field wearing slightly less than usual. Media outlets worldwide feigned outrage and kept misusing the word "streaking" as an excuse to show pictures of teenaged girls wearing underwear and duct tape.
Canadian courts ruled that obese people who presumably don't look like Sun Devil cheerleaders are allowed to take up two seats for the price of one -- which explains why Canadian airlines now charge passengers for snacks.
The University of Montreal is offering a graduate course titled, "The Religion of the Montreal Canadians." No word on when the University of Toronto will offer a course on "The Tragedy of the Toronto Maple Leafs."
Wolf Blitzkrieg!
CNN spiced up their election night coverage with 3-D holographic guests who looked just like the projections from C-3P0 in the original Star Wars movie. However, the network was accused of bias when they beamed up Princess Leia and she referred to the Republicans as, "the Evil Empire" and kept repeating the words, "Help us Barack Obama, you're our only hope."
It appears Hillary Clinton is set to join Obama's cabinet, proving that even if racism is dead in America, sexism is alive and well since the only job offered to the former first lady was "Secretary."
Hopefully my last ever Sarah Palin jokes... poor Tina Fey...
The Republican party spent $150,000* on Sarah Palin's wardrobe, makeup and style. Palin complained that media coverage of such matters was clearly sexist since it's not like anyone ever reported on John Edwards getting $400 haircuts.
Palin says God will let her know whether she should run for President in 2012. However, Palin declined to explain whether God's involvement in American politics means The Almighty supported Obama in '08.
And finally... Palin vehemently denied reports that she didn't know whether Africa was a country or a continent, proudly explaining that she has always known it's a song by Toto.
*Correction made Dec. 1, 2008 at 9:20 a.m.
Related Tyee stories: