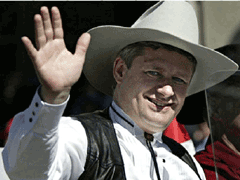 Election fever hit and everyone's still queasy. Canadians did a poll dance and everyone ended up where they started. Steve won, Jack claimed victory and Margaret Atwood separated.
Alleged Liberal leader Stephane Dion resigned... I think it happened somewhere in the middle of the English language debate.
A B.C. byelection had Liberals waving bye to a seat as the NDP picked up two.
Liberal boss Gordon Campbell released a 10-point plan to cut taxes, slash ferry fares and hand out BCRIC shares.
NDP chief, Carole James, released a stimulus package, but still didn't manage to sound stimulating.
Vancouver's mayoral campaign heated up as Peter Ladner guaranteed more business in Vancouver and Gregor Robertson promised a happier planet.
Polls show that Americans are set to elect Obama. But Democrats are still pessimistic since the Supreme Court already ruled that McCain won.
More potentially tainted meat was recalled from Maple Leaf foods, prompting the company to stop slicing their turkey loaf with hockey skates.
Gone to the (talking) dogs
Security costs for the 2010 Olympic Games appeared to be going for the gold bullion. Meanwhile, the women from Canada's biathlon team did a calendar where they posed naked, because they couldn't afford team uniforms.
General Motors started merger talks with Chrysler, reviving the old saying, "What's good for General Motors is great for Japan."
Ontario looked at banning driving with cell phones, while Vancouverites no longer remember how to drive without them
Madonna started a rocky divorce, but rocked BC Place. Rumour has it she's now dating Joe the Plumber.
Roberto Luongo became Captain Canuck, but can't wear the C until the Orca is freed from the Canuck's jersey.
The Philadelphia Phillies won the World Series. However, the pennant won't be awarded after the Supreme Court rules on the legitimacy of their victory.
"It's the economy, stupid," became "the stupid economy," as American markets crashed, running over the Canadian dollar.
And the top movie in America featured a talking Chihuahua, begging the question... should Americans really be allowed to vote?
Now let's eat enough Halloween candy to keep that sugar rush going until Nov. 4th when we find out whether Americans are more afraid of black guys named Hussein or old dudes and hockey moms.
Desperate Houseleaders at Listeria Lane
Canadians got an early Halloween scare when it looked like Prime Minister Steve was going to win a majority. Steve appeared to be cruising towards an easy victory until the economy began collapsing and he switched his campaign slogan to, "Let them eat cold cuts."
Alleged Liberal leader, Stéphane Dion, apparently campaigned, too. Dion proved he had the savage political instincts of a lemming
Steve Harper attacked culture and culture fought back. After insulting every professional artist in the country, Steve's now the first Prime Minister in Canadian history who's official portrait will be a "Paint-By-Numbers."
Ask not for whom the puffin poops...
After boasting to voters that he had the best team to lead the country, Stéphane Dion stopped mentioning the team because every time he did, it became clear that instead of being captain, he should have been a stay-at-home defenceman.
NDP leader Jack "Broadbent" Layton's dreams of trimming his moustache at Stornoway were crushed when he discovered he can't top 19 per cent in the polls -- even running against an unpopular prime minister and a Liberal leader with the political skill of a turnip.
Ed Layton didn't convince Canadians he looked like a Prime Minister, but did look enough like a riverboat gambler that if he ever leaves the NDP he'll be the news spokesmodel for The Great Canadian Casino.
Greens Sing the Blues
Greenie-in-chief Elizabeth May proved she has a terrific sense of humour when she lost to the ReformaTories in Central Nova and blamed the NDP for splitting her vote, after the Liberals opted not to run anyone against her. The former Mulroney advisor warned that if anyone runs against her next election she'll hold her breath until she turns blue.
Meanwhile, Kermit May backed down on calls for strategic voting to elect the guy with The Green Shift and the dog named Kyoto, or the man who rides a bike to Parliament Hill, after deciding that it was worth re-electing Steve Harper as long as she collected $1.95 per vote.
Live from the White House... It's Inauguration Night...
Rumour has is that U.S. vice-presidential candidate Sarah Palin is such a maverick she's no longer campaigning for John McCain, she's now campaigning for her next job... impersonating Tina Fey on Saturday Night Live.
Former U.S. Secretary of State Republican Colin Powell supported Barack Obama for president. Prominent conservatives like Rush Limbaugh quickly dismissed the significance of the endorsement claiming that Powell wasn't a real Republican anyway and was, "Republican in Name Only" because, "hey, the guy's black."
Meanwhile, in a last ditch attempt to revive Republican poll numbers, Sarah Palin announced plans to replace her running mate with Joe the Plumber.
Monopoly money
Following the complete collapse of the U.S. economy, America's former chief moneyman, Allan Greenspan, admitted that perhaps stockbrokers shouldn't have been allowed to make up their own rules after all. Greenspan apparently made this discovery after playing Monopoly with a two-year-old who kicked the money maven's butt, because the kid's rules were that every time he landed on a hotel he could eat it.
OJ Simpson was found guilty on a dozen charges of robbery and kidnapping. No one rioted anywhere.
Don Cherry chapstick
Hockey Night in Canada launched a new anthem, which sounds a little like the old anthem on steroids. The tune will be tested before it's allowed to compete in the Olympics.
Meanwhile, rumours abounded that the NHL is considering adding a second professional hockey team in Toronto. The rumour seems unlikely since Toronto still doesn't have a first pro team.
Related Tyee stories: