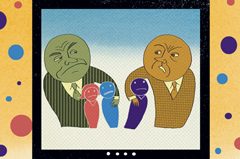 With online media taking an increasingly important role in the media ecology, Canada is on the brink of a major restructuring of its media and communications system. The government and MPs elected on Oct. 14th will play a decisive role in developing not only the kinds of media available, but also in how Canadians communicate with one another.
Those of us who care about the role of media in society should take a more active role in this election and inform citizens across Canada about exactly what kind of media system they are voting for. Three key areas where the stakes are huge:
1. Mega-media as corporations merge
In looking at parliamentary activity since the last election, issues concerning the wave of media acquisitions over the last year and a half were barely mentioned. Key acquisitions included: CTVglobemedia's purchase of CHUM (with Rogers taking the spoils), Quebecor's purchase of the Osprey Newspaper chain, and the Canwest Global and New York investment bank Goldman Sachs' purchase of Alliance Atlantis. This latest CanWest purchase makes Vancouver the city in North America where media ownership is most concentrated.
2. 'Throttling': Providers discriminating against some on the Net
The past year has also seen a rising concern over the role of Internet Service Providers (ISPs) in "shaping" Internet use. The debate centers on the principle of net neutrality, which requires that Internet service providers move traffic in a non-discriminatory manner based on the desires of Internet users. The net neutrality debate exploded when it was revealed that Bell Canada's traffic "throttling" was limiting users' ability to view the CBC's hit show "Canada's Next Great Prime Minister." Some users claimed it took over a day to download the show. To make matters worse, in addition to manipulating its own customers use of the Internet, Bell also "shapes" traffic passing through its network from independent ISPs like TekSavvy Solutions, thereby also limiting one of it's few competitors from offering open access to the Internet.
In response to public outcry over this situation, Industry Minister Jim Prentice's position was to, "leave the matter between consumers on the one hand and Internet service providers on the other" -- effectively, no position at all.
3. Slashes to Canadian cultural media
On another front, the recent $60 million cuts to film and television, book and magazine publishing, and new media, illustrate further regression in Canada's media system. As recently noted by Garry Neil, former vice-president of the Canadian Conference of the Arts, these cuts are really a means to censor artistic and media content that the Conservatives don't like.
None of this is popular
When informed of them, these positions on media issues are clearly unpopular with the public.
In 2002, an Ipsos-Reid poll found that 86 per cent of Canadians believed that the federal government should do something to alleviate public concerns about media concentration. In 2007, the CRTC Diversity of Voices hearing resulted in an outpouring of nearly 2,000 submissions from citizens calling for more democratic media ownership rules. And the Canwest/Goldman Sachs/Alliance Atlantis deal was met with well-attended public events through the Keep It Canadian campaign.
Cuts to arts and media spawned a coalition of "Canadian citizens who are artists, arts professionals and cultural workers concerned about ensuring the social and cultural health and prosperity of our nation." Organizing under the banner, "Department of Culture," this coalition is intent on unseating the Conservatives, and has already produced several short videos and held a rousing town hall meeting in Toronto.
The conspicuous activities of Bell Canada and other dominant ISPs who "throttle" Internet service have sparked a national movement, including the diverse SaveOurNet.ca coalition consisting of public interest and labour groups, businesses and individuals. In May, public concern boiled over resulting in a net neutrality rally, with several hundred people on Parliament Hill demanding government action. In a CRTC online public consultation regarding the role of new media, calls for net neutrality were consistently among the most common, and highest rated submissions.
Help citizens get more informed
While there is reason for some optimism on the issue of net neutrality with members of both the NDP and Liberals calling for action in this regard, the question remains whether the majority of Canadians are aware of the import of these issues on their daily lives or where the parties stand on them.
Canadians must create a broad and loud public debate around media issues during this election season. As soon as we have engaged in a real and honest debate about media issues, voters will not stand for an undemocratic, narrowly concentrated media system. Once we have a public debate, the Canadian people will not allow the government to make partisan and ideological cuts to arts and media programs. Once we have a public debate, people from across Canada will demand nothing less than an open Internet. Once we have a public debate, Canadians will vote for the media and communications system they deserve, a pluralistic and democratic one.
Related Tyee stories: