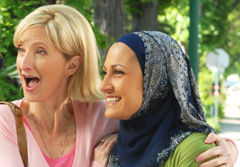 Vancouver was named the best place in the world to live and also the most footloose.
Gas prices went up, but iPhone prices dropped, so you can text all the people you can no longer afford to visit. Mad cow came back and mad Air Canada employees flew away.
Hockey Night in Canada said goodnight to its theme song and the Ducks waived goodbye to Bertuzzi. The GM was replaced at GM Place as the Canucks said no, no Nonis.
Hillary finally noticed she'd lost and FOX News finally noticed Barack is black.
Ladner downed Sullivan and juice magnate Robertson squeezed out Louie. Police discovered where some of Bill Reid's stolen artwork was Haiding and the courts piled on Gomery. So let's look back on June before any more feet wash up on the beach and see if anything here gets me hauled before a Human Rights Tribunal -- 'cause all the cool kids are doing it.
A majority is always having to say you're sorry
ReformaTory™ Prime Minister Steve Harper apologized to Canadian First Nations for their treatment in residential schools, he apologized for the Komagata Maru incident of 1914 and if he's reelected he promises to leave future Canadian prime ministers with plenty of new historic blunders to apologize for.
The Canadian Human Rights Commission dismissed a complaint against Maclean's Magazine and writer Mark Steyn, explaining that an article by Steyn was unlikely to promote ridicule, but attacking the concept of a free press through a Human Right's hearing most certainly would.
Young Tories Fucking Up?
A young Tory staffer lost her job as an assistant to MP Gary Goodyear after RSVPing for a screening of the movie "Young People Fucking," which meant the MP's name appeared on the guest list The fired staffer apologized for the gaffe because it implied that a ReformaTory MP might actually want to know something about a movie his party wants to censor.
Liberal Senators have proposed an amendment to Bill C-10 that would stop the Canadian Heritage minister from denying tax credits to films deemed contrary to public policy. Heritage Minister Josée Verner says she's cool with that as long as the ReformaTories can still deny funding to any film with the word "fucking" in the title.
Storming the crease like bumblebees
Hockey Night in Canada lost the rights to the country's real national anthem after attempting to elbow out the little old lady who wrote it. CBC officials explained that the song really wasn't worth much, which is why CTV bought it for billions of dollars in gold bullion. CBC plans to conduct a nationwide search for a new theme before choosing the Barenaked Ladies cover of Stompin' Tom's "Hockey Song."
Meanwhile, CTV cancelled Vancouver. The network axed the Vancouver portion of their flagship morning show, Canada AM, explaining that, "no one in Toronto gives a damn about you people."
Captain Canuck, Trevor Linden, retired. Linden told fans that he didn't see the point in playing another season now that CBC no longer has the cool theme song.
The Cabinet's bare
B.C. Premier Gordo Campbell shuffled his cabinet and discovered he had nothing left in it but some old cans of tomato soup and a few forgettable backbenchers.
The Pat Bell tolled for B.C.'s alleged Forests Minister, Rich Coleman. Coleman became the new minister of Housing and Social Development and promised that he'll have groups who care about these issues demanding his resignation in no time.
BC's full of crap
A new study by the Treasury Board revealed that B.C. has the most contaminated sites on federal land of any province in Canada. The provincial government promised to deal with the crisis by allowing more potentially toxic operations that would combine the more than 4000 contaminated sites across the province into one huge toxic swamp.
In 2010, Translink will require passengers to have a Smartcard which will require them to provide their name and phone number if they want to ride SkyTrain. The information will also help officials contact a rider's next of kin after they've been tasered.
Cracks were discovered in the SkyBridge spanning the Fraser River. Translink immediately responded by switching to lighter cars and tasering several engineers.
Little Mosque Stopped at the Border
CBC's Little Mosque on the Prairies is moving to America. Twentieth Century Fox TV bought the rights to create an Americanized version of the hit comedy because Americans don't understand the way Canadians say "house" or "about" and they're afraid words like "Regina" will result in hefty fines from the FCC. The American adaptation will be almost exactly the same as the original, except in the U.S. version everyone at the Mosque really will be a terrorist. No word on whether it will be written by Mark Steyn.
Last year's Emmy Winner for "best supporting actress in a drama series" Katherine Heigl (Grey's Anatomy) bravely withdrew her name from consideration for this year's award because she wasn't going to win. Heigl said she felt it was important to make her dissatisfaction with recent plotlines public in order to keep up the show's tradition of having even more dramatic plotlines at the Emmy ceremonies than during the season, and she thought this was classier than calling someone "a faggot."
Iconic comedian George Carlin died of a heart attack, which means he no longer needs a place for his stuff. On hearing the news, everyone who loves comedy immediately uttered at least five of the seven words you can't say on TV.
And finally... the Detroit Red Wings won the Stanley Cup, but refused to accept it after discovering their win was tainted by being the last time CBC would air the Hockey Night in Canada theme.
Related Tyee stories: