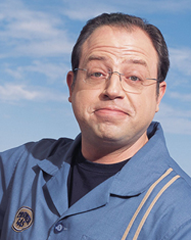 The iPhone is coming to Canada just in time for you to text your friends to tell them you can't afford the gas to visit them.
The Canucks said "no, no, Nonis." Supporters rallied to save the CBC Radio Orchestra -- but ran into trouble when they discovered Mozart didn't write any catchy protest songs.
All the big U.S. airlines merged, while the U.S. Democratic party came undone.
And did I mention the iPhone is coming to Canada? Seriously, when can I get one?
Now let's all pose topless for Vanity Fair and look back at the people who fooled us in April.
Shocking news
The Canada Border Services accidentally deleted the security footage showing the Polish immigrant who was tasered and died while in their custody at Vancouver airport. Yes, really. They "accidentally" deleted it because who would ever want to review that footage? And presumably someone actually said this with a straight face.
Meanwhile, it appears that five Skytrain passengers were tasered for refusing to pay their fares. Guards are currently demanding guns so they can shoot people for using expired transfers.
And since you're afraid to take Skytrain and fly the friendly skies. . . . The new bike lane for the Burrard Street Bridge is now projected to cost $63 million, which means it would actually be cheaper for the city to pay for taxis to drive cyclists across the bridge.
Bill C-No-Evil
Ang Lee visited Vancouver and condemned the provision in Bill C-10 that would allow the Minister of Heritage to withhold tax credits for films and TV shows deemed "contrary to public policy." An outraged Minister of Heritage asked, "Who's Ang Lee and what does she know about the movie business?"
NDP MP Pat Martin introduced a private member's bill to phase out the penny because it's a waste of money, environmentally irresponsible and as an NDPer he's opposed to the concept that, "a penny saved is a penny earned."
An old videotape revealed that back in 1991 now ReformaTory MP Tom Lukiwski referred to homosexuals as, "homosexual faggots with dirt under their fingernails that transmit diseases." The Saskatchewan MP apologized for both the remarks, and his grammar, saying he made this statement a long time ago. . . back when he was a crazy kid and a provincial Tory organizer.
Canuckling under
The Vancouver Canucks fired general manager Dave Nonis and, after an extensive search where no candidates at all were interviewed, immediately replaced him with the agent for alleged Captain Marcus "didn't he retire two years ago" Naslund. The new GM immediately announced a state of emergency since the Canucks missed the playoffs by three whole points and everyone knows that eighth place teams only knock off the division leaders and make it to the Stanley Cup finals pretty much every other year.
Meanwhile, rumours continue to swirl that Captain Canuck Trevor Linden is set to retire since coach Alain Vigneault doesn't like playing the Canuck icon. Vigneault explained that he benched Linden regularly this season because it's bad for team morale when the only player who can score a clutch goal or pose any real threat at all in the shootout is 38 years old. Besides, by benching Trevor, Vigneault boldly cost the team at least three points and a playoff spot, which would only have allowed Trevor to further destroy team morale by outscoring both Sedins and Marcus Naslund in the playoffs.
Whose name is Rio? Can you turn up those speakers?
Duran Duran played Vancouver proving that Gen Xers are hungry like wolves for nostalgia acts. This is great news for the New Kids on the Block who will be reuniting after recording an all-new album that no one will want them to play at their concerts.
Leslie Feist won all the Junos this year, prompting Celine Dion to move back to Vegas and Nickelback's manager to hide Chad Kroeger's car keys.
Corner Gas is pumped out. The hit Canadian sitcom that made it okay to use the words "hit," "Canadian" and "sitcom" in the same sentence un-ironically is ending after this season. Star Brent Butt says he decided to end the show now that Americans have discovered it because . . . hey, that's funny. Besides, with the price of gas the show would have to be rewritten to make Butt's character a millionaire.
Topless turmoil
Millions of Americans feigned outrage at the news that Disney icon Hannah Montana posed "topless" after Vanity Fair published a photo showing the bare upper back of 15-year-old Miley Cyrus. The photos are apparently so steamy that even 15-year-old boys are saying, "Annie Liebowitz is right, these are art photos. Annette Funicello did more risqué poses as a mouseketeer. Has anyone told our parents what you see when you type "topless" on Google?"
And finally . . . a new poll shows that 81 per cent of Americans think their nation is heading in the wrong direction. The other 19 per cent say they're really looking forward to The Rapture.
Related Tyee stories: