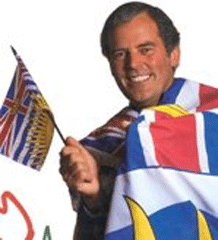 The Luongos had a baby and the Canucks had a meltdown. The solicitor general got Chilliwacked. D.B. Cooper's parachute was discovered, jPod went missing and BC's most eligible e-babe, Rachel Marsden, went back on the online market after getting trashed on Wikipedia.
The X-Files returned to Vancouver after somebody bought David Duchovny an umbrella and everybody in North America turned off their lights for an hour, forcing them to boot their Blackberries in the dark.
So let's look back on March madness, and then turn out those lights again . . . as soon as you finish reading this.
Les is moored
B.C. Premier Gordon "arms-length" Campbell, claims he knew absolutely nothing about the criminal investigation of the province's top law enforcement officer, Solicitor General John Les. Campbell plans to continue knowing nothing about the investigation for as long as possible and if it goes badly he'll claim he never knew Les either.
B.C. Premier Gordon "I-love-the-media" Campbell announced plans to consider renaming the Georgia Strait the "Salish Sea." No word on whether Georgia Straight publisher Dan McLeod is considering renaming his paper The Salish See.
C-No-Evil
The ReformaTories launched Bill C-10, which would allow the heritage minister to deny tax credits to any film and TV productions she finds offensive. If the bill passes ,it will be followed up by Bill C-Nothing, which will allow the minister to deny funding to anything she finds Canadian.
Following the flap over C-10, Heritage Minister Josée Verner decided to skip the Genie Awards ceremony this year. Verner's office says the minister's decision to skip the event had nothing to do with concern over the film community's response to C-10 and that, "she just doesn't like Canadian movies."
And speaking of sexy . . . A "Sex Show" in Abbotsford is under fire for locating the event next to a Pet Expo. Organizers of both events deny that sheep should be concerned.
Bye Elections
Following reports that the Liberals are polling at historic lows in Quebec, Liberal Party leader Michael Ignatieff denied rumours that he's ever spoken to Stephane Dion.
Citizen Black went to jail and immediately filed a new appeal of his conviction on obstruction and fraud charges -- but it appears that the only person who still finds Conrad appealing is Barbara Amiel.
Escape from Fantasy Gardens
It's time to say a prayer for Bill and Lillian's biblical theme park, Fantasy Gardens. The new owners have announced plans to demolish the castle and windmills to build a new sustainable community. No word on whether the new buyer is John Les.
The provincial government's plan to fight the mountain pine beetle infestation is finally working. There are now so few pines left it looks like the bugs may finally starve to death.
Meanwhile, the B.C. government made a deal that will allow Google to map all of B.C. -- as long as they don't post any information about the John Les investigation.
Odd couplings
Jack Klugman turned into Oscar the grouch when he launched legal action against NBC Universal for his portion of the profits from the long-running hit series where he starred as crusading coroner, Dominic Da Vinci. Or maybe it was Quincy M.E.? Ironically, the dispute will likely be settled by a forensic accountant.
New York Governor Eliot Spitzer resigned after it was revealed that he'd spent $4300 for sex with a high-end prostitute named "Kristen." Spitzer admitted that as a populist New York politician it was irresponsible of him not to spend $50 on a hooker from Times Square.
The cute Beatle has been order to pay not-so-cute ex-wife Heather Mills $49.1 million as a divorce settlement. Asked to respond, a spokesman for Paul McCartney said, "It would've been cheaper to clone John. And to pay this off, we may have to."
Meanwhile, it was discovered that the Hell's Angels plotted to kill Mick Jagger in 1969. The news finally confirms that The Rolling Stones were way cooler than The Beatles.
China's ambassador to Canada accused the Dalai Lama of, "telling lies to the world for decades." The ambassador also accused the Dalai Lama of cheating at poker, double-dating with Eliot Spitzer and stealing his look from Sgt. Bilko.
A panel of sex researchers surveyed by The Journal of Sexual Medicine declared that the ideal duration for a heterosexual sexual encounter is 13 minutes, 13:30 in Newfoundland. However, there was some conflict over the results as many of the women on the panel couldn't believe the study was finished so soon.
The final Harry Potter book is being magically split into two movies. After the eighth and final film is released, the producers plan to begin remaking all of the movies with Harry being played by Roger Moore.