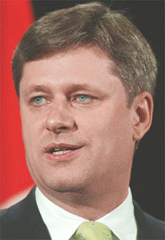 Canadians who rely on the CBC for news would have been labouring under a serious illusion about new cross-media ownership limits for several hours on Tuesday. The public broadcaster erroneously reported well into the afternoon that the CRTC had decreed that henceforth "any person or entity can own only two radio stations, television stations or newspapers in a single market." Such a development would have had particular significance for Vancouver, where CanWest Global Communications owns BCTV, both local daily newspapers, and most of the Lower Mainland's non-daily newspapers. CanWest also publishes one of the two national newspapers available locally, the National Post, and enjoys a similar newspaper-television cross-ownership in nearby Victoria.
Several overjoyed bloggers quickly spread news of the outcome of last fall's contentious CRTC "media diversity" hearings, at least as the CBC was reporting it. "It's about time," scolded the Canadian Journalism Project's Deborah Jones, quoting the mistaken CBC report, which has since vanished from the Mother Corp's website. Futurist Tod Maffin similarly trumpeted the tightening of Canada's lax media regulations, which have resulted in some of the highest levels of ownership concentration in the world. "The federal broadcasting regulator is imposing considerably tighter rules on media ownership," concluded Maffin.
Alas, 'twas not meant to be. Instead of restricting owners to two media outlets in radio, television or newspapers, the CRTC had decreed that from now on media owners may hold outlets in only two of the three media. Or, as the owning Asper family is probably singing at CanWest Global headquarters in Winnipeg, with apologies to Meat Loaf: "Two out of three ain't bad." After all, CanWest currently has no radio outlets in Canada since selling its FM jazz station in Winnipeg, although it does own radio in the UK and Turkey. The error was only corrected when the CBC website picked up a Canadian Press story at 1:17 p.m. EST that accurately reported the CRTC edict.
Diversity advocates dismayed
When the limited nature of the CRTC's cross-ownership ban became apparent, outrage emanated from Canadian media unions. "The CRTC is preserving the current unacceptable levels of concentration," said Lise Lareau, president of the Canadian Media Guild, which represents workers at the CBC. "There is a clear trend toward giving media companies and their shareholders what they want."
A spokesman for Canada's largest media union agreed that the CRTC decision "does very little if anything" to limit media concentration in Canada. "It still allows big broadcasters such as CanWest or CTV to own even more media outlets," said Peter Murdoch of the Communications, Energy and Paperworkers Union. "The commission has taken the smallest step possible to limit local media concentration."
Even the CRTC admitted in a background document accompanying its edict that it is merely cementing the status quo in media cross-ownership. "Given that it considers the Globe and Mail and the National Post to be national newspapers," it read, "the Commission is not aware of any market in Canada where a single person or entity controls all three types of media at this time."
Braver times
The CRTC did enforce a ban on newspaper-television cross-ownership in the early 1980s, which many media critics had been calling to be reinstated. Following the 1981 report of the Royal Commission on Newspapers, the Liberal government of Pierre Trudeau directed the CRTC to deny broadcast licences to newspaper owners. The prohibition was quietly lifted by the Conservative government of Brian Mulroney in the mid-1980s, however, paving the way for three cross-media "convergence" transactions to reshape the country's media landscape in 2000. That year the Globe and Mail partnered with CTV, CanWest Global bought the Southam newspaper chain from Conrad Black, and Quebecor took over the TVA network in Quebec.
After CanWest soon sparked protest by journalists for ordering the Southam dailies to carry "national" editorials written at company headquarters, two federal inquiries urged limits on media ownership. "The potential problems with cross-media ownership are sufficiently severe that the time has come for the federal government to issue a clear and unequivocal policy on this matter," concluded the 2003 Lincoln report on broadcasting policy. "The danger is that too much power can fall into too few hands and it is power without accountability."
The report of a Senate inquiry into Canada's news media issued a similar warning three years later. "The media's right to be free from government interference does not extend," it argued, "to a conclusion that proprietors should be allowed to own an excessive proportion of media holdings in a particular market."
The new Conservative government of Stephen Harper, however, rejected curbing media concentration by limiting cross-ownership. "The government recognizes that convergence has become an essential business strategy for media organizations to stay competitive in a highly competitive and diverse marketplace," read its official response to the Senate report.
Runaway convergence
Since then media consolidation has accelerated in Canada. In 2006, CTVglobemedia paid $1.4 billion for several dozen radio and television stations owned by Toronto-based CHUM Ltd. Last year, CanWest flouted foreign ownership limits by partnering with New York investment bank Goldman Sachs in scooping up a baker's dozen cable television channels from Alliance Atlantis.
The Americans contributed 64 per cent of the $2.3 billion purchase price, far in excess of the 43 per cent allowed by law. The CRTC, however, approved the purchase without restriction last month.
Related Tyee stories: