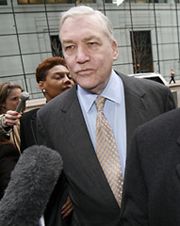 2007: It was the year everyone became greener than thou and started carbon neutralizing their cappuccinos. The loonie flew, the U.S. dollar sunk and the gold standard was replaced by the iPhone.
Conrad was Blackballed, Brian was caught lyin', Harmony stopped flyin' and no Canadians seemed to be smarter than a fifth grader.
Stanley Park blew away, B.C. Place deflated, Surrey went skinny-dipping and Vancouver got trashed.
Dan Rather shocked potential tourists with true stories of the Vancouver Eastside, and the RCMP shocked a real tourist at the Vancouver airport and made up stories to hide the truth.
iTunes TV came to Canada, giving Canadians an all-new way to not watch CBC.
Vancouver was declared the world's most livable city because it's the easiest place on the planet for the homeless to find leftover lattes.
Former B.C. finance minister Carole Taylor was elected mayor of Vancouver. Or is that next year's news?
Rocket scientists got a bad name for blasting off while blasted. Dumbledore came out of the broom closet and Potter-mania swept the planet. Isaiah Washington declared Grey's Anatomy too pink. The Arctic melted, Al Gore heated up and polar bears started time-shares with koalas.
U.S. President George Bush's popularity got whacked and so did Captain America. Oprah campaigned for Obama, Osama campaigned for Giuliani and Clinton campaigned for Clinton.
U.S. TV writers went on strike, which meant millions of Americans no longer know how ridiculous their presidential candidates are, without late night monologues to mock them.
In Hollywood the only thing trendier than adopting an African baby was getting busted for driving under the influence. Brace for next year's trend: drunken African babies.
And as a lifelong Canucks fan, there was only one question that really mattered this year. To paraphrase the great Bard Colbert, "Roberto Luongo -- great goalie or the greatest goalie?"
So take a wide stance, recycle that plastic water bottle and let's have a McLovin' look back at 2007 before Alec Baldwin calls to say goodnight.
Yahoo! For Britney...
Britney Spears was the most searched name on Yahoo! Canada in 2007. Apparently Canadian fans were trying to help her find her underwear. The only Canadian Internet search more popular than "Britney" was "hockey news" -- because the only thing skankier than Britney is a Maple Leafs fan.
Meanwhile, Britney's little sister announced she's Knocked Up, and not in a wacky Seth Rogen movie sort of way. Thanks to the latest news, trailer trash have launched a class action lawsuit against the entire Spears family for ruining their reputation.
Playboy's playgirl Pamela Anderson has split with playboy Rick Salomon after eight blissful weeks of marriage. The two have agreed to share custody of the sex tapes.
Mulroney's error in judgement
Unindicted former prime minister Brian Mulroney explained there was nothing wrong with receiving hundreds of thousands of dollars from Canadian-German "businessman" Karlheinz Schreiber, because the money wasn't a bribe. It was more like a gratuity. Apparently Schreiber only gave Mulroney the money because when Brian sang "When Irish Eyes are Smiling" to U.S. President Ronald Reagan, Schreiber thought our prime minister was busking and simply threw several hundred thousand loonies into his hat.
The Kyoto Accord was replaced by the Bali Discord as Canada's minister of ignoring the environment, John Baird, dropped the ball on Bali. Prime Minister Steve promised to combat climate change as soon as Alberta has drained every last drop of oil from Athabasca.
Rosebud
Citizen Black was sentenced to six and a half years in the slammer, forcing several million Canadians to learn the meaning of the word "schadenfreude."
B.C. Labour Minister Olga Ilich joined B.C. Finance Minister Carole Taylor in announcing she won't be seeking re-election. Premier Gordon Campbell says he's not concerned about the lack of women in his government, and is planning to place recruitment ads on Lavalife.
Thank you for shopping at Walmart
Great news for North American shoppers! Following recalls of poisonous pet food, toxic toys and tainted toothpaste, it looks like even after all the civil suits are settled, products made in China will still be cheaper than products made in Canada. Clip those coupons now.
The Oxford English Dictionary named "locavore" the word of the year. A locavore is "someone who eats a diet of food grown close to where they live." In most Third World countries, locavore is also known as: "eating."
Facebook is...
Facebook lost face after sharing user information with advertisers. Site founders apologized with a status update that read, "Facebook is very, very sorry."
A Japanese study showed that young chimpanzees could beat university students in short-term memory tests. The chimps also had an easier time holding their liquor, and made cooler bongs.
A new survey shows that England now has more Catholics than Anglicans, which means the new head of the Church of England is Pope Benedict.
Following the reunions of the Police, the Spice Girls and Led Zeppelin, Beethoven, Bach and Mozart announced plans to return from the dead.
Mudville 9 Indicted
Future prison hall-of-famer Barry Bonds pleaded not guilty to charges that he lied to federal investigators about taking steroids. Bonds claims he doubled his muscle mass thanks to Flintstones Chewable Vitamins. He also pleaded not guilty to breaking Hank Aaron's homerun record.
Bonds is hoping to face a jury of his peers... which apparently includes most major major leaguers. Barring that, he'll settle for trial by an NBA ref with a gambling problem.
Meanwhile, The Mitchell Report revealed that the only reason Mighty Casey struck out is that he wasn't on the juice.
And the final episode of The Sopranos shocked viewers when Tony and his family arrived at a diner, ordered a plate of onion rings and