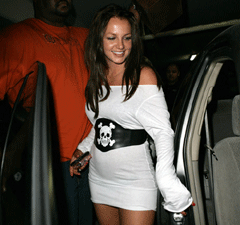 Britney made a comeback and so did Fidel -- and Castro looked sexier and didn't appear to be lip-synching. O.J. Simpson touched down in jail and Osama touched up his beard.
U.S. Senators took a wide stance in the bathroom, but no stance on Iraq. Steve Harper stuck by his Afghanistance, but Stéphane Dion lost his foothold in Quebec.
Brian Melo was named Canadian Idol and Brian Mulroney spanked his son Ben, because he wanted the title.
Vancouver got trashed, while Sam Sullivan spun his wheels. The Ghost Train died, but the dinosaurs are back. Hookah houses are out, but hookers are going co-op.
Now pause your Halo 3, watch out for tasers and toothpaste and let's see what happened in September.
Morgan Spurlock's 'Kid Nation'
A new study shows that the current generation of children is eating almost the same starchy foods fed to geese to turn their livers into foie gras. Scientists are unsure whether to condemn the news or celebrate the creation of gourmet Soylent Green.
Kiefer Sutherland was arrested for drunk driving -- and had the most exciting 24-hour roadside suspension ever. Okay, maybe not that exciting... but it still had a better plot than the last season of 24.
Halo 3 was released and the skies parted, the angels sang and the players immediately shot them for bonus points.
Who was that masked voter?
Elections Canada officials explained why they allowed women to vote in burqas. "Who wants to show their face if they're voting for Stephen Harper?"
ReformaTory© Health Minister, Tony Clement, declared, "the party's over" for illicit drug users. Apparently Tony's bitter about never getting an invitation.
Canada's beloved ex-prime minister, Brian Mulroney, released his new autobiography -- If I Ruined the Country, Here's How I did it.
New Beetles tunes
A new report from the provincial Ministry of Forests predicts the pine beetle will kill 78 per cent of B.C.'s pine forests by 2015. On the bright side, this means B.C. will finally see the end of clear-cutting.
At the recent Union of B.C. Municipalities conference, the B.C. Ministry of Forests warned pine beetle ravaged communities to brace for fires, floods and the slaying of their first-born children.
Emission control
U.S. President George Bush proposed a new climate change plan. Instead of mandatory emissions standards, America would outsource all regulating to Blackwater.
In a shocking coincidence, Prime Minister Steve announced an almost identical plan to ignore emissions until there's no one left on the planet to complain about them.
Meanwhile, B.C. Premier Gordon Campbell promised a carbon neutral government -- as long as everything can be powered by hot air.
Park 'n fly?
The Vancouver Parks Board is considering installing 25 to 30 life-size animatronic dinosaurs in Stanley Park as a tourist attraction. Anti-captivity protesters have already formed a group demanding the dinosaurs be released back into the wilds of the Paleozoic era.
Vancouver City Council refused to permit "ultimate fighting" in the city -- except for the current grudge match between CUPE and Mayor Sam Sullivan.
Vancouver sex workers announced plans to open a co-op brothel. Since this is Vancouver, organizers expect the police will allow them to operate -- as long as their business is carbon neutral and no one wants a cigarette.
Barbie girls get the lead out
Following a recall of 2.2 million toys, Mattel now offers two prices for Barbies -- regular and unleaded.
Two sniffer dogs, Lucky and Flo, are credited with helping authorities seize nearly two million illegal DVDs. Apparently the dogs were unable to miss the aroma of all the summer threequels.
Victoria's Secret announced plans to go green and add eco-friendly clothes to their catalogue. However, so far there have been no buyers for their tofu edible undies.
Pope Benedict declared "Save Creation Day," encouraging everyone to take better care of the planet. The Pontiff wore green vestments for the event, but passed on the Victoria's Secret eco-undies. In order to save the planet, the Vatican is installing solar panels on the roof, buying carbon offsets for their emissions and saying a lot of Hail Mary's.
US dollar bucked
As the American dollar continues to plummet against Canadian currency, it's being renamed the loonie. Or maybe, "the Bush buck."
The CN Tower is no longer the world's biggest erection -- that title now belongs to a jillion-storey commercial complex in Dubai. Torontonians now claim size doesn't matter, but Skydome announced it's moving to Dubai.
American Idol host Ryan Seacrest hosted the Emmy Awards and audiences were stunned when "best leading actor in a series" was presented to Sanjaya Malakar.
Hockey Night in Piccadilly
The new NHL season opened in London, England, with the Los Angeles Kings playing the Anaheim Ducks. In order to make the game more appealing to Europeans, hockey purist Gary Bettman temporarily legalized kicking the puck.
A new study shows that cell phones in hospitals are dangerous -- but hospital authorities are still having trouble convincing doctors to turn off their Blackberries while performing surgery.
Actor Fred Thompson announced his campaign for president on The Tonight Show. Thompson plans to base his campaign on his stellar conviction record as district attorney on Law and Order. In order to keep with the fictional theme of his campaign, Thompson plans to give all his speeches on Fox News.
Marcel Marceau passed away at the age of 84. A moment of silence is redundant.
Related Tyee stories: