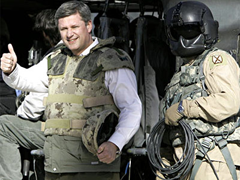 Debate over Canada's mission in Afghanistan, and particularly its tough and bloody deployment in Kandahar, continues to be among the biggest stories in federal politics. But Canada's is just one of the many NATO armies on the ground in the central Asian country. So how do our allies feel about our Afghan prospects?
In Canada, only 16 per cent of respondents want the Kandahar mission extended. Nearly half, meanwhile, believe Canadian troops should be withdrawn from the area before the mandate ends in February 2009. For more, click here.
Netherlands: Support for the mission among the Dutch has dropped slightly from 56 to 50 per cent between April and July. Fifty eight per cent however don't want their troops in the tough province of Uruzgan. For more, click here.
Though still part of the coalition, the Polish are a lot less willing these days. Only 17 per cent of Polish respondents to a recent poll support the presence of their troops in Afghanistan. Click here for more.
In Germany, over half of respondents want their troops pulled, details here.
While in Britain, a majority think the presence of their soldiers in Afghanistan is useless. Click here for more.
And half of Italians want all of Italy's soldiers out of Afghanistan and over 38 per cent consider the mission a waste of money. For more, click here.
It's nearly the same in Spain, where half of respondents want their government to withdraw Spanish troops from the country. Details here.
Finally, in the United States: 69 per cent of respondents think the war in Afghanistan against al-Qaeda and the Taliban is not going well. Read the specifics here.
Related Tyee stories: