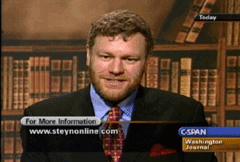 Mark Steyn says the dead of Virginia Tech were wimps. While it's surely not the most important consequence of the April 16 campus massacre, the tragedy has given Steyn another opportunity to display his inner wingnut. It's not the first time. National disasters tend to bring that out in the man.
Steyn is receiving a lot of attention for his National Review piece written after the Virginia Tech shootings. Of the students, Steyn wrote: "They're not 'children.' The students at Virginia Tech were grown women and -- if you'll forgive the expression – men.... We should be raising them to understand that there will be moments in life when you need to protect yourself -- and, in a 'horrible' world, there may come moments when you have to choose between protecting yourself or others. It is a poor reflection on us that, in those first critical seconds where one has to make a decision, only an elderly Holocaust survivor, Professor Librescu, understood instinctively the obligation to act."
At one point Steyn even manages to work in a sly reference to the Monica Lewinsky scandal -- more proof that, amid the rubble of the Iraq debacle, conservative yodelers are getting increasingly nostalgic for those grand old days. But his main point is the creeping wimpiness that allows people with guns to triumph over those without the strength of character and pouches of ammunition to respond:
"We do our children a disservice to raise them to entrust all to officialdom's security blanket. Geraldo-like 'protection' is a delusion: when something goes awry -- whether on a September morning flight out of Logan or on a peaceful college campus -- the state won't be there to protect you. You'll be the fellow on the scene who has to make the decision." Presumably that decision would involve return fire. In the Steyn Utopia, "lone gunman" will become an oxymoron -- the act of drawing a weapon will be equivalent to a conductor raising his baton. Like an orchestra launching into "Peter and the Wolf," the crowd will erupt in a symphony of gunfire. Problem solved. Ditto for the next cafeteria dispute over the final glazed doughnut.
Senior citizens as 'trivialities'
While blaming the spineless dead of Virginia Tech, Steyn harks back to 9-11. Students of Steyn should do the same. His September 12, 2001 writings, largely overlooked at the time, were another example of Steyn's responses to national stress. At such times the man reveals himself.
Mark Steyn may be one of the Hollinger corporation's more enduring gifts to the world. Born in Toronto and educated in England, Steyn first made his mark as a critic at Hollinger papers The Spectator and Daily Telegraph. A longtime fixture in the pages of the National Post, Steyn also became a regular in The Atlantic and the National Review, among others. Even his ideological foes concede -- ought to, anyway -- that Steyn wields his rhetorical rapier with genuine skill. There are more than enough left-wing gasbags and blowhards around to provide legitimate targets for a right-wing curmudgeon who knows his trade. Despite the usual conservative unwillingness to be even-handed about it, Steyn does have an instinct for at least half of the hypocrisy floating around out there. At least until some violent crisis unbalances his humours. Then Steyn goes loopy.
September 12, 2001, was the first opportunity for ink-stained wretches to add their ruminations to the previous day's deluge of televised comment. Steyn's 9/12/01 column appeared on the front page of the National Post. The fever of that terrible week clearly had his blood percolating. Never one to declare a moratorium on petty politics, Steyn went straight after a certain ex-President and, less predictably, senior citizens.
"But one of Bill Clinton's forlorn legacies," Steyn wrote that day, "is that the head of state and the Commander in Chief of the most powerful nation on earth must fill his days with piffling initiatives designed to assuage the niggling discontents of pampered soccer moms and other preferred demographics: elementary school programs, prescription drug plans for seniors.... and a thousand other trivialities.... Yesterday was a rebuke to those fatuities: The first charge of any government is defence of its borders -- and, without that, it makes no difference how much you spend on prescription drug plans for seniors."
There's your 9-11 culprits, friends -- Bill Clinton and greedy, drug-gobbling seniors. But Steyn was just getting warmed up. His next target: cripples. In Steyn World, the attacks of September 11, 2001, shone a welcome light on the utter futility of wheelchair ramps.
People in wheelchairs
"Yesterday's atrocities were a rude awakening from the indulgences of the last decade," Steyn opined, "with some awful stories to remind us of our illusions -- disabled employees in wheelchairs, whom the Americans with Disabilities Act and the various lobby groups insist can do anything able-bodied people can, found themselves trapped on the 80th floor, unable to get downstairs, unable even to do as others did and hurl themselves from the windows rather than be burned alive."
Digest that paragraph for a moment. Take your time -- it may take some hard chewing.
It's hard to say where that observation came from, incongruous as a 747 approaching a Manhattan office at eye level. What set Steyn off? And to what was he referring? Was the early 9-11 coverage packed with reports of wheelchair occupants clogging up stairwells? From the 68th floor of the North Tower, wheelchair occupant Tina Hanson was successfully carried to safety. Quadriplegic Ed Beyea perished, but he was way down on the 27th floor. Actually, Steyn was one of the few to address the plight of people with disabilities that day. Maybe not in the way they would like, but there you go.
Discerning Steyn's point is another puzzle. How exactly did the Americans with Disabilities Act harm America on September 11? Is it all part of the misguided liberalism that swells the American population with deadwood, leaving no room for potential Marines?
'Bravery' of hijackers
What set Steyn off? The logical assumption: nothing in particular. He was probably pissed about the gimps for awhile, and just waiting for a good chance to show it.
(Interestingly, Steyn's September 12 column goes on to make a point that would later cost Bill Maher his ABC network gig, insisting that the hijackers were not cowards. "A coward would not agree to hijack a plane," Steyn wrote. "We should acknowledge that at the very least it requires a kind of mad bravery, a bravery 99% of us in the West can never understand and, because of that, should accord a certain respect." Maher said much, much less in the same vein on the Politically Incorrect broadcast that sparked a patriotic firestorm and doomed the popular program. No one ever said the mob was fair.)
See also Steyn's rush to judgment over the actions of Virginia Tech students last week. His conclusion that the unfortunate Professor Librescu was Virginia Tech's only hero was certainly premature and has been contradicted by emerging reports. Here Steyn seems to have been strolling down the same idiosyncratic mental trail that once had him ranting about the disabled.
The bushes are jammed with right-wing loons who will spew any hateful garbage they can think up, poisoning the public domain and destroying the possibility of reasoned debate. But Mark Steyn has been granted a higher status than those others. Wit, intelligence, and writing skill have earned him a more exalted place in the journalistic cohort. It's useful to remember that when the pressure is on, Steyn can lose his marbles with the worst of them.
Related Tyee stories: