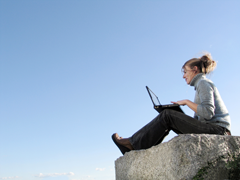 When people talk about cities going wireless, they tend to talk about clouds.
A good cloud, the analogy goes, stretches from one end of town clear to the other, and anybody with any kind of wireless-enabled device (computer, Blackberry, PDA) gets free high-speed Internet, so long as they're beneath its web-casting shadow.
Because modern society is so tied up with the Internet, and because shilling out $40 a month for a connection stinks, many in Vancouver are understandably excited about the financial possibility of paying one less bill, or the social opportunity to close the digital divide.
Yet Craig Settles, an American analyst and wireless consultant based in Oakland, California has a prediction some might find upsetting.
By the end of 2007, he says, setting up networks for the general public will be "the weakest pillar" when governments make their case for going wireless.
"This is the year where a lot of things are going to come to fruition," said Settles in an interview with The Tyee. "A lot of theories are going to be proved out and a number of folks are going to be a little disappointed."
Will Vancouver's Wi-Fi hopefuls rank among them? Answers to that question, like Vancouver's wireless cloud, are starting to take shape.
Sullivan's high-wire act
As of last month, there were some 250 North American cities either seriously considering or deploying city-wide wireless. And often, pre-election stump speeches make glowing promises about what these deployments will do for the average Joe.
Settles thinks that's a dangerous game, one that can easily lead to "regime change at city hall."
"A lot of politicians use that as a great photo op, but they don't follow through," he said.
It's a tightrope act Vancouver has been flirting with, to some degree, by inserting phrases like "bridging the digital divide," "building community" and "making Internet access more accessible and affordable to low-income residents" in the list of the City's early rationale for a deployment.
Councillor Peter Ladner says he realizes civic politicians need to tread carefully.
"There's a lot of fascination among people who think that they can unhook from Telus or Shaw and save themselves $50 a month."
How realistic is that? "Not very, right now," he answered.
"I'm still not convinced that the idea of free Wi-Fi around the city is going to fly, in this city or in any city."
More bureaucracy, anyone?
If municipal Wi-Fi is really going to have any social impact, mayors and their councils need to look out for the bottom-line first, argues Settles.
"Cities have to recognize that this is a business," he said, "Too many people have just gotten so mesmerized by 'free' that they're not thinking about the answers and the implications."
That doesn't mean he believes corporations should control the wireless assets, a recent trend in some U.S. cities that he equates with "turning the whole henhouse back to the foxes."
Instead, Settles says there's mounting evidence that shows civic governments should take charge of Wi-Fi projects. Why? Because when they don't, he argues, they miss a golden opportunity to radically transform the way they run their cities. Dull as it sounds, in his view wireless cities are first and foremost all about "e-governance." That, and offering connectivity to business.
Corpus Christi, Texas, is a good example of what he means. There, a city-owned network has meant new technology for public services such as ambulance crews, who can now use wireless to check online medical records from the side of the road. From wireless meters to smart buses, the uses are many.
'Another sidewalk'
That model rings true in Fredericton. The New Brunswick capital made headlines as North America's "smart city" when it pioneered municipal wireless back in 2004. Now, it's made the free lunch Wi-Fi dream come true with high-speed connections at parks and public spaces around town.
Progressive as it seems, Fredericton councillor Tommy Jellinek says his city never set out to provide universal access or bridge the digital divide. They did it to connect government departments and keep money in the public coffers. What they saved in telecom costs was re-invested into the network, allowing them to take on commercial subscribers.
As it evolved into an economically viable asset, however, the network morphed into a cloud that covered some public spaces.
"The city's position was, 'Look, this to us is another piece of infrastructure, it's like a sidewalk.'"
Sweetspot, NB
That's not to say every Frederictonian has web access in his or her living room. In fact, the relatively weak Wi-Fi signals rarely make it indoors when beamed from their canisters (which are mounted on outdoor lampposts). They just bounce off hard surfaces. On the off-chance they do clear the walls, the tiny Wi-Fi cards in a wireless-enabled computer still have to relay the signal back out to the pole: not so easily done.
"It is just wireless," notes wireless expert Michael Burmeister-Brown. "You still come down to the laws of physics."
When surfers in Fredericton do manage to snag a signal from the comfort of their own homes -- which happens, although Jellinek was at a loss to say how often -- it's considered "leakage." Homes are still serviced by the big Internet service providers.
"The value in this technology is in mobility," explains Settles, mobility for business and government, not your average consumer.
Bandwidth bandwagon
The last time Peter Ladner talked to The Tyee about municipal wireless, he was dubious about the rationale for deploying it in the city.
These days, the Vancouver councillor's website reads like a Wi-Fi manifesto, expounding the same virtues Settles does -- usefulness for the civic workforce and the commercial sector. (In fact Ladner met Settles at last summer's Wireless Cities Summit, an international forum held in Toronto.)
But in an interview last week, Ladner admitted it's getting a little late in the game to come out looking like a world leader. Along with many high-tech business leaders in Vancouver's new media sector, he now just wants to avoid the embarrassment of failing to keep up with the Joneses.
"Fredericton got a return from the branding of being the first [to do it] and being a very happening town. But now that everybody's doing it, it doesn't really pay back that much."
Wrestling 2010
The city announced a plan to go wireless last year; many now wonder what the hold-up is.
According to Ladner, there's been a tug-of-war between council and city staff about what role, if any, the city should play.
The city manager said staff were "stretched thin" with preparations for 2010 in a major Wi-Fi report submitted to council in February. He wants the city to butt out and leave the network to the private sector. Ladner, Mayor Sam Sullivan and the other councillors went against that advice, voting unanimously to pursue a public-private partnership instead.
Unpopular with staffers as it may be, Ladner defended the decision to take a more hands-on approach.
"I think that what other cities are finding is that if you get it for free, you can't have any expectations about what kind of service you're going to get, or speeds and all the rest of it."
Access for the poor?
Whatever shape Vancouver's wireless cloud takes, it should include free access for low-income residents, according to Michael Burmeister-Brown.
"What something like a free service does is it opens the door for other charitable non-profit organizations like ours to come in and help," he said in an interview.
Burmeister-Brown works with NetEquality, a non-profit dedicated to getting low-income communities online. They've been making inroads in Portland since that city went wireless under MetroFi, a private network service that tied in a free component funded by advertising.
NetEquality capitalized on the free service with a new gizmo called a Meraki box, which can be used to pull Wi-Fi signals indoors and create a wireless "mesh" inside an entire apartment complex, or over a whole housing project. Similar efforts in San Diego have had encouraging results.
While the boxes also work with cable or DSL, a free wireless signal makes high-speed Internet just that much more affordable -- but only when cities allow it.
"If we don't have the signal in the first place, that makes it tough," Burmeister-Brown said.
'Hard soft stuff'
Still, for most low-income people, Internet access is low on the list of daily challenges. As Burmeister-Brown said it, "Internet doesn't really bubble to the top."
Vancouver, it pays to bear in mind, already has Internet in virtually ever corner of town, says Ladner, who points out that low-income people can get it in libraries and community centres.
The barrier is financial, not technical, and assuming wireless will change that doesn't make sense. "If I'm low income, am I going to be able to afford a laptop or what have you?" asks Jellinek. "It seems contradictory."
"One of the things you realize early on is that network access by itself isn't going to help [the digital divide]," said Settles. "You have to have training, you have to have hardware, you have to have content online to support those communities."
The key, he says, is getting community stakeholders involved early in the game, and looking for creative ways to raise funds so that successful outreach programs like one in Philadelphia can have a definitive social impact. (In that city, a committee trained a bunch of kids how to program, troubleshoot and repair donated computers, then turned them loose as a mobile training arm that now teaches adults and the elderly about the web.)
Chan defines that kind of work as "all the soft stuff that's hard to do," and he welcomes the chance to make good on free wireless for low-income people in Vancouver, where he says online access is sometimes about "survival."
"In some ways what we're looking for is a qualitatively different network," he said. "We don't need another consumer-oriented one."
"The question is, will it increase the divide or will it close the divide? And it's not automatically sure that it's one or the other. It really depends on how you do it."
Related Tyee stories: