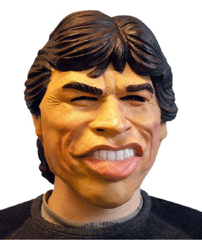 It was a month that started with the great Canada Day giveaway as Steve Harper cut a penny off the GST and a billion off the U.S. IOU. Galiano burned while British Columbians baked. Italians won the World Cup, Americans won the Tour de Lance and no one won the Middle East missile-toss. Here's a testosterone-free look at a month defined by head-butting and buttheads.
Falun gonged as lama fleeced
China warned that Canada's decision to make the Dalai Lama an honorary Canadian citizen could harm trade relations between the two countries. Apparently the Chinese government was upset because this upstaged their plans to declare the exiled Tibetan leader "an honorary Chinese prisoner."
U.S. President George W. Bush thanked Canadian Prime Minister Steve Harper for Canada's support in Afghanistan. Said Bush. "Canada has a set of values that is extremely important for the world to see...ours."
A new study shows that alien fish are threatening B.C.'s native species. The green aliens have been spotted pointing ray guns and saying that wild salmon make them very, very angry.
Speaking at a conference in the real London -- in England -- Canadian Prime Minister Steve Harper declared Canada "an energy superpower" and announced plans to dress the country in spandex and start combating evil.
Canadians celebrated Canada Day with a one per cent drop in the GST. However, many stores didn't drop their prices because it would have been "too inconvenient." The Tories also plan to lower the tax on alcohol, realizing there's no way they'll win a majority if everybody's sober.
The Liberal leadership race continues to heat up and so far the likely winner appears to be Steve Harper. Toronto MP Jim Karygiannis resigned as Joe Volpe's campaign manager because he finds the candidates weak on foreign policy. The former immigration minister Volpe says his candidacy will guarantee that people can pronounce Jim Karygiannis.
The bride wore hemp
The head of the B.C. Marijuana party, Marc Emery, got married this month. No word on who smoked the bouquet.
The GVRD has suggested placing tolls on all major highway bridges to lower traffic congestion by increasing deaths due to road rage.
A new ruling by Vancouver city council means Wal-Mart may get to build its big-box store on Southwest Marine Drive after all. Vision and COPE councillors voted against the proposal, arguing that adding a Wal-Mart could destroy the charming neighbourhood feel created by all the local car dealerships.
The Rolling Stones announced plans to play in B.C. on their current A Bigger Bang tour. Mick Jagger says they may also add a stop in Victoria since they've heard "it's a good place to retire."
Lays...bet you can't convict just one
Enron President Ken Lay allegedly died of a heart attack while awaiting a possible sentence of 10 billion years in prison. In a chilling coincidence, Lay was supposedly found dead in the exact same tub where they discovered Jim Morrison, and he was buried next to Elvis.
Steve's best friend, George W. Bush, cast the first veto of his presidency, declaring that stem cell research "crosses a moral boundary." Yes, really. He also admitted to killing the electric car.
North Korea tested several long-range missiles, prompting the U.S. to announce plans to send more troops to Iraq to stop Saddam Hussein.
Monopoly money will soon be replaced by Monopoly debit cards -- and, to make the game more realistic, when the game's over even the winner will owe money to the bank.
So much for her happy ending
Nelly Furtado announced her bisexuality -- but Avril Lavigne got married anyway. Lavigne said see you later to her complicated sk8er boy phase, adding up with Sum 41 singer Deryck Whibley.
Former 'N Sync star Lance Bass announced he's gay, shocking fans who wondered, "Who ever thought he was straight?"
Future Real World participant George Michael was whammed by the British press after paparazzi caught him emerging from the bushes of Hampstead Heath Park after allegedly having sex with Norman Kirtland, an unemployed 58-year-old van driver. Wham! fans were devastated by the news that the best Michael could do while cruising was a 58-year-old unemployed van driver. Wasn't Lance Bass available?
After announcing plans to star in a musical based on his life story -- which will include songs about KITT, the car from Knight Rider -- David Hasselhoff was raced to the hospital for emergency surgery to slow the growth of his ego.
CBC's new reality series, The One, which is about music or something, set a new ratings record in its second airing, registering only one viewer.
And, finally, Canadian Idolmaker Ben Mulroney is Canada's new ambassador to UNICEF and the spokesman for its Halloween trick-or-treat campaign. A spokesman explained, "He's the scariest Canadian celebrity we could think of."
Mark Leiren-Young, a Vancouver screenwriter, playwright and journalist, files his "Fast Rewind" summary of the news for The Tyee at the end of every month.