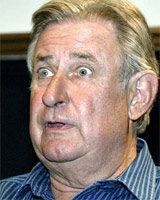 It was a month for April fools as anybody who was anybody and everybody who was nobody entered the Liberal leadership race; Stephen Harper plotted to fix election dates after breaking the country and the left started leaving the NDP. B.C. cows were mad but Canucks fans were madder and the loonie went crazy, which means it May be time to look back at the agonies of April.
In his first throne speech, Prime Minister Stephen Harper declared the U.S. Canada's "best friend." He then rolled over onto his back and begged for a biscuit.
Prime Minister Harper declared victory in the softwood lumber dispute after allowing the U.S. to keep a mere $1 billion in illegal levies and one testicle.
Harper then generously offered up the other testicle when he announced his government will no longer allow reporters to view the repatriation of fallen soldiers. This follows a decision to stop flying flags at half-mast to honour their deaths. Harper says it's time to end these traditions before there are so many deaths that Canadians get bored of them.
An embarrassing typo was spotted in a Canadian Press headline this week that read "Brian Mulroney feted as greenest PM in Canadian history." The correct spelling is "fetid."
The No-Longer-Remotely-Progressive Conservative Party gutted the budget for Environment Canada programs dedicated to fighting climate change. National Resources Minister Gary Lunn explained that while Canada was right to sign the Kyoto Accord when all the oil was coming from Saudi Arabia, now that Alberta's oilfields are looking like North America's leading source of fuel, it's obvious that global warming is a myth.
King Ralph deposed
Following the ritual disemboweling of Alberta's soon to be ex-Premier Ralph Klein, former Reformer Preston Manning hinted he may run for Alberta's top job. Manning says it's a toss up between that and running for leader of the federal Liberals.
A new survey shows that 60 percent of Saudi Albertans feel they don't get enough respect from the rest of Canada. Aside from having a prime minister from Calgary, they feel it's time to move the federal capital there. The rest of Canada says if Albertans want more respect, they'll have to stop wearing those funny hats.
Justice Minister Vic Toews announced that his government plans to raise the age of sexual consent from 14 to 16. However, in order to respect the ReformaTory core constituency, they will offer exceptions in cases where cousins marry.
After Liberal leadership hopefuls Bob Rae and Michael Ignatieff suggested the Liberals and New Democrats should merge, perpetually outraged NDP leader Jack Layton declared that the Liberals can't be trusted because they veer to the right when in power. Layton says the federal NDP can be completely trusted because they'll never have power.
Former Conservative leadership candidate Scott Brison entered the Liberal leadership race - but no one was surprised, since he e-mailed several Bay Street brokers about his plan.
Federal Green Party leader Jim Harris announced he won't be leading his party into another election - sparking rumours that he's planning to run for leader of the federal Liberals.
BC cowed, Canucks sheepish
Mad cow disease was discovered in British Columbia. The cow was apparently furious at the new softwood lumber deal. Meanwhile, following the discovery of a case of mad cow in America, U.S. officials have announced plans to deal with the problem by ending all animal testing.
After failing to make the playoffs, Vancouver Canucks management fired longtime head coach Marc Crawford. Crawford said he had no hard feelings about the firing and immediately announced plans to sue Todd Bertuzzi.
Vancouver Mayor Sam Sullivan, who once admitted to buying crack for an addict, has proposed that the federal government provide free drugs for junkies. Sullivan explained there's only so much he can do on a mayor's salary.
After losing the rights to broadcast Canucks games, CKNW announced plans to cut its news team -- which means The Sun and Province will now have to steal all of their stories from BCTV. Meanwhile, NW's changing its slogan to "CKNW: your minor news station."
West coast crooner Michael Bublé won artist of the year at the Junos. Astonishingly, the year was 1957.
What's the frequency, Katie?
Katie Couric left The Today Show to become the new anchor of The CBS Evening News. If viewers feel the perky host doesn't have the gravitas to follow in the footsteps of Edward R. Murrow, Walter Cronkite and Dan Rather, the network plans to replace her with Rosie O'Donnell. Courage.
Fox News commentator Tony Snow has been appointed as the new White House press secretary. And great news for Snow -- he can still keep his day job at Fox.
At Easter services in Vatican City, Pope Benedict refused to acknowledge the newly discovered gospel of Judas and continues to blame the apostle for betraying Jesus. The Pope says he ain't absolving Scooter Libby, either.
Controversial rapper Eminem split from his wife Kim again -- after the pair remarried for three months. The marriage lasted just long enough for Eminem to remember how much he loathes her - and to write a new album about it.
Former pop tart Britney Spears is already pregnant again. Spears says it's important to have a new baby quickly -- just in case she breaks the first one.
Keith Richards received a concussion after falling out of a palm tree in Fiji. The injury conclusively proves that if a Rolling Stone falls in a forest, we will hear about it.
Former Beverley Hills 90210 star Luke Perry went to court seeking protection from a stalker. The case shocked most observers who couldn't believe Perry was still famous enough to stalk.
Rapper Snoop Dogg was arrested at Heathrow Airport on charges of "violent disorder and affray" or, as the British prefer to call it "actin' like a shiznit fo' shizzle biatch."
And finally… A new survey shows that British Columbians live longer than anyone else in Canada - which is good news because it means some of us may actually be around long enough to see the Canucks win a Stanley Cup.
Mark Leiren-Young, a screenwriter, playwright and journalist, files his 'Fast Rewinds' of the news for The Tyee at the end of every month.