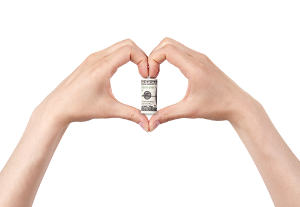 I've always admired the resilience of the capitalist marketplace and never more so than on Valentine's Day, when places like BreakupGems.com start advertising their wares.
That's right: Breakup Gems. It's exactly what you might expect. An online retailer of cheap jewellery dedicated to serving the consumer who might otherwise feel excluded from Valentine's Day shopping because he or she is sans mate.
Think of it as anti-Valentine's Day jewellery for the romantically bitter and twisted.
As the popularity of Valentine's declines among cynical singletons, founder Jay Rosen, who styles himself a "self-empowerment entrepreneur," delivers baubles designed to advertise breakups and divorces. For V-day, you can celebrate your newfound single status with the company's broken-heart rings -- literally, a ring with a split heart -- and wedding bands with a chunk missing.
To me it looks like preserving bile in cheap gold, but who am I to judge?
"We cater to the growing number of people looking for meaningful ways to bring closure to their past and move forward with confidence," Rosen says in a news release that encourages people to embrace being alone this Valentine's Day.
And are we ever alone. In Canada, the 2011 census notes that 27.6 per cent of us are living solo -- more than double the number of singles in 1971 -- and if you look at Sweden it's a whopping 47 per cent of the population rejecting cohabitation.
Now, I recognize that living alone doesn't preclude being part of a couple. In fact, living under separate roofs may well be the only way for some people to remain a couple. But still, I've noticed something the National Retail Federation buried deep down in its annual news release: fewer people will be celebrating Valentine's Day this year. About 54 per cent versus 60 per cent last year. I suspect this trend will continue, not least because most of us do all our V-Day celebrating in the first five years of a relationship. (I won't speculate on why this might be.)
From a Valentine marketer's point of view this is bad news, since long relationships equal declining love tokens purchased for Pookie. And as the Baby Boom cohort ages, it's also less likely to get new partners, which doesn't bode well for the future economics of Cupid's official day.
This is worrisome, since Valentine's is one of the essential holidays for keeping our consumer economy humming. It has the distinction of being second only to Christmas when it comes to exciting consumers into parting with cash. It even manages to edge out Mother's Day in most years.
And it's particularly crucial to small business. While Christmas is a boon to big corporate retailers, Valentine's Day puts the emphasis on romance, making it the natural domain of local businesses. Restaurants and artisans of all sorts from the local chocolatiers to jewellery and lingerie designers -- in other words, our neighbours -- are the ones relying on romantic sales.
Cashing in on narcissism
Of course, the dollar value of even the declining Valentine's Day is staggering. American research puts sales at about $17 billion, so it's safe to assume Canadians spend about 10 per cent of that, or $1.7 billion. Interestingly enough, the retailers' association calls this "modest" spending, with an average of about $134 per person. I suppose it is modest when compared with Xmas, which amounts to about $579 billion in spending, or $738 per person.
So while you may think that your decision to buy saucy lingerie for your sweetie is between you and her, it's actually a matter of public concern, particularly when Valentine's Day sales drop.
Holidays are crucial to our economy, but only if we all buy-in, so to speak. Hallmark, the greeting card company, has made valiant attempts to expand the field and get us all to recognize days devoted to grandparents, or secretaries, even bosses. But it mostly comes off as self-serving. (And Bosses Day? Seriously?)
The other approach has been to try and capture a growing un-served niche of the market with what I call the anti-celebrations. Places like Breakup Gems try making a silk purse out of a sow's ear (and selling it). But they invite mockery, if not outright contempt. The recent attempt to cash-in on divorces via ritualized parties may have inspired a how-to book from Self-Counsel Press, but I don't see many people jumping on that bandwagon either.
While this may be the Age of Narcissism, in which mediocrities of all sorts demand the limelight, the majority of us just don't want to play the audience. Well, not unless we're allowed to heckle and jeer. That's because we're all looking for ways to express our own identities, which is partly what holidays -- formerly holy days -- are now about.
As a fascinating article in last month's Atlantic magazine tells us, performing the role of "me" is a complicated business. We collect and wear things to tell ourselves who we are as much as to telegraph our identities to the world. And much of what we acquire is designed as what psychologists call "feeling regulators" -- things that evoke good memories or make us feel connected to someone we love.
Not only does that research explain why old photos are the first thing everyone grabs in a fire, it explains why jewellery is a major love token, making up about a third of V-day purchases. Wearing a necklace or a ring that was a gift from someone we love serves as a sort of proxy for that person.
Resuscitate Cupid? Look to history
Which brings me back to how we need to give Valentine's Day a boost. We should take a tip from the way the Victorians resurrected Christmas as a gift-giving celebration. They mined history for some rituals and then developed them in ways that reflected well on everyone involved.
To reject the consumerfest was to be a Scrooge in the mid-19th century, or a Grinch a hundred years later. The Victorians obviously riffed on what social psychologists are only now documenting about how we construct our identities by surrounding ourselves with the right stuff.
Although a quick review of Valentine's Day history might make reinforcing this excellent economic holiday a littler trickier than bringing back Xmas.
You see, St. Valentine's Day wasn't always about romance. It became synonymous with lovers in the medieval era when the upper classes ritualized philandering. For some reason I've never quite grasped, "courtly love" -- devoting yourself to someone else's spouse -- was considered honourable.
Oh, wait. Maybe there is an opportunity for creating a niche Valentine's market. Perhaps invoking the tradition of illicit romance? Maybe a special line of cards aimed at someone else's wife or husband?
(Here I've made a major cut, since my editor told me to revise my views on celebrating adultery and leave the marketing innovations to professionals.)
But it's worth noting that individual actions have impact. Before Geoffrey Chaucer practically invented the modern Valentine by working some romantic notions about the day into a few of his poems, it was just another in a long line of saints' days marked by the Catholic Church. Mostly St. Valentine was associated with spring and fertility, which is probably why Chaucer's mind made the leap to erotic love.
The 18th century introduced the custom of Valentine's Day notes and by the 19th century, relatively cheap printing made gorgeous mass produced cards affordable. By the 20th century the market had expanded to kids cards, specialty candy, and the hard sell on everything from hotels to scanties.
Still, given that half the population now ignores Valentine's Day revelry, we're obviously doing something wrong. With that in mind, I challenge all of you to come up with some inventive way of giving a nod to gods of love today.
Maybe you could leave an anonymous card on the desk of your office crush today. Or send flowers or chocolate to someone who least expects it. And if that means sending a billet-doux to someone else's spouse, so be it.
As I said to my editor: what's a little hanky-panky when there's an economy at stake?
© Shannon Rupp. For permission to reprint this article please contact the author: shannon(at)shannonrupp.com.