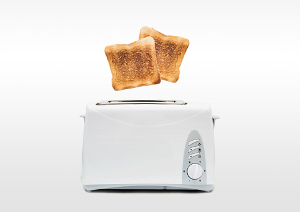 While fashion crazes and toy crazes and fitness crazes all make perfect sense to me, I'm always astounded by food crazes. Particularly by the way certain foods are demonized, like red meat in the 1970s. Or others are lionized, like whole grain bread in the same era.
Especially since the last 10 years has seen a flip-flop, as breads and cereals are back on the list of fattening foods our grandmothers avoided, along with potatoes and rice. Meanwhile beef of the grass-fed organic persuasion is being touted as ideal for both nutrition and weight loss.
What I've noticed about the temporary food villains is that it's never long before a disgraced food reinvents itself as a high-end product. Something elaborate -- it has to be either difficult to obtain or prepare. Something artisanal. Like coffee in the late '70s, when dire warnings about the hazards of caffeine gave way to coffee culture. In the new world order, fine beans were well roasted, carefully ground, and brewed in high priced Italian espresso makers.
Candy bars were junk food that was undeniably bad for you, but there was something stylish -- if not noble -- about having just one perfect Belgian chocolate. But it had to be made by a local chocolatier who imported special cocoa butter. Ditto the designer cookie. Both fads emerged along with Yuppies in the greed-is-good '80s, and I assumed they were hits because they provided a way for even the most average of wage-slaves to participate in a culture that was celebrating wretched excess.
But reimagining ordinary foods as luxury items was the one trend that never seemed to end. Food marketing boards may want to take note: this appears to be the route to rehabilitating unfashionable foods.
Which probably explains the arrival of artisanal toast in the midst of gluten-free mania.
Pop-up and tart-up
Unlike the artisanal cupcake piled high with icing or that more recent donut-and-croissant hybrid, the cronut, this reinvention of a passe food isn't rooted in one of the trendy boroughs of New York, but in the hipster capital on the left coast, San Francisco.
There you can find coffee shops and bakeries serving thick, square slices of sourdough toast matched with lovingly handmade preserves and spreads for the bargain price of $3 a slice. Or $4 for two, if you have decided that low-carb diets are just so last week.
Or so I have been reliably informed by Pacific Standard magazine, which traced the roots of San Francisco's toast trend to Trouble Coffee, a tiny cafe with a big story. The owner conceived of her limited menu of coffee, coconuts, and toast as a small business that would be the solution to her own long years of struggle with mental illness. That was six years and a second cafe ago.
Author John Gravois offers a tale of bread-and-redemption that veers close to satire in the vein of CBC's This Is That, without quite crossing over. Although when he waxed on about the toast toppings like "small-batch almond butter" or sea salt, or the cinnamon toast of childhood, I had to wonder if he was taking the piss, as the Brits say.
Never mind. I think it's true, not least because it makes perfect sense that toast would become a gourmet food in the land of tech start-ups, where teenagers become millionaires before they can cook. I always suspected the tech boom of the late '90s fuelled the gourmet comfort food trend of fancy mac-and-cheese and retro diner dishes.
And in the battle of favoured foods, I had already noticed the delicious irony of the artisanal bread revolution of the last 15 years at war with the low-carb revolution -- and I suspect it's winning.
I'm sure we're witnessing a bona fide trend in its fledgling stage. It has all the markers: an ordinary food that has become verboten is tarted-up to seem exotic; it comes with hard-to-get ingredients; and it has an irresistibly fat profit margin. It feels luxurious, while being affordable -- an important point in cities like San Francisco and Vancouver, where million dollar houses are tear-downs.
Just ask a Brit
It didn't take much research to turn up gourmet toast in a couple of pricey New York bistros and some cafes in London. There are also hints that toast has been poised to become the new cupcake for a several years now. There's a 2009 cookbook by British restaurateur Tonia George, Things on Toast. And the Guardian reports her London cafe Ginger & White, which serves "artisan British food and coffee," offers two slices of sourdough toast with local butter and jams for about $5.50.
So I began looking for signs of elevated bread closer to home and chatted it up with colleagues. I was delighted to hear one of my editors admit to dining on luxury toast locally at Vancouver's Nelson the Seagull, although she views herself as less a hipster than a sucker.
My friend Trish, a health reporter in Toronto, sees no sign of gourmet toast in that town, but suspects the enthusiasm is nothing new for the Brits. She lived in London for a few years in the mid-'90s and said they practically make a fetish of browning bread.
"They have a propensity to put jam on anything that will lie still," she said. "And I think it's the only place I ever heard people refer to toast as rounds, as in, 'We'll have two rounds of toast.'
"And then there's the whole Marmite thing. And beans on toast," she said, with a shudder. "Are you sure this is a thing?"
Well, when she puts it like that, it seems less likely. Although who doesn't salivate at the thought of savoury cheese sauce poured over toasted bread, the Welsh rabbit? I can imagine that, made from an artisanal cheese, might well be a feature item in a trendy cafe.
But the most persuasive sign I've seen that toast is the new It Food was in a high-end kitchen shop where I found an array of toasters priced at north of $400. Apparently it's the latest must-have for creative home cooks.
Mark my words: some morning soon there will be a Toast Truck in a business district near you.
© Shannon Rupp. For permission to reprint this article please contact the author: shannon(at)shannonrupp.com.