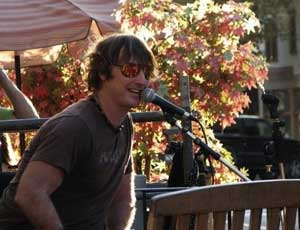 [Editor's note: This is the first in an occasional Tyee summer series called "I came to B.C." -- stories about folks who moved to the province to remake their lives, reinvent themselves, or simply to pursue a dream of life on the coast. What drew them here, and in the case of today's story, in the face of unimaginable hardship what makes them stay? Stay tuned for more stories later this August.]
Ed Natyshak is a big, brash, friendly 45-year-old with a relentlessly positive attitude and a huge voice. His words boom off the Kootenay mountainsides. His enthusiasm for life is like an alarm clock. Talk with Natyshak and you realize it's time to wake up to your own life, quit complaining and get focused.
Since 2007, Natyshak has been paralyzed from the chest down, with some limited use of his hands and arms. These days, he teaches the toughest fitness classes around from his wheelchair.
As a young man, Natyshak played a lot of hockey and worked as a whitewater guide in Ontario. He would meet young people from B.C. -- kayakers, rafters, mountain bikers.
"Their eyes lit up when they talked about adventures they had in the mountains," he says. "I wanted that."
So in 1996, at age 27, Natyshak drove west with his then-girlfriend and ended up in Nelson, B.C. "That was it. I was hooked. All I needed to do was put on my hiking boots and head straight up, which is what I did, soon as I got here."
In his first year in Nelson, Natyshak connected with local whitewater kayakers and the Slocan River. "Amazing people. Everyone who whitewaters that river falls in love with it. Rivers make people peaceful and strong."
He got a job at the Whitewater Ski Resort and got into mountain biking. He says it's all about gravity.
"I love playing with gravity in such a way that you survive it. It is a real natural thing to drop the fall line, but it is obviously dangerous."
Natyshak went to college and studied to become a fitness trainer. At the same time he devoured all of the American trainer Paul Chek's books. He opened a gym, Summit Health and Fitness, in 1997. He met Ed Feuz, an advanced and unconventional trainer who Natyshak knew was on the cutting edge of fitness, and took him on as a partner in 2001.
Already well into his sixties with a shining shaved head and the lithe gait of a young track athlete, Feuz was as taciturn, blunt, and strict as Natyshak was friendly, open, and spontaneous. At the gym the unlikely pair was known as Young Ed and Old Ed, or Big Ed and Little Ed.
The pair worked like crazy to help the gym succeed, Natyshak says.
"I was really, really active. My body was on the move, charging hard. I got up at 4:30 to open the gym for 5 a.m., taught my first class at 6 a.m. Those classes were massive, and I physically led them the whole time, doing the moves. I was done work at 1 p.m., and that gave me all day to go and do something nuts, which was skiing -- five quick runs up at Whitewater to the end of the day -- or getting on my mountain bike and heading out."
Natyshak started the annual Summit to Summit Race that ran in Nelson for seven years. Contestants of all ages ran, skied downhill and cross-country, biked, kayaked, and then ran again in a huge loop to and from Whitewater ski hill down to Kootenay Lake and then up to the gym.
"I got to network businesses in a really cool, inclusive, mountain culture event," says Natyshak. "We were building community relationships through pure fun."
'I was just a big bag of meat'
Mountain biking was Natyshak's real passion. On July 6, 2007, on the Smilin' Buddha trail at Mountain Station above Nelson, Natyshak says he was riding better than he ever had, on the best bike he had ever had, but that he was unfocused, distracted by thoughts.
Suddenly, he head-butted a tree with lethal force, snapping his C7 vertebra. Everything went to black and white instantly, he says.
"I started to suffocate, and my arms immediately lit up with pain like they were being immersed in scalding steam. And then it was hold on, hold on to life. I was there for two hours...I thought I'd be in the food chain, I'd get eaten by something, from the smell and the sweat of me."
Another biker came to his rescue. Rumour has it that as the paramedics carried him down the mountain, Natyshak, rather than bemoaning his own fate, praised them for the great job they were doing. "You guys are awesome."
He laughs now when he hears that. He doesn't remember it. He only remembers being afraid because "I knew right away I was just a big bag of meat."
But he also says the trip down the mountain was emotionally powerful, because he knew his story would ultimately be one of survival.
"I don't use the words hope and faith, because they don't have a lot of density to them, not a lot of mass. They are easy to say and easy to attach importance to. They are not something I would hook my carabiner into if I was going to fall."
He says he'd rather use words like logic, passion, hard work, focus, persistence and giving back. Those are the things that have carried him through after the accident, he says.
New gravity
Within a month of his injury, a thousand people came to a fundraiser in Nelson and raised about $90,000 for him. To Natyshak, it was a "resounding bugle call" from his community.
His eight months of rehab were difficult. "Every day discovery, every day challenge, every day fear and overcoming it. Every emotion you could ever put into a blender and drink."
In rainy downtown Vancouver traffic, he was taught to drive a vehicle with hand controls. He learned to get himself in and out of the vehicle, transferring himself to and from his wheelchair -- like moving a big dead body, he says. His goal was to return home.
In 2008 he moved back to Nelson, a seemingly wheelchair-impossible town in B.C., especially in the winter with its slippery, steep streets and lack of flat ground.
It was a new kind of gravitational experience.
"In Nelson, if you let your chair go, you're in the lake. I like those vertical drops though, I'm with 'em. They challenge me and my friends who are with me when I'm in my chair, so everyone has an exciting time."
For the first couple of years it didn't go well, with overwhelming challenges every day. During his first attempt to grocery shop by himself, he had a bowel movement in the produce aisle.
Scared and ashamed, he got himself out to the parking lot, back into his vehicle, drove home, and cleaned up with the help of a care aid. Then he decided to try it again, immediately. He drove back downtown to Save-On-Foods that same day, did his shopping, and returned home, his first solo shopping trip complete.
He told that story to a group of nursing students at Selkirk College this year in his annual visit to their class. He tells the story, he says, to demonstrate the importance of persistence and focus.
'There is no easy'
Persistence and focus are also his messages in the fitness classes he started in Nelson in 2010, after a friend called Natyshak and asked him to train him. The friend was Derek Westerlund, the head of Freeride Entertainment, a mountain biking film company based in Nelson.
"Derek told me, 'You are going to do this. You are the guy. You are going to come and get me in shape...I told him, 'OK, I'll do it, but you gotta promise you are going to do exactly what I say.'
"So I went and started training him and a group of guys in a carport, a dusty carport with some Swiss balls and stuff. It was awesome, and I was making improvements every workout that were blowing all of us away. My imagination started to soar."
The initial workouts were emotional for Westerlund.
"Fitness training was Ed's passion and that had been taken away from him. We worked out at my place and he used to make us run up that steep part of Gordon Road, driving beside us, shouting at us out the window to motivate us," Westerlund says.
"I've been in sports my whole career, and I've seen injury and even death. It warms my heart to see him successfully coming back into the community again." It led to the formation of Natyshak's new business, Sasquatch Performance Training, so named because he says he wants to make everyone into "a mythical beast on a mountainside."
He runs the classes in a converted carport at his home for a total of about 20 people, four to six per class. The techniques he uses mirror the no-nonsense grit that got him through rehab and back to Nelson.
Each person in the class has an exercise ball, a couple of weights, a medicine ball and a mat. He starts by teaching them a series of simple moves. Then they run them very fast for half an hour, stop-watch timed, with no questions or discussion.
Natyshak watches them intently from his wheelchair, yelling encouragement over what he calls the most eclectic selection of fitness class music in town. Like his voice urging them on, it's thunderous.
"Loud is part of the technique. I like to create a bit of mayhem, so they have to calm themselves down to do it. They have to settle the brain down and get it done." (To hear voices and sound from one of Natyshak's classes, click here.)
"It is calisthenics mixed with ancient stand-bys like the Turkish get-up, high science moves that are postural, things physiotherapists would use, moves that powerlifters would use, an amalgamation of all that stuff, but what I have done is I have chosen the rep range, the tempo, the intensity."
Natyshak says his clients' compassion for his situation drives them through his gruelling routines and he capitalizes on that as a trainer. "I am right there with them and I'm not gonna let go, so they know they are in the room with a dude who is not gonna relent."
Though he drives them beyond exhaustion, they respect him, enjoy his company, and come back next week for more.
"I am applying those very real moments of wisdom that I have gained through a spinal cord injury. You gotta not talk yourself out of it, you gotta talk yourself into it every time. There is no easy, so you might as well forget about easy and just go for it."
These days, Natyshak's priority is a new relationship.
"I want to show her a life that is joyful and full of adventure. It is hard to stay inspired, so she has done that for me in a big way."
He'd like to have kids someday, which is possible thanks to artificial insemination technology. And he wants to open a bigger gym and take on more clients.
"I have myself in a position where I could market it and make a living off it. That's a great feeling. When I broke my neck I thought I would never brush my own teeth again."
He looks forward to his future in Nelson.
"This is the place. I want it all to be in B.C. Mountain culture. I have no aspiration to take what I am doing into a big city or any place else."