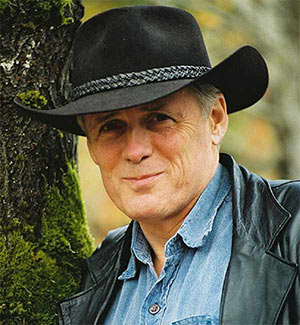 Doug Christie is dead. Good riddance.
The Victoria lawyer earned national notoriety for his ardent defence of a motley collection of scoundrels. He represented a rogue's gallery of losers -- old-time Nazis such as John Ross Taylor, neo-Nazis such as Wolfgang Droege, a couple of Jew-hating school teachers, assorted mixed nuts of white supremacists and Ku Klux Klansmen, and Ernst Zundel, a comic-book Nazi lunatic whose stated disbelief in the Holocaust was matched with a belief the Nazis had UFO bases hidden in Antarctica from which they would complete their quest for global domination. (Zundel wrote books on both subjects.)
On his website, Christie grandiloquently declared himself to be "Canada's greatest free speech defender." What nonsense. When did Christie ever defend speech with which he did not agree? He gained a national platform defending clients against hate-crimes laws and human-rights tribunals, but less well remembered was his own frequent use of the courts to stifle the speech of opponents.
In the late 1990s, Christie represented clients who sued newspaper cartoonist Josh Beutel, the New Brunswick Teachers' Association, the author Warren Kinsella, a college professor in B.C., and a television station in Kelowna. (The latter was a case in which I was to become an unwilling figure. More about that later.) "I do believe this is a concerted effort on the part of members of the extreme right to stifle those who are dealing with hate-mongers," Bernie Farber of the Canadian Jewish Congress said at the time.
In 1984, Christie sued Edmonton Sun columnist John Geiger for describing Christie's Western separatist movement as "just an Alberta version of the Ku Klux Klan." The lawyer was awarded $30,000 in damages, a decision upheld by the Supreme Court of Canada.
The following year, Vancouver radio hotline host Gary Bannerman delivered an editorial in which he said, "Doug Christie has aligned himself so many times with these perverted monsters that he has to be viewed as one himself, in my view." Christie sued. A jury ruled the comment to be defamatory, but fair comment.
No publication was too small, no comment too innocuous. In 1997, Christie threatened the Martlet student newspaper at the University of Victoria with a lawsuit for publishing an editorial describing members of his Canadian Free Speech League as "extremist thugs." The students consulted a lawyer and refused Christie's demand of a retraction. Who defended free speech in that round?
Recently, Christie told CBC's As It Happens: "Free speech is the one thing you have to give to your worst enemy if you want to keep it for yourself." The quotation was included in the CBC's online obituary and, on Twitter, good people cited and retweeted the comment without knowing the hypocrisy behind it. It's a fine sentiment, of course, but one Christie did not practice.
Trial poison
In the same As It Happens interview, Christie let slip a more honest glimpse into his thinking. "I know of no people more persecuted than people in the position of James Keegstra, or Malcolm Ross, or Ernst Zundel," he said. So let's be clear about Christie's worldview. In the long, troubled history of humankind, or even only of this nation, no one was more persecuted than Keegstra, an Alberta school teacher who taught the pupils in his Eckville classroom that the Holocaust was a hoax perpetrated by the Jews, who, not incidentally, were evil conspirators responsible for fomenting wars and revolution. The students who echoed his views got better marks than those who did not. For this, Keegstra lost his job and was found guilty of promoting hatred, the penalty for which was a one-year suspended sentence, a year of probation, and an order to perform 200 hours of community service. In the annals of punishment, this is weak tea, though it did not prevent Christie and his client from luxuriating in a faux martyrdom.
In an adversarial legal system such as ours, every defendant is deserving of an ardent defence. Nor should a lawyer's legal arguments ever be mistaken for an endorsement of a client or their views. Christie certainly delivered for his clients, proving himself to be a frustrating, demanding and belittling presence in the courtroom, as he eschewed even basic dignities when afforded the opportunity to badger Holocaust survivors on the witness stand. Hate-crime laws and human-rights tribunals suppress speech. Prosecutions provide a platform for the obnoxious views of a parade of odious characters. Among them I would include Christie himself.
During the war crimes trial of Imre Finta, a Hungarian-Canadian restaurateur who was acquitted, Christie was argumentative, sarcastic, hectoring. He sowed confusion in the courtroom. One book that examined the case said Christie "distressed the (victim) witnesses, confused the jurors, and poisoned the atmosphere of the trial."
(Incidentally, Christie's law books were carried into court by John Ross Taylor, a client who had been convicted of hate speech and a prominent leader on the far right since the days of the fascist ascendency in the 1930s.)
'Part of the price one pays'
In 1993, the disciplinary committee of the Law Society of Upper Canada investigated the lawyer's conduct in the Finta and Zundel trials. The three-person panel rejected three complaints about his actions, doing so in language that offered little solace for the lawyer. Christie's behaviour "crossed the line separating counsel from client: he has made common cause with a small, lunatic anti-Semitic fringe element in our society," wrote Harvey Strosberg of the law society. The ruling went on to state, "We know who Mr. Christie is. In the depths of his imagery he has not lied. Suffering Mr. Christie's words and opinions is part of the price one pays for upholding and cherishing freedom of speech in a free and democratic society."
I first reported on Christie in the summer of 1980 during his inaugural tour to promote the creation of a separate nation composed of the four Western provinces and the territories. Only a few weeks had lapsed since Quebeckers had voted solidly to remain in Canada. The lanky lawyer wore a pinstriped suit and spoke as though addressing a much larger crowd than the handful gathered in a nearly deserted room at the Hotel Vancouver. So sparse was the audience, he had plenty of time for a cub reporter from the Vancouver Sun. A few years later, he hit the headlines while representing Keegstra. I also saw him in action during the second Zundel trial in Toronto, holding forth on the courthouse steps while surrounded by ridiculous Zundel acolytes in yellow and red hard hats.
At the time of his death on Monday night, Christie was still registered with Elections BC as the leader of the Western Canada Concept political party. (He also headed the federal Western Block Party registered with Elections Canada. The party's chief agent is Keltie Zubko, his wife.) Western Canada Concept calls for the "protection of a genuine national culture true to our existing European heritage and values." The party's platform also states, "we cannot solve the problems of the third world by importing them in the form of immigration." Doesn't take a lawyer to parse the meaning of those principles.
Christie was the Western Canada Concept's sole candidate in the 2009 provincial campaign, running in Saanich South. He finished last of four candidates with 228 votes, less than one per cent of the total. To his chagrin, western independence, a cause he had promoted since the mid-1970s, never caught on with the public.
On the witness stand
In 1998, I got a front-row seat to Christie's courtroom theatrics. Eileen and Claus Pressler of Salmon Arm sued college professor David Lethbridge and Westcom TV Group for a report that aired on CHBC. The lawyer for Westcom subpoenaed me to testify about a story I'd written a few years earlier for The Province in which the Presslers were identified as local sponsors of a tour by David Irving, the notorious British author who discounts the Holocaust.
My time on the stand was a farce. I was ordered to surrender a notebook, which was then entered into evidence. It was placed in a plastic bag like a dagger from a murder scene. At one point, Christie caused a fuss because the stated number of pages on the front of the notebook did not match the number of pages he counted in the notebook. He made allegations of perfidy until a lawyer for the other defendant pointed out the notebook had lines on both sides of the page.
We were nearing the conclusion of my testimony when Christie barked, "Are you a Jew?"
The words hung in the courtroom.
I was stunned. I blinked several times in disbelief. Had I heard what I thought I'd heard? "Are you a Jew?" What the hell kind of question is that? I wondered what had sparked the question. Of course. I had made a "solemn affirmation" instead of swearing an oath on the Bible. I turned from Christie to look at the judge, who nodded his head as though I were to answer. "No," I told the court.
In another place and at another time, the answer to Christie's question could cost a life.