Earlier this spring, reporter Luke Brocki wrote a series in The Tyee on whether he was crazy to think he could earn a freelance writer's pay and still own a home in the Lower Mainland.
Brocki talked with real estate agents, developers and former classmates who lived out in the far expanses of the Fraser Valley. He even had a half-hour sit-down with Vancouver mayor Gregor Robertson. None solved his predicament.
Like many who feel tied in some way to the urban creative economy, Brocki limited his future to two clear choices: First, break his bank account and somehow nail down some property in some funky yet increasingly pricey East Van enclave, or second, commute from a far more affordable abode in the middle of nowhere, er, Maple Ridge.
Five years ago, I was like Brocki. I couldn't imagine looking anywhere outside of my beloved Mount Pleasant 'hood, let alone anywhere east of the Drive. But when my girlfriend -- now my wife -- moved in with me in 2006, space quickly became a premium in our creaky 620-square-foot leasehold apartment on East 14th Avenue. There weren't any two-bedroom places available in the area for less than $300,000 -- and those that were anywhere near that price were unlivable and needed extensive renovations.
Stubborn as I was, she convinced me to look outside Vancouver for places to live.
Not live in Vancouver? I hated the idea -- I mean, I really hated it. I was adamant that I be able to walk to a cafe or a pub without having to follow a maze of residential streets or cross highways to get there. I wanted to be part of a community, not a matrix of parking lots and six-lane freeways.
Realistically, though, we had to get a bigger place. In desperation, we checked out options in Coquitlam and Burnaby -- both of which, as I expected, made owning a car a necessity. Richmond and Surrey were, for me, out of the question. I wanted more character than the bland, cookie-cutter architecture I saw out there.
One night, I was looking on MLS.com. When I narrowed the search down to two-bedroom apartments under $300,000, to my surprise a huge cluster of affordable apartments showed up in New Westminster and not much west of there.
"What about New Westminster?" I asked my then-girlfriend. We'd been there once or twice on day excursions, and for a change, I didn't feel a knot in my stomach when I considered the possibility of living there.
We quickly learned we could easily get a two-bedroom, two-bathroom apartment within our budget and it wasn't long before we secured a great place at the top of Carnarvon Street with a beautiful south-facing view of the Fraser River and plenty of sun. Two years later, we don't feel the need to be closer to anything, because, well, everything's already nearby.
New Westminster could well be the answer to Brocki's challenge. It's not only more affordable than Vancouver, it's brimming with character, artist studios, indie cafes, old parks, and fixer-upper opportunity. Young people are moving out here in droves, and Mayor Wayne Wright is openly courting them. The city's downtown core also is one of the most densely populated areas in the Lower Mainland.
This is more than a story about the revival of New West. It also may be about the salvation of Vancouver. As B.C.'s biggest city verges on becoming a reserve for the wealthy, it chases away the younger, creative talent that gives a big city its lifeblood and secures its future as a productive centre. Do those priced out move 20 minutes away on SkyTrain? Or, as so many do, do they leave for Toronto, Montreal or cheap and cheerful Saskatoon? When New York got too expensive for the creative young people that make New York hum, other places separated by bridges and tunnels became home to that population -- most famously Brooklyn.
Vancouver's youthful and underpaid energy needs a Brooklyn. Is New Westminster poised to become it? That's what I asked myself last summer, as I visited the real Brooklyn.
The appeal of Brooklyn
"Brooklyn is now the first choice," freelance writer and editor Sean Elder, who moved there more than a decade ago, emphatically tells me over breakfast not far from his brownstone home. "People want to be here."
Twenty years ago, people would have wondered why.
To many, Brooklyn was the epitome of all that is rough-and-tumble about the United States of America. Gangs, ghettos, the menacing threat of crime.
Now, young professionals and artists have made it a new vibrant creative centre, having been driven out of Manhattan by astronomical prices. The cheapest apartment for sale on Manhattanapts.com is a 300-square-foot studio near Grand Central Station for $289,000. Need more space? How about a 510-square-foot studio with a rooftop patio near Hudson River Park and the financial district? That'll set you back $425,000, plus $620 per month in maintenance charges.
Sound familiar, Vancouverites?
Brooklyn Heights real estate agent Sandra Dowling, who's been in the biz since 1985, confirms that Brooklyn, NYC's largest borough with more than two and a half million people, has come a long way from two decades ago, when even taxi drivers refused to go there.
"Here, we have a beautiful community," Dowling says. "People are selecting Brooklyn as a place to live." She keeps meeting weekend visitors who tell her that despite living their entire lives in Manhattan, it's the first time they've ever been to Brooklyn.
They tend to like what they find. "Brooklyn is such a hip, wonderful place. It's young, cooler, greener, and quieter," Dowling's real estate partner, Julie Elizabeth Cohen, tells me.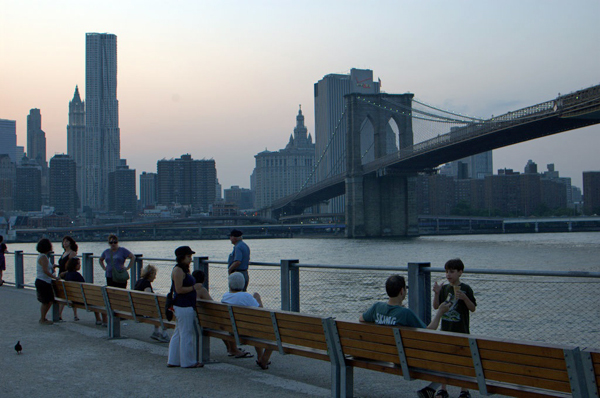 Elder, a writer originally from San Francisco, says the corner of Brooklyn where he and his family live, Fort Greene -- like its neighbours of Dumbo, Williamsburg, Brooklyn Heights and other areas of the massive borough -- has become an amazingly ethnically diverse cultural haven for artists looking to hone their craft.
"If there was a bomb dropped here," he tells me with a serious look on his face, "at least a third of the great American writers would be wiped off the map."
After digesting their comments, I walked around the west side of Brooklyn, losing what felt like 10 pounds of sweat in one of the most intense heat waves to sweep through the area in recent decades. I was impressed by how quickly one neighbourhood transformed into another within a single subway stop, or even within a few blocks.
There's the Russian-Ukrainian dominated area around Coney Island. The Polish communities around Williamsburg, near the Queensborough Bridge, nestled next to clusters of Hassidic Jews. The relaxed, charming tree-lined streets of Brooklyn Heights itself just south of the Brooklyn Bridge. Instead of McDonalds and Starbucks, there are local eateries and cafes on every corner, bookended by indie bookstores hawking local literary journals. It's a far cry from the stereotypical America of strip malls. It would be perfect for an artist who wanted to find inspiration in his surroundings.
When walking through the streets of Williamsburg -- also a popular 'hood for young and creative people -- I saw a t-shirt hanging from a flagpole outside of a boutique hairdresser salon. On it were emblazoned the words: "Can't afford to love New York." I smiled at this, and took a picture.
Ten days in New York also gave me opportunity to explore Manhattan, just a few stops away on the subway. Unlike Brooklyn, it feels disappointingly sterilized. The colourful streets of Irish and Italian descendents shouting at each other around hot dog stands in Seinfeld and old 1970 cop flicks seem like a distant memory. It feels like Mayor Rudy Giuliani threw the baby out with the bathwater when he -- admittedly to his credit -- vowed to clean up the city's streets in the late 1990s.
More accurately, the baby went over to Brooklyn. Brooklyn has what I envisioned Manhattan to have: it feels alive here.
Which raises the question: Given that New Westminster has a fraction of the population, diversity and ferment of Brooklyn, can the city become its own sought-after centre of creative culture (as Brooklyn has), rather than remain mostly a commuterville for Vancouver?
The appeal of New Westminster
All my life living in Vancouver, the words "New Westminster" was Vancouver-speak for "way the hell out there near Surrey."
Like Brooklyn, New Westminster also struggled with its rough-and-tumble reputation. But now, things are changing.
Adam Goss, a local real estate agent who grew up here, tells me that New West's downtown core is on the right track if it wants to attract the younger crowd.
"My belief is community really has to grow and form organically. But, I feel the necessary steps are in the works and form much of the basis for the city's vision moving forward."
That could be an understatement, even coming from a real estate agent. Plaza 88, a huge development at New Westminster SkyTrain Station, has three condo towers as well as a Safeway, Shoppers Drug Mart, two banks, several shops, and a new 10-screen cinema, all within less than one city block. Just a few blocks up Columbia Street are two huge new condominium developments just breaking ground: Salient Group's Trapp and Holbrook incorporating old historic facades into modern living, and Ballenas' Northbank, two blocks away from Columbia SkyTrain Station, just a few blocks from Plaza 88. Northbank, a 21-storey tower with 109 homes including eight townhomes, sold out seven of its eight townhomes before it had even broke ground.
Right next door to Plaza 88, construction is also underway on a $94-million multi-use civic facility project that includes a 350-seat theatre, a Class A LEED gold office tower, an art gallery and studios, conference facilities, the Canadian Lacrosse Hall of Fame, and the new location of the city's museum and archives.
Moreover, like current New York City Mayor Michael Bloomberg's grand vision to transform Brooklyn's nasty cluster of piers into a new grassy, family-friendly waterfront with bike lanes, I'm witnessing a grassy promenade being built along the Fraser River where old derelict warehouses once sat. Former mayoral candidate James Crosty likes to call it "Wayne's Wharf" in tongue-in-cheek derision of Mayor Wright's expensive plan to redevelop the downtown core, but I'll take grassy riverfront over crumbling industrial foundations any day of the week.
At the end of the new park across from Plaza 88 sits the River Market, the newly renovated New Westminster Quay. After years of neglect, it now boasts a Donald's Market, the second locations of Chinatown's Wild Rice and Gastown's The Network Hub, Vancouver Circus School, Great Wall Tea Company, a gelato café, a pub with a killer patio, and a soon-to-open permanent location of the Re-Up BBQ food cart. The market also fronts a long boardwalk on the mighty Fraser River and neighbours the luxury hotel Inn At The Quay, The Boathouse, and The Keg, one of the most haunted buildings in North America.
Unlike other municipalities surrounding Vancouver, New Westminster seems less thoroughly colonized by the automobile.
"New West has a more progressive parking philosophy than most other municipalities as they have greatly reduced the number of parking stalls needed per unit in newly developed properties," Goss tells me. "The concept behind Plaza 88 and the Azure condos was to create community amenities enough to reduce residents' requirement for a car."
Before my wife and I bought a car last fall to make life easier with a baby, we never really felt we needed one. With the market, numerous pubs and cafes, diverse restaurants, one of my favourite Mexican taquerias up the hill, an old-school butcher shop near Queen's Park, and so on, we have just about everything we need here within walking distance.
Density is good for New West's future, believes Goss.
"[The youth demographic] thrives on the energy of a downtown community," he says. "There needs to be an organic energy and for this there needs to be a more dense population. The critical mass needs to be hit. As more populate the downtown, higher quality business comes in, community grows organically."
The city champions density in an official downtown community plan, predicting that the downtown population will about double in the next 20 years.
Urban issues journalist Frances Bula hears the future in conversations around her Vancouver dinner table.
"I know that my 29-year-old son and his friends, who are artsy and not very rich, often talk about New Westminster as a place they'd consider," Bula tells me. "It has beautiful old buildings, a sense of place and... it's easy to get to by transit."
In fact, she adds, "New West is attractive because it's one of the few areas outside downtown Vancouver with a sense of history. There are a few more areas scattered around the region -- lower Lonsdale, Annieville, Steveston, Fort Langley, Cloverdale.
"But," Bula continues, "New West is closer and not so suburban feeling as North Van. I see it possibly being more like Georgetown in Seattle or Williamsburg in New York."
Imagine how suddenly fused New Westminster and Vancouver could become as a corridor for young creatives if the SkyTrain operated later than 1 a.m. But that's its own story.
The appeal of accessibility and character
Actor and stuntman Patrick Sabongui, who recently appeared in This Means War starring Chris Pine and Tom Hardy, moved here with his wife from Los Angeles four years ago. He runs an acting school called ACT Vancouver which teaches acting classes for children out of the Kids in Motion studio on East Columbia in Sapperton.
Why New West? I ask him.
"It's a more central location," Sabongui tells me over a coffee at Hideout Cafe on Carnarvon Street. To get to Vancouver from many areas, Sabongui explains, you have to drive through neighbourhoods to get to where you need to go, whereas you can quickly get to New Westminster on the SkyTrain, via the Trans-Canada Highway and the Pattullo Bridge, from anywhere else in the region -- including Vancouver.
That ease of accessibility gives New Westminster an advantage that Vancouver doesn't have, Sabongui says.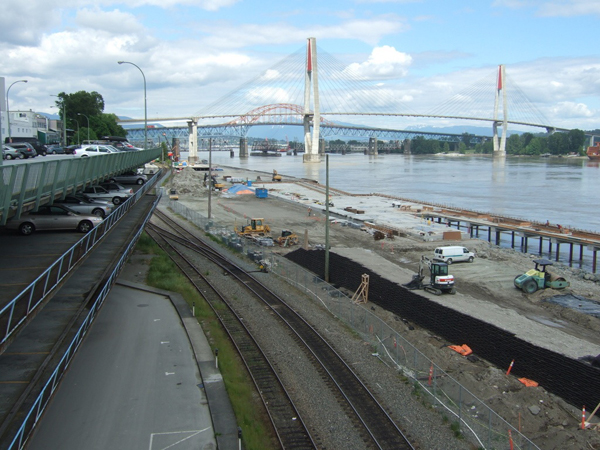 Another redeeming characteristic is its urban character, he notes. "When the sun goes down, and I look out onto the street, I see all kinds of characters walking around." There's a gritty charm here lacking in Vancouver.
One person's gritty, of course, is another's alarm bell. In December, Maclean's magazine ranked New Westminster Canada's 15th most dangerous city. The city's police department countered that New Westminster's crime rate had decreased in the last 10 years, a rate faster than province-wide in many categories. New Westminster's varied edges makes it a natural locale for the movie industry, Sabongui says.
"You can look in one direction and be in New York City. Look in another direction, and you're in Paris."
He's right. The popular TV series Supernatural films here regularly. I've seen TV sets for Fringe and Alcatraz as well, using New Westminster to stand in for Los Angeles, San Francisco and of course, New York City.
Because it's an urban chameleon, Sabongui adds, the city allows its creative individuals to be whoever they want.
"When you're an artist, you're like a plant, a tree. You can't put a tree in a box," says Sabongui, adding that an ideal place to live is one that offers its residents the chance to grow, to explore, to bloom.
Vancouver can be described as already established, Sabongui says. New West, on the other hand, could be seen as just beginning. "It has a creative energy."
A magnetic energy, perhaps, that will draw more young people like myself.
Maybe we'll know that has happened when t-shirts begin selling in New Westminster proudly proclaiming: "Can't afford to be a Vanlover." Luke Brocki, can I sell you one?