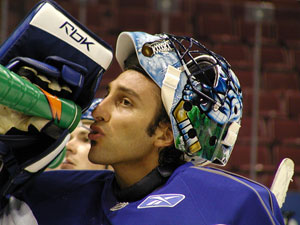 Vancouver isn't a goalie graveyard, it's more like a goalie gallows. We don't bury our goalies here, we prefer to string them up and throw rotten fruit at them like they did in the good old days before they replaced public hangings with reality TV. It was clearly a sign that this wasn't a great long-term home for goalies when our first net-minding hero, Gary Smith, was nicknamed "Suitcase" because of how often he was traded.
I was watching game four at CBC Plaza when Alain Vigneault finally, mercifully, pulled Roberto Luongo after the fourth goal and as I heard several cheers from the crowd I winced. Three shutouts, a heroic 54-save performance in the game that de-finned the Sharks and I could feel the call-in show regulars standing by speed dial for the end of the game to launch, "the goaltending controversy." As I prepare to file this to The Tyee, a fan poll on the Vancouver Sun website had just over 52 per cent of respondents saying Luongo shouldn't start game five. Ouch.
Maybe, just maybe, Coach V will surprise everyone like he did in the Chicago series, by putting rookie phenom Cory Schneider in net -- but I think that's only slightly more likely than the NHL changing their mind on the Aaron Rome suspension after seeing that dressing Keith Ballard for one game was punishment enough for any playoff crime.
I was living in Toronto during the Keenan Interregnum and I recall watching the Leafs win one playoff series and almost win a second with pretty much every front line forward watching injured from the press box, or a hospital room, other than Mats Sundin. I was so impressed by Sundin's determination, by the way he practically willed his team to win the way Kesler carried the Canucks against the Predators, that when the undermanned Leafs were predictably eliminated, I thought he deserved his own parade. Instead, he was abused as the chicken Swede who couldn't get it done under pressure and compared unfavourably to the, um, great Wendell Clark who had led the Leafs to... absolutely nothing. After all that abuse I never got why it took Sundin until the end of his career to waive his no-trade contract. And I'm not sure I'll ever get why any goalie would want to play for the Vancouver Canucks.
Captain Lu
During the regular season there were complaints about Luongo losing shutouts in the final minutes of games. If memory serves, these were mostly, if not entirely, shutouts that were lost in games the Canucks won which means the only player on the team affected by this stat was... Luongo. Yes, Lu let in a few late goals and um... won the President's Trophy, the Jennings Trophy for least goals against, and a slot as a Vezina finalist. Imagine what he could have accomplished if he didn't suck (the way many fans seems to think he does)?
Luongo has often said his goaltending idol is Grant Fuhr, the Oilers goalie who only had one truly spectacular stat -- in the games that mattered, he almost always let in one less goal than the other guy. I'm sure Lu likes his shutouts just as much as the next goalie, but I also believe him when he says he's more interested in the wins. When former general manager, Dave Nonis, threatened, bribed or hypnotized Mike Keenan into taking Todd Bertuzzi off Vancouver's hands (and payroll) for Roberto Luongo, it wasn't clear Lu was planning to stay. Despite Nonis declaring that there was no player in the world he'd rather build a team around, I seem to recall Lu had to fly home to Florida when his wife was in labour.
That's why I thought the new GM, Mike Gillis, was a genius when he named Luongo as the first goalie captain since before Jacques Plante invented masks and Gary Bettman invented hockey in Florida. As a former agent, Gillis knows something other GM's clearly haven't figured out -- talent is never just there for the money. Gillis came up with a perq no other team would or could match and while there were people second guessing that decision in the second year when the "C" did seem to weigh heavy on Lu's mask, in that first year Henrik wasn't ready for the job and, for all the Kesler backers out there, until this season when he and Burrows were infected with Sedinish calm, Kesler spent way too much time chirping at referees to be the guy trying to reason with them.
Before Lu my all-time favourite Canuck goalie was Glen "the Franchise" Hanlon. I had a seat five rows up and just behind the Canucks goal during a playoff game against the Sabres in 1980 when Hanlon took a shot that hit his arm in the first period that clearly hurt him... badly. I was close enough to see the pain on his face not just when he was hit, but when the trainer was with him and he refused to leave the net. I remember him stopping everything for the remainder of the period and then not coming back and finding out later that he'd separated his shoulder and was gone for the playoffs (which, as it turned out, ended for the Canucks the next night). The guy played with a separated shoulder... That's the kind of story that becomes a playoff legend... If you win the Cup. When you don't... it's not even on Wikipedia or the encyclopedic online Canuck history.
I was in a UBC dorm room doing homework with a friend I was hoping would become more than a friend when I heard the shout from a woman down the hall that Hanlon had been traded. All thoughts of romance immediately vanished. I took the news almost as well as Oilers fans took the day they dubbed "Black Tuesday," the day Peter Pocklington sold Wayne Gretzky.
When Hanlon was traded, he cried. I'm pretty sure that was the first time in Canucks history -- possibly the only time in Canucks history -- when a player cried after being traded away from the Canucks, although I suspect several goalies have cried after finding out the Canucks had acquired their rights.
Those capricious hockey gods
I never quite warmed to another Canucks goalie after that.
I grudgingly admired King Richard Brodeur and Captain Kirk McLean (especially in '94) but kept thinking... Hanlon was better...
And part of me still remains convinced that Dan Cloutier had incriminating photos of Marc Crawford -- how else to explain how Crawford allowed Cloutier to ruin his coaching career in Vancouver and Los Angeles? I was a guest on Sports Talk during the tail end of the Cloutier era and since I'd always marveled at host Dan Russell's ability to defend Cloutier no matter how much pain his play caused me, I told the host off-air that I believed there was only one team in the NHL that would trade their number one goalie straight across the board for ours -- the Toronto Maple Leafs. After the Lidstrom shot (if you don't remember it, don't Google it, it has caused more than enough pain over the years) I told Mr. Russell I was convinced the only number one goalie as erratic as Cloutier was Felix Potvin. In a cruel joke by the capricious Hockey Gods -- who clearly play shinny with Coyote, Raven, Loki and the other Tricksters of mythology -- "The Cat" arrived to replace Cloutier well after using up all nine of his lives in Toronto.
Doing that same test today, I suspect there are only two teams that wouldn't at least seriously consider trading their top goalie for Luongo -- one is the team Lu beat in round two and the other is the team he's currently facing where the goalie has likely wrapped up the Conn Smythe, lose or win (unless Luongo pulls off back-to-back shutouts or Kesler, Henrik or Burrows scores two straight winning goals). Of course, after letting in five goals in a game against Tampa Bay, a contingent of Canucks fans would have been baying for Thomas's blood and declaring the 37-year-old, "over the hill."
I finally let a new Canuck starting goalie into my heart when I was lucky enough to attend the longest overtime game in Canucks' history, the sixth longest in NHL history, and the first NHL playoff game in Roberto Luongo's history. Four periods... just over 138 minutes... 72 saves before the Sedins ended it. And Lu not only looked like he could play all night, he looked like he wanted to.
Or maybe I was smitten by him during the regular season game against Montreal when Luongo spent the night in the hospital, but arrived to shut out the Habs on Hockey Night in Canada.
Luuuuuuuuuuu
When the Olympics came to Vancouver, I bought a Team Canada Luongo jersey. This is a guy who loves to play, loves to compete, cries when he loses and grins when he wins.
As hard as I fell for Lu in the Dallas game, the single best goaltending display I've ever seen live was in game five in Anaheim in 2007 when it looked like the only players on the ice who didn't want the series to end that night were Linden and Luongo. The only regulation goal came when the Ducks crashed the crease and brought a puck in with them and if Luongo hadn't been so distracted by a cheap hit on Jannik Hansen in double overtime that he raised a hand to signal a penalty, I will always believe that game wouldn't have ended until a puck made it into the Anaheim net, even if Lu had to score the winning goal himself.
In a seven game series, the best team almost always wins, and that's usually the team with the magic goalie. That's why I just went with players from Boston and Vancouver in my playoff pool this year. And that's why my money's still on Vancouver and Luuuuuuuuuuuuuuuuu.
Editor's note: Mark Leiren-Young has updated his original local hit "Hockey Nut in Canada." You can watch him perform the song here.