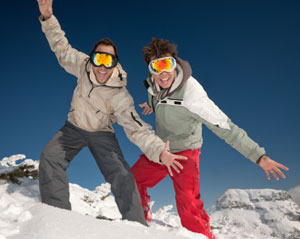 The Olympics are coming out of the closet.
These Games will have the first ever Pride House. Two of them, actually: one opened yesterday in Whistler in a cocktail lounge, and the other will open in the heart of Vancouver's West End on Thursday. And people are saying, in short, it will be the gayest Olympics ever.
"I would say it was very emotional at the beginning," said Charley Walters, of the opening speeches at the Whistler Pride House, where there were people from cultures where being gay is not only "unacceptable but criminal." He and his reporting partner Tyler Duckworth, from Olympics or Bust, shoot independent Olympic videos for outlets such as MTV. It's the fifth Games they've covered, and while Walters doesn't want to place too much importance on it, he said today he had a sense of history being made, "the birth of something that's bound to be an Olympic staple." Then the party started.
Why here? Why now? According to those involved, it just happens to be the right city at the right time, with a lucky coincidence to start it all off.
No gay business for you, Colorado!
First, the coincidence. In 1992, Brent Benaschak was heading to Vail's Gay Ski Week when Colorado passed a piece of homophobic legislation. He decided to found Whistler Gay Ski Week, rather than give a discriminatory state his money. Now one of the biggest in the world, it's an annual event.
But it's held every February, and no one involved wanted to cancel or relocate this year. So Dean Nelson, who now organizes it, started talking with VANOC and the municipality of Whistler to move the date (it's now in early March). Which got Nelson thinking about the Olympics, how the gay community isn't really represented in it, and how they could be.
Hosted at the luxurious Pan Pacific Hotel, there are sure to be almost non-stop parties at the Whistler Pride House, but Nelson is also trying to celebrate recent successes in wiping out homophobia, and raise awareness about what still needs to change in sport and elsewhere.
"Here, in Canada, it's pretty cushy. If you're gay, you're treated like a real human being," he says, while making last minute preparations for the launch. But being gay is illegal in 14 of the countries participating in the Games, and in two, homosexual acts are punishable by death.
That's why at Vancouver's Pride House, too, even though the focus will be on making people feel welcome and safe, creating a space to meet up with friends and even trade pins, they also want to encourage people share experiences about what conditions are like for gay people in other countries. They'll have maps that show where it's illegal to be gay, where it's punishable by death, where it's legal to be married, where it's not.
And they'll have refugee counsellors on hand. "If there's an athlete, a visitor, or whatever, and they say, 'You know what I can't go back,'" because of facing discrimination in their home country, "we'll have people here to walk them through the process," says Jennifer Breakspear, the executive director of Qmunity, the hosting organization of Vancouver's Pride House that calls itself "BC's queer resource centre." She says maybe no one will claim asylum at these Games, but in almost every Olympics held in a Western nation, at least one person has.
Breakspear says the issue of being gay has really come out of the closet recently. And in addition to her initial idea to create the kind of place she herself would want to visit if she was out of town, she knew the prominence of gay issues in the news made it an auspicious time to be hosting people from around the world. "Anywhere in Canada, same-sex couples can be legally married. We're not in such a tiny club as when this first happened in 2005, but our immediate neighbours to the south are still fighting for this in most of the states. And most of Europe is still working to get legal same sex marriage."
No level-playing field for closeted athletes
Nelson says the Olympics are also a great time to talk about homophobia because eliminating it will help sport itself. He points to Gareth Thomas, the rugby star, who just came out publicly. And who told London's Daily Mail newspapers that it was "like a ticking bomb" to live a secret life, and a huge relief to be out. And to Brendon Burke, Maple Leafs' GM Brian Burke's 21-year-old son, who came out publicly at a news conference with the support of his father, is credited with helping break down homophobic barriers in hockey, and who died tragically this weekend in a snow storm car crash.
Nelson says that being in the closet is like a kind of Achilles heel for athletes. When they're competing, even when they win, "they're scared to death because someone out there might recognize them... and out them." Taking that concern away will allow gay athletes to perform at a higher level, as well as be happier. And it will increase the talent pool: drawing in talented athletes who might otherwise turn away from more macho and homophobic sports.
He says it's possible to get the audiences needed to talk about these issues because it's not just in the world of sport that things are changing. "We have daytime soap operas on TV where there are guys totally making out. We have Glee, with a positive gay character who is the punter on the football team and OK with being in the glee club," says Nelson.
He said seeing positive characters like these is "inspiring," almost like the 1960s and 1970s when "you were starting to see more black characters on TV. Gay people have been an invisible minority, and are now becoming more visible." And the fact that audiences are now used to seeing gay characters on TV means they don't balk at seeing them in the Olympics.
Right time for flaming drag queens on skis
He and Breakspear both said that this is happening partly because of the time, but also because of the place. "Here in Whistler, our community is very very supportive," says Nelson. We celebrate diversity daily... You are given the space to be your complete authentic self. If you are a straight, 80-year-old hippy who wants to ski... or if you want to be a flaming drag queen and ski down the slopes, you can do it."
Breakspear says the same is true of Vancouver. "Vancouver is known for being a pretty darn diverse city... We have one of the best Pride festivals in the world. And we have two of the most well-known and visible gay neighbourhoods: West End and Commercial Drive."
Some fairly high profile people agree. In addition to endorsements from gold-medal athletes like Mark Tewksbury, plus local mayors, Stephen Colbert will be taping his show at the Vancouver Pride House in a couple of weeks.
Back at the Whistler Pride House, Duckworth and Walters say in the future Pride House will almost certainly be at every Games, along with greater acceptance for gay athletes. Though they are self-described "Olympaholics," they insist, above the noise of the celebrations, that "London and Rio will be off the hook!"
"Not to sugar coat it: there are still issues here in Vancouver and Canada," said Breakspear. It's not all sugar plums and fairies being gay. But it's a pretty sweet place to be gay."
So it's a good time and place to "wave the flag," and say "Go, gay athletes, go!"