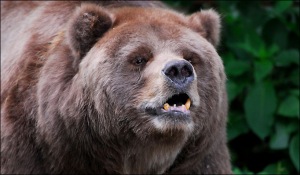 [Editor's note: This is excerpted from Never Shoot a Stampede Queen: A Rookie Reporter in the Cariboo by Mark Leiren-Young, which won the 2009 Stephen Leacock Medal for Humour.]
I still don't know what prompted him to call me -- or maybe the better question is "who?" -- but Mitch Kiley wanted me to meet him.
Mitch Kiley is the type of character Paul St. Pierre wrote about -- an old-time Cariboo charmer. There were roads named after his family. So when he called and said he wanted me to drop by his jewelry shop so he could show me his new bear trap, I was thrilled. It was an "in" with the community and a terrific excuse to leave the office.
I walked down Oliver and asked the clerk where I could find Kiley. She pointed to the back room. He didn't bellow a "Howdy," but he was the type of guy who could have. He looked to be a robust 50 -- although he was probably at least ten years older than that. After a hearty handshake, I asked where his bear trap was. He gave me a proud smile and pointed to the table in the middle of the room. All I saw was a large metal ring with an arrow-shaped prong. If I'd had to guess, I would have figured it was the sign for a giant airport's men's room.
"Where is it?" I asked again.
He pointed to the men's room sign again. "There she is."
"That's the bear trap?"
"Yup."
I knew he was a local pioneer -- probably even an advertiser -- so I had to be polite. "You gotta be kidding."
And with a wounded tone that made me ashamed of my rudeness, he answered, "Nope. That's my bear trap."
I took my clipboard out of my camera bag. "So how does it work?" It didn't look like a bear trap to me, but the only live bears I'd ever seen were in cages, so what did I know. This guy had probably seen bears frolicking in the woods, eating honey and stealing picnic baskets with Boo Boo.
"It's a very tricky bear trap," explained Mitch. "What you need is a handful of fresh berries, the hoop, an axe and a lot of courage."
As he talked, I scrawled everything onto the yellow paper in my clipboard. "The hunter goes into the woods and stalks the bear. Once he gets close enough, the hunter starts tossing the berries over the bear's head. Preferably strawberries," he said and then paused to make sure I was getting this down. "When the bear bends down to pick up the berries, the hunter races towards it and sticks the arrow up the bear's rectum."
I looked up from my notes -- eyes wide. Up the bear's what? I was too stunned to laugh. Almost too stunned to talk.
"His ass," said Mitch, like I was too thick to understand the word "rectum."
"And then?" I asked.
"And then," says Mitch, as dryly as if he were reading the instruction manual for his new Winchester, "you flip the ring over the nearest tree stump and he's trapped. You do it fast though, 'cause by this time the bear's pretty damn angry."
"I can imagine," I said, trying to do just that. My brain was still trying to process . . . You stick the prong where? And that's when I started to laugh.
Mitch stood there, arms folded, looking very serious indeed.
He didn't seem crazy, so he had to be kidding, right? I stopped laughing and decided to play along. "Wouldn't this be an awfully dangerous way to trap a bear?"
"Very dangerous," said Mitch.
"So who else uses this trap besides you?"
He listed off the names of four other pillars of the community who had roads named after them.
"Really?" I was getting nervous. Maybe people here were crazy enough to stick a prong up a bear's butt.
"That's right," said Mitch. "It may be dangerous, but there's no real sport in hunting bears with a gun. It's the same as shooting hogs in a barrel. But you get a grizzly with one of these, and it's probably the greatest accomplishment a hunter can achieve."
"I guess it is," I said soberly. I stared down at my notepad. Maybe if I kept looking at my notes, I wouldn't laugh. Then I asked his advice for hunters who'd like to try his trap themselves.
"Don't panic." His expression was still dead serious.
Then it hit me. "But, um, what if there's no stump?"
"If there's no stump, that's where you need the axe, 'cause you better make one pretty darn fast." He told me the trap had existed for generations, but his version was unique because it had a bigger prong. "So you can hunt grizzlies."
When I asked what kind of hunters would most likely use this method, Mitch summed it up in one word: "Drunk."
Okay, I could play too. "So have you patented it?" I asked.
"Not yet," he said. "Haven't got around to it."
"Have you caught a bear with it yet?"
"Haven't actually used it myself. But I seen some fellows that have. Even attended a few of their funerals. They just didn't cut those stumps quick enough."
I was sure Mitch was kidding. Okay, I was pretty sure. But with my reputation I wasn't taking any chances. I walked back to the office, trying to figure out how or whether to write this up.
"That's Mitch Kiley," said Abby, our senior reporter. "Why would he make up a story? It must be true."
Kate, the photographer and my best friend in the Cariboo, told me I had to write the story, because Mitch was a major advertiser. "Even if he is making it up, what's going to happen to you if you accuse him of making it up?"
Just as I was bracing to write about Kiley's bold new invention, our publisher, Stan, came upstairs. Abby told Stan about my scoop. He kept a straight face for a few seconds before he started to howl. "Oh God," said Stan between streams of laughter. "The old hoop trap? You didn't fall for it, did you?"
Abby and Kate grinned at me like, just maybe, they were in on it too. And I sat there turning the colour of a strawberry and looking, well, em-bear-assed.
"So what are you going to do with the story?" Kate asked. "After all, the trap doesn't work."
"Sure it does," I said. And I wrote a story explaining seriously and in precise detail everything Mitch Kiley had told me about his wonderful invention. I even phoned the environmental protection officer for a quote and got him to confirm that the arrow-hoop trap is not a safe, government-approved method for hunting bears.
"But," my story concluded, "it's extremely effective at catching gullible tourists."