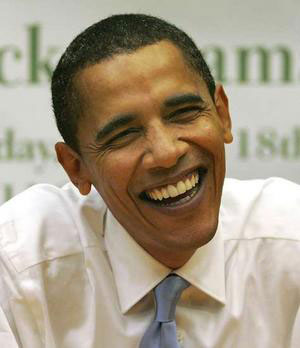 "Job losses are expected to continue at least into the middle of next year, likely driving the unemployment rate above 10 per cent from 9.8 per cent last month. It could take three or four more years for it to fall to normal levels." -- the New York Times, Oct. 12, 2009
From: Rahm Emanuel, Chief of Staff, Executive Office of the President
To: White House staff
In keeping with the President's goal of slowing the rise in unemployment, I would like to announce the creation of several new positions in this administration, to be filled immediately.
Obama Likeness Cataloger
The President's enormous popularity has generated a nation-wide market of Barack Obama memorabilia -- the vast majority of it unlicensed -- and White House Counsel has advised us to be aware of how the President's image is being used. This Likeness Cataloger will be responsible for inventorying the items in question, including t-shirts, hats, jackets, jewelry, calendars, dishware, key chains, snow globes, soft drinks, condoms, strains of marijuana, hats for pets, pornographic devices, and chia and chia-related paraphernalia. This position will require some travel.
Brow Furrower
It has come to our attention that the President is physically incapable of looking angry or upset, and this has affected his credibility whenever he claims to be angry or upset. This job will involve standing behind the President during press conferences and tugging on his neck skin to simulate a furrowed brow, as cued by the press secretary. Applicants will need to demonstrate upper body strength, silky hands, and good circulation.
Assistant Brow Furrower
See above.
Liaison to Dennis Haysbert
The White House media office has exceeded its capacity to redirect messages for Dennis Haysbert, the actor who portrayed the U.S. President in the television series 24. The new liaison will assume these duties, including but not limited to: forwarding autograph requests, returning spec scripts for The Unit, and correcting assumptions that Haysbert and President Obama are the same person.
Blue-Collar Data Translator
The current economic crisis involves numbers so high that they are often difficult for the average citizen to grasp. This position will help Americans better understand these figures by representing them in familiar terms, such as football fields, stacks of hamburgers, and things that can be laid end-to-end. For instance, instead of saying the government is investing $7.7 trillion to prop up the struggling financial sector, we might refer to it as a stack of pennies that would stretch to the moon, or an amount that would buy enough hamburgers to cover ten thousand football fields laid end to end.
Portmanteau Smuggler
The purpose of this assignment is to generate and leak catchy puns and portmanteaus to the media to manipulate public opinion. Previous examples include "Obamania," in reference to the President's spirited election base, and "Obamanomics," which has been used to describe this administration's economic policies. New terms might include: "George Bushwhacked," to deflect blame for the current economic crisis; "Don't throw Obama from the Train," should the situation generate public disorder; and in the event nuclear talks fail and the Russians create their own Star Wars Missile Defense System, "the Empire Strikes Barack."
American Dream Resuscitator
This position has been cancelled.