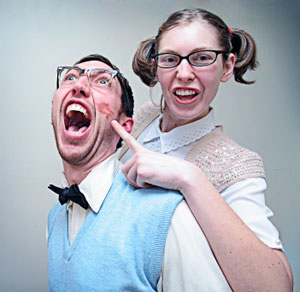 Researchers at the University of Amsterdam have delivered a study that suggests pornography might be the saviour of the math-challenged everywhere.
Now, that's not exactly what it says. Legitimate researchers are woefully inadequate when it comes to writing headlines.
What they do say is that contemplating love sparks creativity, while contemplating lust improves analytical thinking.
"Love and lust lead to different ways of perceiving the world," wrote psychologist Jens Forster, who led the study, Why Love Has Wings and Sex has Not: How Reminders of Love and Sex Influence Creative and Analytic Thinking. It's reported in the August Personality and Social Psychology Bulletin.
They did the study with 60 students who were asked to meditate on their loved ones, or on some hottie they'd like to boink, or imagine taking a walk alone. Once their grey cells were warmed up via the visualizations they were invited to solve problems. Some required logic, others required creativity. The result was that the lovey-dovey thinkers scored best on problems requiring creativity while the lust-inspired aced the logic questions. That third group of solo strollers fell between the two.
The Dutch researchers have a theory about why love and lust exercise different parts of the brain. Creativity requires imagination and the ability to project into the future -- to anticipate something that doesn't exist yet. When we experience love, we start imagining our future with the Significant Other, which in turn, heats up the grey cells connected with creativity. Considering ourselves as oldsters rocking side-by-side with our beloved on the porch, they suggest, invigorates our creative muscles. (And our species' tendency to be self-deluding, but that's another column.)
Lust, by contrast, is about achieving an immediate goal. Obtaining sex requires focus on... um, how to phrase this... short-term problem solving? It exercises the brain cells associated with analysis because getting laid by a relative stranger requires strategic thinking such as calculating odds and anticipating and overcoming resistance. (Well, that and four martinis...)
Applying the research
Scientists never anticipate the uses to which their research might be put, but let's just say this one looks like a porn producer's wet dream. Encouraging lustful thoughts improves logical problem solving you say? Hello: there's a market!
Wouldn't that improve math scores for millions? I can imagine this being used as a technique for boosting high school calculus scores, not to mention class enrollment. And does it mean science and philosophy professors could subscribe to the online porn offerings and call it a work expense?
Presumably it works the other way 'round too -- analytical thinking leads to lust. Which probably explains why those nerd-boy movies are always so groin-centric – that part of their brains is just over-heated, so to speak.
And talk about a bang-up screening tool for choosing a dance partner.
I'm guessing painters, for example, and other artists who work from a "vision" would be predisposed to romantic notions like marriage, which requires lots of imagination to overcome the facts. Just consider Picasso's eight wives-and-companions. (No one said the creatively-inclined were good at marriage, just that the romantic love-related bits of their brains are well-developed.) But if you're looking for something more immediately satisfying, astrophysicists and those of that ilk are probably just the ticket. A daily dose of analytical reasoning predisposes them to deal with the facts and focus intently on specific challenges.
In considering the options, you can do a rough sorting -- biologist, yes; actor, no -- but generally, you need much more that just a job title to determine who's who.
Business opportunities
Which gives me an entrepreneurial idea. I plan to launch an online dating site tentatively called In Praise of Geeks. Using science in service of canoodling is hardly new -- match.com and chemistry.com already get advice from high-profile anthropologist Helen Fisher. Her books The Anatomy of Love and Why We Love, look at primates and traditional societies for clues to the mating game. They're very entertaining, not least because she has persuasive theories about the natural feminine predisposition to promiscuity.
I have a market niche in mind: given the lust-and-logic connection, I want to feature the rational thinkers. Instead of posting just their photos, we begin with their IQ and aptitude tests and include a detailed list of hobbies. And no New Age Wingnuts need apply -- for obvious reasons, those delusional magical thinkers are always a disappointment.
I knew I was on the right track after one of the most charming men I know (despite his tendency to work in the arts) began enthusing about his computer and web access gadgets. Then he mentioned he was "tingling from the afterglow" following installation of the new Mac operating system Snow Leopard.
"You're a geek?" I gasped. Officially he's an artist, and while I had noticed an unseemly interest in science documentaries, he's kept the serious nerdiness under wraps.
He made some shame-faced apologies until I enlightened him about the European study.
"If you can find a guy who can be creative, and flip your switches with full 64-bit addressing and endless RAM access, you've got it made," he replied, with a glint in his eye.
I have no idea what he said, but I bet it was hot -- and I have the research to prove it.
© Shannon Rupp. For permission to reprint this article please contact the author: shannon(at)shannonrupp.com.