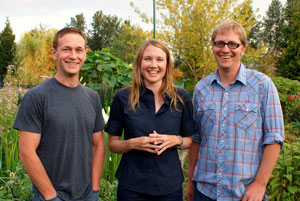 Today The Tyee launches a new series called Eat Your History, guest edited by J.B. MacKinnon, co-creator of the 100-Mile Diet, and written by Jeff Nield and Joanne Will. What's it about? Food. Place. History. A stimulated mind and happy taste buds. Sample the first serving, Nield's investigation into the pleasures and past of BC's only native oyster. We talked to James (as we call MacKinnon around here) and Jeff and Joanne about their project and here are the highlights.
Describe the idea behind Eat Your History. What gave you the idea?
James: "Eat Your History will highlight foods that tell a story about the place we live in. The first article is a great example. Jeff takes a look at the Olympia oyster, which was once the only native species of oyster on the coast. The fact that most of us have never heard of the Olympia oyster, let alone eaten one, tells a story about how dramatically our coastline has changed since the arrival of European settlers. The way we eat shapes everything around us -- we do ourselves a major disservice when we ignore that history.
"The idea came to me, subconsciously at least, while Alisa [Smith] and I were writing The 100-Mile Diet. I was reading about the incredible camas flower-bulb harvest that used to take place around what is now Victoria. Right up into the 20th century, the Salish were tending camas fields and harvesting as many as 10,000 bulbs per family -- that's a lot of food. So why had I never tasted a camas bulb? How did I end up eating potatoes and pasta and rice but never the great local sources of carbohydrates? The answer lies in our food history."
How does knowing the history of a food make eating more pleasurable?
James: "It's a hard thing to pin down. As research for this project, I recently helped eat five dozen Olympia oysters. They were delicious, but it was more than that. Knowing their history made me feel more like a part of the place I live in.
"A sense of place is a satisfying thing, and when we lose that it can have serious, real-life consequences. Vancouver is famous as a city where you almost never meet a native-born Vancouverite. That gives us a lot of freshness and dynamism, but also a lot of disconnection. When Alisa and I were on the 100-Mile Diet, the Fraser River salmon fishery was almost entirely shut down -- and no one here seemed to care. One of the world's great salmon rivers was out of salmon, and the people who lived on its banks hardly noticed because there was still wild salmon in the fish shop. Of course, that salmon was coming from farther and farther away -- from the Queen Charlottes and Alaska and beyond."
You've travelled a lot spreading the word of the 100-Mile Diet. What's your sense of people's understanding of the history behind their foods? Why do you think that is?
James: "Everywhere Alisa and I go, we find people badly disconnected from the landscapes that sustain them. The problem is in the way that most of us get our food. Supermarket food has no real connection to anything at all -- it might as well come from Mars. In the supermarket the only story you're told about your food is the one the marketing departments want to tell. Usually, that story hinges on images that we trust, like the old gable-roofed barn or the cowboy rounding up his cows. They're soothing images, but most of us know they're not real.
"Even farmers' markets often offer the same kinds of foods from place to place. To me, local eating should go deeper than that -- it should help to create local culture. Can we honestly say there are regional cuisines in British Columbia? I don't think so. We have great chefs making great dishes with local ingredients, but a cuisine isn't a cuisine until its being created and handed down by people at home in their kitchens. I'd love to see the day when traveling even 100 miles in this province would mean a significant shift in what people are eating. I'd like to see South Coast and North Coast and Okanagan and Kootenay cuisines."
When people learn the history of a food, what is their reaction? Can you give an example?
James: "The power of the story behind our food was revealed to me by the spot prawn. Steve Johansen, the fisherman who is already a local legend, introduced Alisa and me to the spot prawn during our year on the 100-Mile Diet. At that point, Steve was like other prawn fishermen -- he was sending more than 90 per cent of his prawns to Asia. It was insane! Here was this prawn that could be caught within sight of the Burrard Street Bridge, and Alisa and I had never even heard of it. When we ate prawns, we ate tiger prawns -- from Asia.
"Steve and chef Rob Clark and a few others were telling that story, and Alisa and I helped spread the word. Now, three years later, Steve is selling all of his prawns locally. All of them. I was down at the docks two weeks ago and watched him sell his catch in less than half an hour. As a community, we've changed the story of the spot prawn -- we've changed history."
Jeff, you've been associated with 100-Mile Diet projects for a while now. How did that happen, and why?
Jeff: "I had recently returned back to work with FarmFolkCityFolk, after a five-year hiatus, just as the 100-Mile Diet series was making a splash on The Tyee. I found out that James and Alisa were working on the book and offered to help with anything they may need to get the book done. James responded with a thanks, but no thanks, while suggesting that I come along to meet with the 100-Mile Diet Society, which was just forming at that time.
"I love the simplicity of the 100-Mile Diet idea. It's easy to explain to someone very quickly, and then if one chooses to follow a 100-Mile Diet, or a similar local foods diet, all the complexities and absurdities of the global food system reveal themselves."
What about you, Joanne? Where does your interest in local foods come from?
Joanne: "I was raised on local foods. One of my first memories is sitting on my grandmother's kitchen counter in Saskatchewan, watching her make chokecherry and crabapple jelly. Another is sitting in the box of a 1962 Chevy grain-truck, chewing on wheat harvested less than an hour earlier. If you chew wheat long enough, it turns into gum. As soon as I could, I was emulating my stepdad by farming in our backyard garden. When I moved to Vancouver Island as a teenager, I couldn't believe the abundance of local foods -- fresh fish at the dock, blueberries from the field, sea asparagus, lavender for culinary use, and farmstands everywhere."
What foods have you researched, and what is it like to sleuth the histories of these foods?
Jeff: "For this project specifically, I've researched Olympia oysters and I'm starting on Marquis wheat. What I love about researching the story of any food is that once you begin you quickly find a zealous individual or group that has dedicated a great deal of time and effort to preserving, reintroducing, or simply spreading the word about their favorite food. With Olympia oysters I found myself following a path already cut by author Rowan Jacobsen, whose book The Living Shore is due out in the fall. The book explores how B.C.'s last pristine Oly beds are helping with reintroduction efforts in Puget Sound and beyond. I hadn't understood the importance of an oyster bed, but in our environment they're on par with coral reefs. I'd also never eaten an oyster at all before researching this story, so it's an opportunity to introduce new foods into my diet."
Joanne: "I've researched the Ruckle bean. It's been fantastic. What struck me are the strange coincidences -- who would have thought there were only a few degrees of separation between this tiny white bean and the Riel Rebellions?"
How has it changed your thinking about food? About culture? About history?
Joanne: "The Ruckle bean, to me, gives the Jack and the Beanstalk story a modern context. We're not going to be able to use feedlot cattle as a source of protein forever. That kind of mono-agriculture is killing our planet, so like Jack, we have to trade our cow in for some beans, and reap the abundance at the top of the bean stalk. I believe the beans Jack originally planted were probably Ruckle beans."
Is B.C.'s history of food particularly interesting? Why or why not?
Jeff: "Of course B.C.'s history of food is interesting. Food tells us so much about ourselves, and in B.C. we're blessed with diverse ecosystems that support a huge range of foods.
"For me, B.C.'s indigenous food history is especially compelling because of its subtle complexity. As an example, while researching Olympia oysters I stumbled across a theory that every single beach that is suitable for farming shellfish has been managed by the native population, probably for centuries. Along came European and Asian migration and industry and now Olys are all but wiped out. Olys are a perfect example of abundance, destruction, and now possible resurrection. The history of food is also the history of culture, environmental stewardship, and economics. Each single food item touches all of these."
Tradition can give meaning to our lives, but it can also be conservative and oppressive. Is this a risk in the search for a local food culture? Isn't one of the great things about British Columbia the fact that it is constantly changing?
James: "This struck me on a trip to England a few years ago. We'd spent a day hunting down local foods with a British friend, who was eating many of them for the first time in his life. Then we bumped into some skinheads handing out pamphlets for 'England for the English.' And my friend said, 'There's a bit of that in this local foods idea, isn't there?'
"It is a danger, though certainly no more so than the way globalization has been steamrolling unique and local cultures worldwide. It's a question of being honest about history -- which the British racists are not. Here in B.C., an honest food culture will be a blend of indigenous and newcomer cultures, limited only by what the local climate and landscape give us to work with. Local is not the same as traditional, though traditions can be local."
What do you hope for from the Eat Your History project?
James: "We hope it's a good read. More than anything, though, we're hoping people will nominate more foods for us to research and write about. A big weakness in the project right now is that Jeff, Joanne, and I all live on the coast, and most of the foods we'll write about come from the coast. We really need people across the province who can bring our attention to foods with deep roots in the places they live, or foods that are making history right now -- heritage crops and livestock breeds, important wild foods, old traditions or emerging ones.
"We don't know what happens after that. Maybe an online database. Maybe a big coffee-table book. Maybe we'll nominate some B.C. foods to the international Ark of Taste. All I know right now is that I'm personally having some good adventures eating some of the world's most unusual foods, right here where I've lived all my life."
Do you have a food you want the Eat Your History sleuths to research and write about for this series? Send an e-mail here.
This series is made possible by the support of Farm Folk/City Folk, a B.C. a non-profit society that works with farm & city to cultivate a local, sustainable food system.