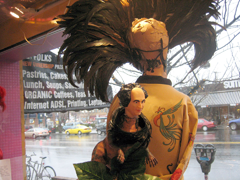 "Are you on a mission?" asks Burcu Ozdemir, the owner of Burcu's Angels on Main at Broadway. With cigarette in hand, Ozdemir has pieced second-hand outfits together for thousands of customers, while asking questions and offering advice. But Ozdemir, and all that she represents, will be gone from B.C. after the Olympics. She says the changes on Main Street and in Vancouver as a whole are "leaving a bad taste in the mouths" of her and other hardworking small business people, so she's going to be looking elsewhere for her "dreams" and her retirement.
Ozdemir, a middle-aged Turkish woman from Afghanistan, says that in a city where prosperity comes first, being kind to society's "invisible" people and "recycling" clothing are dying arts. She attracts a diverse clientele and is outspoken about politics. But her landlord's recent decision not to renew her lease when it is up in a few years means that her strange brew of business ethics and politics will soon disappear.
She and her store are artifacts from a bygone era. Felt hats hang on a leopard-print wall above a rack of peach, emerald and pink chiffon wedding and bridesmaid dresses. And there's her display window -- Ozdemir's personal, and often political, art installation, which currently features a painting of a peacock trapped in a large birdcage.
Angels vs. condos
Ozdemir works in an office in the back, where she also has a living room for customers wanting to hang out and play dress-up. She herself dresses up in outfits like today's: a striped peach sweater and a hot-pink skirt and leggings, accessorized by a necklace with a gun pendant à la James Bond.
Her appearance and her store are in sharp contrast to Main's gentrification. The April 2007 edition of Air Canada's en Route magazine touts Main as one of "Canada's Next Great Neighbourhoods." Across the street, Jonathan + Olivia is one of several newer boutiques selling $300 designer apparel. And in Kitsilano, cafés are abuzz with talk about Main being the new Kits.
Online, a new condo development's website (with 545 square foot units going for over $300,000) promotes the area as a globally recognized "destination for antique hunters and epicureans alike." But while stores like Jonathan + Olivia pop up on the website's interactive map that highlights the most desirable spots, Burcu's Angels does not.
Ozdemir is interested not in Main Street's current incarnation, but in its pioneers. Nodding toward a man outside her shop wearing a fuchsia turban, she says, "See -- a pioneer right there."
'Invisible people'
She calls him one of Main's "invisible people." During their conversation, the man complains about pain and a fever, and she tells him to go to the free clinic to get checked out. Then she sends him on his way with a loonie, a cigarette and socks.
Next door at Motherland, a store that sells Canadian-designed clothing, including t-shirts and kitsch inspired by Japanese pop culture and Soviet propaganda, the customer base is mostly "older" people (25 and up): artists, film people and graphic designers who "want to dress funky but still present a professional, edgy persona," says Motherland owner Lawrence Sampson.
By contrast, one of Ozdemir's main attractions is not hipster t-shirts but a "24-Hour Free Box" that sits outside the store, in which people leave donations of clothes and canned goods. Even if someone donates an article of clothing that might be worthy of sale, Ozdemir puts it in the free box. "If it's free, it's free, no exceptions," she says. "It's not charity, it's recycling."
Urban 'pioneers'
Ozdemir says she is reminded of her former poverty as she watches the "pioneers" and invisible people. Before becoming a business owner, she was a single mom of two children living in Strathcona. She subsisted on welfare and a part-time waitressing job. After a confrontation with her boss, who accused her of stealing shrimp, she lost her job.
The next day, she and her son went to Main Street. At 21st Avenue, destiny beckoned in a business called "Whatever," a cramped flea market with six vendors offering records, incense and knickknacks. A sign advertised space for rent at $350 a month, the exact amount she had in her pocket from tips the night before.
Ozdemir took the space, and in 1995 Burcu's Angels was born. She launched the shop by gathering second-hand clothes from her closet and her friends -- and by attracting people to her space with the free box.
Within a year, Ozdemir had moved into her current location. She sold her landlord on her concept of "colour, texture, fun, magic," confessing that while she didn't have the money he required, she had a winning idea.
Eclectic style
Eleven years later, Ozdemir stays true to the original concept: "I'm picking colour, texture, fun, magic -- a whole different process of research and discovery. See that piece right there, with the drawn-in tattoos? A really horrible piece, probably from the 1990s. But it's incredible and magical and has butterflies, peacocks and roses. It's got it all."
While Burcu's Angels is a safe haven for mainstream fashion misfits and exiles, running it has not always been safe. "From the very start, we've had everything from people wanting to set fire to the store, to breaking into the store, be it an ex-boyfriend or husband of some woman we tried to help, or a stalker I kicked out for being inappropriate in front of 13-year-olds. We've had hate mail for 9-11 windows that I've done. I define my own politics. I pay the rent, I decide what goes in the window."
Her views on sexuality and gender orientation also cause controversy. She calls the store "coming-out central" and says its queerness has been very positive and "almost mandatory." She says, "We assume the many meanings of this word ["queer"] to be attached to everyone who comes in, unless they tell us otherwise."
The store is one of the few to offer an open environment for cross-dressers.
"Anyone who feels uncomfortable with that type of thing or has politics involving racism or against women and children, it's publicly exposed and dismissed here. That's why we get the hate mail. We even had someone who was slashing the clothing."
"But all this has just added to what we have created here, and made it more magical. We remember all those folks fondly."
Head taxes
She also experiments with race and fashion. "Asian vintage is 25% off for anyone who is Asian. You should see the reactions of white folks who come in with their Asian friends. The young white girl wants to know, 'Why don't I get a discount?' Or my favourite: 'What about a kilt? I'm Scottish -- do I get 25% off?' Sure, if your family paid a head tax, no problem."
"This is not a consensus. This is me choosing."
Many retailers would not choose to engage in politics in their stores. Next door at Motherland, politics is offered as an aesthetic rather than as a means of discussion. When the store started, it sold local designs and its own label, with no wholesaler in the middle, "so it was kind of like the workers were doing their thing, and that's how we got the name," explains owner Samson. Despite its socialist origins and communist logo and mural, which are based on Soviet propaganda style art, Samson says neither he nor the store is political at all, "It just doesn't interest me."
At Burcu's Angels, a client comes in to trade a beige coat with white fur trim and an embroidered moose on the pocket. Examining it, Ozdemir says she knows exactly who its next owner should be. The customer models the coat. Ozdemir tells him the colour is wrong for him, that it's time for him to let it go. She gives him store credit for the trade. The customer is satisfied that the coat will go on to a new life -- and is happy that he can hunt for some other treasure in return.
This customer, and many like him, say they will miss Ozdemir's presence when she closes up shop and moves to Halifax in a couple years. She says, "I have been dreaming for years of opening a queer 'Pesky Peacocks Bed and Dinner Cabaret.' When people ask why Halifax, I answer, why not! I'm an immigrant after all, with no allegiance to any particular place."
Related Tyee stories: