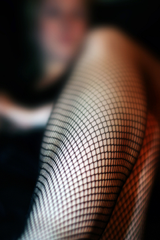 Coco and I peek through the yellowed blinds at the Rec Centre meeting room, assessing if we want to go in or not. It looks to be an amicable mix of community advocates, low-level politicians, and a few Downtown Eastside residents, all drinking coffee from Styrofoam cups and eating cheap pastries, so we push through the heavy glass door and find places at the round table.
As we sit, I see a woman who once strangled me because I wouldn't give her a cigarette. We have since made peace, or at least made peace the way that street prostitutes do -- we pretend it didn't happen. This was long ago, when I worked low track. I assume she doesn't recognize me since now I am twenty pounds heavier, my clothes aren't from a church donation box, and I don't keep my head perpetually bowed. When she greets me, I almost say, "Hey bitch, you strangle anyone lately?" but I stop myself, for it is my understanding that community advocates and low-level politicians are uncomfortable with this sort of banter.
The meeting is to discuss changing the criminal code regarding prostitution, and how to push for this issue in the upcoming election. I quickly learn that most people present, or those doing the talking, are pro-decriminalizing both prostitution and solicitation.
First things first
There was a time when I still believed that laws and policies actually promote social change and during that stage of optimism I too would have been for decriminalization. It's a bit unsettling to think that I've grown into an age of fence-sitting, but I really do doubt that a law, alone, will improve working conditions for sex workers. I believe that more social programs, public awareness and support for sex workers need to be in place first. I've come to this meeting with more question than opinions.
My head unconsciously begins to shake in disagreement as the advocates speak. I blurt out "well actually ... " a couple of times, trying to insert myself into the conversation when someone has a mouth full of croissant, only to be interrupted by the next person.
When I do get a turn, I explain that while some relatively affluent prostitutes could benefit from legally being able to solicit clients and work from their homes, most women will remain on the street or with their pimps because that is what they know. Changing the laws doesn't mean working girls will be able to change their lives accordingly.
Get out the vote
"Won't the right to solicit work both ways?" I continue, still shaking my head even though I now have everyone's attention. "Will clients suddenly be allowed to approach any woman they believe to be a prostitute and offer to buy sex from her? Vancouver's not likely to set up a red light district any time soon. So could this possibly turn into a legalized form of sexual harassment?"
"And I like our discrete, coded lingo like 'half-and-half' and 'all-inclusive.' That is our language." I stress the words "our language," hoping I'll gain credit if my position echoes cultural conservation. I receive only blank stares from around the table. "I wouldn't want some guy to ask how much to penetrate my ass," I offer -- perhaps too colourful of an illustration. One of the men, the representative of an NDP candidate, clears his throat a few times.
"And trafficking might rise," Coco says, tapping her acrylic nails on the tablet top. I notice everyone leans forward as she speaks. Coco is considered an "unheard voice": an Asian immigrant sex worker who is willing and able to articulate (in English) her experiences. "Vancouver is already one of the top cities for trafficked women in North America."
"Just because something's not criminal does not mean it will be equitable," I add. "It doesn't guarantee safety."
"Fuck the police," my old strangler friend shouts out. "They don't fucking protect us no matter what. If you want to do something, make the police protect us from getting raped and beaten."
These points receive nods and "hmms" from the advocates and politicians. I am certain we've been clear and convincing (and maybe a tad offensive). However, after a brief pause to reflect, the meeting loops back to the same agenda: how to make de-criminalization an electoral issue. By the end of the meeting the entire group, except for Coco and me, dub themselves the "Change the Code" committee.
Different feminisms
This is not the first time I've involved myself with politics, nor is it the first time my opinions have clashed with other politically-minded people. Calling myself a feminist has posed problems since I joined an anti-violence, feminist collective in 1994. As a member, I learned the power of identity -- the idea that even an uneducated woman, like myself, who hadn't read Mary Wollstonecraft or bell hooks could be an expert on feminism simply because of her identity as a woman. Phrases like "as a women of colour" or "as a lesbian mother" qualified every opinion.
While being valued "as a young, poor woman" seemed miraculous to me, the miracle was hampered by my awareness of how different I was from my sister collective members; I was the 'bad' sister. I wore a mini skirt and had scraped knees in a room full of sensible pants and make-up-free faces. The collective also taught me that sex workers, from prostitutes to phone-sex operators, are "servants of the patriarchy." I learned immediately that the phrase "as a sex worker" was not met with the same gravity as other women's qualifiers. Debate arose when I suggested we, as an anti-violence collective, stop vilifying sex workers and start offering them much-needed support. Some members listened, some agreed we should assist sex workers if they were trying to quit, and some acted as though I had spoiled their fortress of womanly empowerment. We took a vote: should we or should we not help sex workers out of violent situations. I remember crumpling into the purple bean bag chair in the meeting room as I watched the show of hands in favor of "no." I left the collective with the bitter realization that "prostitute-ism" or "whore-phobia" were not words in the feminist lexicon.
City geography
However, I've witnessed a great deal of change over the last decade. I've seen an alarming number of street prostitutes from the Downtown Eastside go missing; their photos currently haunt newspapers as the Pickton trial begins. The north end of Commercial Drive -- the very street where I worked for years -- was exposed by the media as Vancouver's kiddie stroll. Dozens of massage parlours with oriental-sounding names, like The Lotus and Shangri-La, have sprung up throughout the Lower Mainland. In response to this, it seems every community and feminist organization has slowly, yet steadily, added assistance to sex workers as part of their mandates.
I underwent my own evolution too: I left the streets and started working high-end fetish jobs and escorted for midway celebrities employed by our "Hollywood North." I stopped spending my money on cocaine and men who didn't love me and put myself through university instead. I grieved for the women I knew who had died or disappeared, and grieved for myself for having lived the life I did. But I never stopped wanting to help other pros. In fact, coming out the other side, mostly unscathed, I wanted to help more than ever.
Coco and I met at an HIV prevention project that hired us to do safer sex outreach to prostitutes. Like me, Coco had lasted a couple of rounds with feminist organizations and was not willing to go back for more. We both started volunteering at health-related organizations during the syphilis comeback and hepatitis surge in Vancouver. We bonded over this and because, unlike most of the long retired prostitutes-turned-advocates, Coco and I were still hustling a client here and there to pay the bills.
Infiltrators
Our job was to reach out to immigrant and Asian massage parlour workers -- a difficult demographic to connect with. At first, the parlour owners wouldn't let us through the door. Coco and I would stand outside parlour doorways joking, in our best spy voices, "We've got to infiltrate the building." Next we pretended to be applying for jobs; this got us as far as the softly-lit lobbies. Then, we were invited in because we came with big fruit baskets and sweets from a Chinese bakery. Finally, after months of this dance, we were welcomed in to hand out free condoms for the girls, teach safer sex, and set women up with doctors who wouldn't discriminate. I was doing something that had a direct impact, and it felt damn great to be doing it.
The project suffered from lack of funding, and within a year was scooped up by a UBC doctoral student who forged a quick partnership with the board of directors. We were told the project could continue for several more months if we helped the doctoral student collect data, including blood samples, for her thesis: basically a study of how HIV is spread within massage parlours. Accustomed to duking it out in the name of sex workers' rights, Coco and I threw some good punches about how this was stigmatizing and blaming the women, and how it would ruin the relationship we had with them, and that blood was a thing most Asian women, for cultural reasons, would not simply hand over. Never mind the fact that prostitutes are one of the most researched peoples in Canada, and as far as I can see, these studies aren't helping anything except the researchers' CVs. In the end, Coco and I walked out.
The kiddie stroll
Having already tried feminism and health services, I suggested we give legal issues a go. This is how Coco and I find ourselves rolling our eyes as the advocates and politicians draft a plan of action to Change the Code.
At the end of the meeting we slink away, angry. "How sad is it when the workers themselves don't even get a say in the laws and policies that affect them," I complain. This is when Coco tells me she hasn't made any money in two weeks. She is broke, not eating-at-a-soup-kitchen broke, but broke enough to be scared.
"None of my regulars are calling." Coco asks me to hit the kiddie stroll with her. "I just need a hundred bucks or so," she says.
I take her to my old corner beside the fish factory. We scan the beat-up trucks that circle the block to check us out before going home after their workday. "Factory workers are okay," I tell her. "But only on a Friday when they get paid."
Soon a police cruiser is circling us too. "We're just out looking for a girlfriend of ours. We haven't seen her for a couple of days," I say to the officer and he drives off without further questions.
When a good client does come around, I recite the numbers and letters of his license plate as Coco gets in his car. I sit on the stoop of the fish factory and wait for her to return as the setting sun lights up the shards of broken glass embedded in the pavement. I've stood watch, like this, many times for other girls; come running when I've heard a women scream; stuck around to listen to the story of why she was screaming. I realize this is the place where I have discovered a kind of ghetto feminism, a street social justice. No debates, no mandates, only survival.
[This story originally appeared in Fugue, an annual anthology of non-fiction produced by students in UBC's Creative Writing department]
Related Tyee stories: