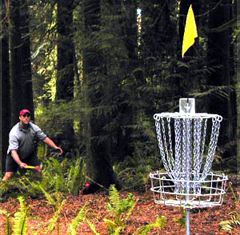 I am what you might call an avid disc golfer. I started playing the sport about ten years ago in my hometown of Grass Valley, California, an area known on the West Coast as a disc golf hotbed. Yes, there are such things as disc golf hotbeds: they are scattered all over the world in places like Ontario, Michigan and Switzerland, to name only a few.
By the way, even though George Costanza calls it "frolf" in an episode of Seinfeld, the game is not "Frisbee golf." Frisbees are the wide, floating discs trademarked by Wham-o.
Disc golf is not played with Frisbees -- golfers use approved discs that are smaller, harder and heavier than the Pluto Platters of old. The game is played much the same as traditional golf (or, as disc golfers call it, "ball golf") with tee-offs, pars, birdies and bogies. But that's about where the similarities end.
The basic gear
Instead of a bag of clubs and balls, disc golfers carry around a variety of relatively cheap plastic discs: drivers, mid-rangers and putters. There are no green fees or country clubs -- aside from an initial investment of $15-$20 for a disc, the game is virtually free to play. Courses are usually set up in city parks or some unused corner of a forest, taking up considerably less space and using infinitely fewer resources than the sprawling manicured lawns of ball golf.
Disc golf courses come in all shapes and sizes. Typically, a course consists of nine to 18 baskets -- the targets or "holes" -- which are metal contraptions, just over a metre tall, equipped with hanging chains. If you have taken a stroll through Quilchena Park in Kerrisdale or the southeast corner of Queen Elizabeth Park in the area known as Little Mountain, you have no doubt seen these baskets scattered about. (You may have even had to duck out of the way of a golfer's errant toss ... hopefully you were warned with a "Fore!") According to the Professional Disc Golf Association's online course directory, there are over 2,300 disc golf courses in the world, most of which are in the U.S. and Canada.
Grass Valley is considered a "hotbed" because it is home to some of the best courses in California. Nestled in the foothills of the Sierra Nevada Mountains, it is a beautiful area, dominated by towering Ponderosa pine trees and canopies of live oak -- a perfect landscape for disc golf. That is where I fell in love with the game. For me, watching a disc sail elegantly through groves of trees in the majesty of the forest is nothing short of Zen.
The bug
I have been infected with the disc golf bug for some time now, a condition that has carried me all over the world searching for new flavors of disc golf. Over the years, I have visited more than 60 different courses, in 4 countries and nine states. A well-designed course, I must say, is a work of inspired imagination. I do quite enjoy playing the game, and judging by my moderate success in tournament play, I guess I know how to throw a disc.
But what really drives me to search out so many different courses is the process of getting there. Disc golf courses are not always easy to find, usually located off an obscure surface street in some fly-by-night town. Once there, I am usually greeted by a nice sampling of native flora and fauna, and an interesting cross-section of the town's residents. But it's the landscape that gives a course its character: I feel like I've learned more about the places I've visited as a wannabe disc golf botanist than I would at most museums of natural history.
It was with this exploratory urge that I took a drive down the Trans-Canada Highway from Vancouver to Kamloops. Ask serious golfers in the Lower Mainland about the best disc golf in British Columbia and they will probably tell you it's in Kamloops -- it is B.C.'s disc golf hotbed.
I knew that Kamloops had a thriving disc golf community, and that several top-notch disc golfers hailed from there. The other thing I knew about Kamloops, of course, is that it is at the centre of the pine beetle's path of destruction. For a sport so dependent on native trees and natural life, I couldn't help but wonder what effect that natural disaster was having on the heart of B.C.'s disc golf scene.
Someone's been eating my golf course
By the time I got to Rose Hill Disc Golf Course -- one of three courses in Kamloops proper -- the pine beetle devastation was obvious. What was once a glorious forest thick with Ponderosa pines was now a graveyard of stumps and derelict trees, reddish brown and ridden with the deadly beetle. A yellow disc golf basket -- the target for the sixth hole, which at one time must have cowered in the shade of the pines surrounding it -- stood lonely and exposed in the middle of a field. The pungent smell of freshly cut pine lingered, thick in the air. Across the street, piles of jagged chunks of condemned trees were strewn about, marked with a simple cardboard sign, a veritable epitaph: "Pine Beetle Wood."
Just as I walked towards the first hole, a couple of guys were finishing up a round. I greeted them and asked how often they come out to Rose Hill.
"We used to come out a lot more before the pine beetle got to everything," said Tom Ruberg, a local sawmill engineer out for a round with his son Josh, a recent graduate of Simon Fraser University. Tom surveyed the scene with a sigh and a shake of his head. "It used to be really beautiful," he lamented. "The beetle just decimated it."
I wandered the course, taking in the catastrophe. Not every pine tree had been chopped or truncated, but most of them were infected and withering -- the death of a species.
Doomsday tour
On the eleventh hole I came across a city employee named Evan Calderoni, sneaking in a round between rainstorms. We started chatting and he told me about a tournament that would be taking place the next day up the highway in a little town called Pritchard. It was at a private course a local man had installed on his property. The tournament was part of a regional disc golf series, the Doomsday Discovery Tour. The name seemed appropriate enough. I decided to check it out.
I made arrangements the next morning to follow someone up to Randy Katuski's homemade disc golf course, some 700 metres up the mountain from Kamloops. Every bend in the dirt road revealed staggering views of the South Thompson River and the snowy caps of Sun Peaks Ski Resort. A little sign with a picture of a disc golfer marked Randy's driveway, the turnoff to the course.
There were only about 14 of us who turned out for this, the third of eight events in the Doomsday Tour. Usually these tournaments attract upwards of 25 of the competitive disc golfers in the vicinity of Kamloops and Vernon. But this weekend, many of the area's top golfers were in Portland, Oregon, playing at the Beaver State Fling, a PDGA-sponsored tournament, which probably drew close to 100 disc golfers from all over the West Coast. We all paid our $20 entry fees, got divided into groups and set off for two rounds of tournament-style disc golf on a course known as "Hidden Castle."
I happened to get grouped with Randy Katuski, the architect of this so-called Hidden Castle. Randy, 43, was sporting jeans and a white T-shirt with a tuft of salt-and-pepper hair sticking out below a black cap with the words "Turn to the Experts" emblazoned on the front. As he led our group around the course, pointing out pin placements using poplars and pine trees as landmarks, he offered stories about the history of his land.
Too young to devour
Randy had purchased the property after it was logged about 12 years ago. Six years later, he and his brother bought and planted more than 11,000 new trees around the 22-acre plot -- hundreds of Scotch pine, fir, spruce and cedar trees -- 10 different species in all. Not only had Randy designed the course's clever layout, he had personally planted most of the trees that made up this course nestled in the nooks and crannies of a young forest.
Conspicuously absent from this expanse of brilliant foliage was the dead-brown beetle victims I had become so accustomed to seeing. Randy explained that most of his pines were not mature enough to attract many beetles, though he has lost about 30 trees in total. He motioned towards his neighbor's property where, he said, the beetle had devoured almost all the pine trees. He admitted that he'll be virtually helpless to stop the beetle's wrath, when it does come. Even if a tree looks like it might be infected, he said, it's already too late.
"By the time you notice it, the tree's frickin' gone."
After about five hours of disc golf, the tournament was over. Randy beat me by two strokes to grab the first-place prize money. I was happy to concede the cash to the king of this Hidden Castle. It seemed fitting for him to win. I had gotten what I came for, anyway: a taste of Kamloops disc golf.
As I drove the long road back to Vancouver, I could only hope that the troubled woods of the Interior would survive long enough for me to visit again.
Related Tyee stories: