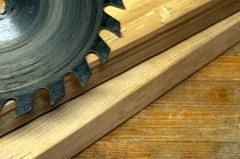 I love wood in all forms, standing as trees, carved as masks, strewn about as driftwood. I love the sharp pine smell, the musty red cedar, the soothing balm of cottonwood. I love the rings in the grain, the leaves littered on the forest floor and the web of bare branches in winter. Over the years, I've flung my arms around trees and attempted several times to protect them. After all, here I am on the mystical islands of Haida Gwaii, amidst the inspiration for Bill Reid's poetic ode to the cedar tree.
Then again, like young adults from a variety of species, I want to build a nest. But that seems to mean I must be complicit in the massacre of majestic trees. I'm wanting knotty, without feeling naughty. Especially after my partner and I, seduced by the silvery sheen on Skidegate Inlet and a stunning view of islands and mountains, bought an old house in Queen Charlotte.
It was a conventional stick-frame house, built with skookum hand-milled timbers by strong, healthy men. But it had some issues. We lamented the tiny windows built into little gables on the view side on the upper floor. Anyone over six feet tall had to lower his or her head to get up the staircase. And the pink vinyl floor covering had to go. So like the rest of the western world, we decided to renovate.
Renovating, as I soon found out, is a wicked waste of wood. I was wracked with guilt.
Adventures in destruction
Deconstructing something that has already been built, no matter how carefully one goes about it, leaves waste. And there was lots of it. Oh, sure, we saved things, salvaged what we could. Even from the rotting deck made of spruce boards, some so punky I could rip them off with my bare hands. With these, my job was to hammer the nails out of reusable boards and stack them in neat little piles for later.
So that afternoon, when I saw the hired hand ripping the bevelled cedar planks off the side of the house, I went ballistic.
The poor guy. "What the @*$#! are you doing?" I demanded, watching the boards being ripped off and thrown to the ground, cracked and jagged.
He was up on a ladder and had been all smiles until I opened my mouth.
He was acting under instructions. My partner had told him to tear the stuff off. The flashing underneath had been done wrong, so water had been pouring in behind the siding for years. Besides, we decided to raise the roof on the front side, so we could make better use of the upstairs and actually have a room with a view. That meant the siding had to come off around the godforsaken gables anyway.
"Remember the rotting hole under the window?" he said to help me feel better about such a barbaric waste of wood. "Once the siding is gone, there will be no more surprises." I conceded.
But the renovation was a never-ending series of surprises. The more we tore apart, the more we found wrong with the bones of our 35-year old house, and the more waste we created.
Some of the changes were purely aesthetic. We took down a wall between the small kitchen and the tiny living room to open up the space. Thus some of the pine panelling in the living room had to be peeled off. I know I said I love wood, but once we got going, all four walls were clean of the stuff and it was all garbage. We justified the waste with our desire for white walls. It helps counteract the grey days we so often live through on the islands.
And we tried not to squander. Our woodpile became the source of several backyard barbeques -- hot dogs may not be the lap of luxury, but no flame was wasted during the burning spree last fall. Several salvaged two-by-fours went back into the reconstructed rooms. And it's amazing who comes out of the woodwork to spirit away other discards, like the shadowy fellow who gathered up our old fiberglass pink. (Makes a great insulator for the skirt of a jerry-rigged trailer, I hear.)
Shake rats
It wasn't until we started putting the pieces back together again that guilt turned to pleasure.
First it was the soffits. I'd never heard of them before, but now I'm sure I've got the most beautiful in the entire northwest.
It only took several hundred board feet of cedar. That, and two weeks of labour. Planed and turned into tongue and groove with the help of a table saw and some old strips of plywood, the pieces fit nice and tight under the roofline. With perforated metal strips incorporated, we now have a properly vented roof.
Next came the shingles, cedar, of course. Forty-six (or was it more?) bundles for a double course.
I felt good about using these. They're sourced by people called shake block cutters (also known as shake rats) who are looked down on for being scroungers...as if recycling's a bad thing. These guys make use of trees felled in the 1960s and 70s that were left there to rot, and use only a chainsaw, a pick up and a couple of pals. (Okay, and a helicopter to fly out the bundles.) Brian Bussiere, who comes third in a generational line of "blockers," operates the shake and shingle mill in Masset. He says 90 per cent of the cedar blocks they buy come from salvaged wood. The shingles are mostly shipped south and then on to markets on the eastern seaboard where "shingle style" was all the rage in the late 1800s and is coming back into vogue. We plucked our few bundles out of the export stream and paid a guy for the seven straight days' labour of hammering them up.
Then there are posts and beams framing our grand entranceway. The carpenter insisted we couldn't have an ugly doorway. In the original house, there wasn't much of a vestibule, meaning we would have marched right into the living space with our muddy boots. He built us an addition, complete with overhanging roof (more pretty soffits), six-by-six posts and wide plank fascias, all from the venerable cedar.
We rebuilt the stairs, using pieces of bird's eye hemlock. Although hemlock is starting to sell again these days, there was a huge crash in the market in the mid-1990s, during which the light, pinkish wood became known as trash. Our window trim and baseboards are made from island pine, another local tree disparaged by the market.
Pulp friction
This is where the real guilt-free thing comes in. Most of this wood came from Abfam in Port Clements, the island's only mid-size mill. It's the kind of place where you can go and pick out your clear pieces and get a special order or two sawn up. Some of the cedar came from another local guy, Tim Fennell, who can remember which tree each one-by-six in his pile came from. These people have families here, and try (against tough odds sometimes) to make a living. As Jim Abbott, proprietor of Abfam once told me, he's in his line of work for the way of life, not just a job. "Somebody says I'm local, I've worked here for 20 years. And I always say, when your job goes away where do you go? A lot of them say Nanaimo or Chilliwack," he said.
The floor still makes me cringe. It's tight-grained old-growth Douglas fir, and it's beautiful. I called our friend in Quesnel, who milled it up, then personally drove 1,000 kilometres, then took the ferry across Hecate Strait, to deliver it to us in the spring. Knowing full well my desire to be green, our friend with the sawmill just laughed when I asked if it was ethical. It shouldn't have been cut, he said. "West Fraser couldn't put it through their mill, the logs were too big."
"But if I hadn't have turned it into flooring, it would have become pulp," he added to make me feel better. Then to further soften the blow, he described how the beautiful wood may even have been reduced to newsprint for a no-good newspaper.
Not to mention that he created several jobs too. "Too many," he muttered looking at his bottom line.
At least, he said, really trying to cheer me now, it's not laminate. Or some petroleum product. Nor did we buy from a large corporation.
Tree living
At one point in my life, I volunteered at Greenpeace. I took the Sierra Legal Forest Watch training. I am aware of the vulnerability of our ancient old-growth forests, but I live in a community where forestry is a fact of life and, especially if you count the wildlife studiers, the carpenters, the small plane operators and other peripherals, many people on the islands have made a good living thanks to the trees.
It's never simple. Now I worry that salvaging fallen cedar from the '70s is destroying wildlife habitat. But if I'm going to use it, I prefer to buy wood from the neighbours, people I see at community dances or in the grocery store, people who have invested theirs and their families' lives here.
Bamboo may regenerate in three years, as opposed to the 100 it takes a tree, but most of it has to come all the way from China, then up from Vancouver or wherever, before it could be incorporated into my home.
Don't get me wrong. I'm not trying to justify unsustainable cutting practices in the old-growth forests on these islands or anywhere. Islanders, Haida and non-Haida alike, are working to gain more control over the resource, and have gone to great lengths to have their voices heard about the problems.
Use it or lose it
One of the things everyone talks about is encouraging small value-added industry, to help make the local economy viable. I can access my construction needs on the island, that's a small part of the solution.
I don't have any claim to the forest resources of the islands like the Haida. But I like to think I have a healthy appreciation for the fine uses to which they put such beautiful wood. The new Haida Heritage Centre at Qay'llnagaay in Skidegate is a wood lover's delight. Three hundred local trees went into the construction of this stunning cultural gathering place, museum, tourist attraction and modern office space in one -- a facility expected to open in spring 2007.
For just one four-foot-wide, 40-foot long plank used for the fascia -- the horizontal surface immediately below the edge of the roof -- CEO Robert Dudoward said they needed to find a tree seven feet in diameter at the base. For a four-foot diameter column, a five-foot tree was found.
It took a while (no thanks to years of steady cutting by corporations like Weyerhaeuser), but they found the monumentals they needed and Dudoward is unapologetic. Had the trees not been used in the Haida Heritage Centre, these massive specimens would have been exported off the islands, he says.
"What better place to leave evidence that these trees existed," he says.
And that's what makes me feel best of all. We may have used our fair share of wood in the renovation, but once complete, the building that has taken over two years of our blood, sweat and splinters is going to be around a long time.
Related Tyee Stories: