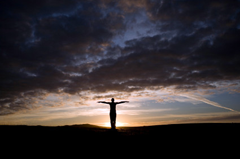 No scientific surveys have shown that the Christmas season drives people to atheism. But, since rabid seasonal consuming and the January urge to repent for holiday indulgences sends gym memberships skyrocketing, humanist groups are hoping more of us add, "become a card-carrying atheist" to our New Year's resolution list. They can't say we'll go to hell if we don't heed their advice, but atheists here and round the globe are certainly becoming more militant about recruiting non-believers.
"The goal is to target youth and pack B.C. Place with the converted within five years. We're sick of playing nice. Society is in jeopardy, so it's time we started playing hardball. I won't stop, even if someone drops a 500-ton bomb on my home."
This is the rally call of Robert Light. His name and his loaded message sounds like that of an evangelical Christian hawking an impending rapture, but Light is actually the new president of the B.C. Humanist Association, a Vancouver-based group of about 100 atheists, secularists, agnostics, "free-thinkers" and rationalists. Light and others want to make atheists more of a unified force to be reckoned with: a force with greater numbers, media profile and political clout. But as they contend with apathy and disinterest among non-religious types, they are also taking some heat from both established humanists and emerging youth-oriented groups.
Seeing the Light
"I seized power in a bloody coup," says Light about his new post. He's joking a bit since "non-violence typically erupts at humanist gatherings." But, Light is serious about making converts out of almost 700,000 Vancouverites who ticked off "no religious affiliation" in the 2001 census.
His in-your-face methods reflect a growing militancy among atheists. Richard Dawkins formed his own eponymous foundation in 2006, stating that "the enlightenment is under threat...We have to devote a significant proportion of our time and resources to defending it from deliberate attack from organized ignorance. We even have to go out on the attack ourselves, for the sake of reason and sanity."
Underlying the various emerging atheist hardball efforts is dissatisfaction with the traditional humanist movement. Light is one of a handful of Canadian atheists who believes the community is in desperate need of a facelift. They hope better marketing drums up active support from the quarter of Canadians who don't believe in God, and sway over five million others who ticked "no religious affiliation" in the 2001 census.
Spreading the atheist word
But their various proselytizing strategies and ideals are making waves in Canada's tiny humanist community. "There's always been a lot of in-fighting going on in the humanist movement, even about how we should label ourselves: secular, atheist, agnostic? Let's stop arguing," says Light, the 49-year old real estate photographer, environmentalist and writer who has created a five-year plan for an organization that had never before had a one-year plan. "We must stop being a philosopher's café. We need to become activists and get on the map."
That's not an easy thing to do from part-time digs at a senior's network in Oakridge Mall, so Light's first step was location-related. BCHA moved to a new office in the Society for Promotion of Environmental Consciousness building in Kits this past September to give the group an active street presence and cross-pollinate with environmentalists. There, they promote their traditional Monday night meditation classes, their Sunday public brunches and monthly seminars. Soon Light hopes to also launch "Secular Sobriety" and "Religious Recovery" support groups and he wants to "corrupt youth" by targeting university students to start humanist groups on campuses, including lapsed groups at UBC and SFU.
"The religious groups have their celestial fire insurance policies and the ear of the politicians and the media. They're not playing nice these days," says Light, citing the aggressive lobbying tactics of various hardline Christian groups (including Christian Coalition Canada and a half-dozen groups with "family" in their titles, like Focus on the Family Canada, that actively challenge gay marriage, abortion, secular education, evolutionary science and a wide range of social programs ranging from day cares to domestic abuse shelters.
They "plan to put Harper on his heels" by challenging church tax exemptions which allow religious groups to save 15 billion per year in taxes. They also hope to repeal the blasphemy law, and start a separation of church and state committee that could "grow to be a big monster," by raising a potential half million dollars to use in advocacy. "Religious groups with very different agendas have banded together, so why can't humanists?"
Congregation of the un-believers
Light says banding together is the next logical step for the many Canadians citing "no religious affiliation," a group whose numbers have been on the rise over the past two decades, from seven per cent in 1981 to 16 per cent in the 2001 census, making "non religious" the second largest belief community in Canada. One 2004 survey found that 22 per cent of Canadians don't believe in God (compared to only six per cent in the U.S.). In another 2002 survey, six per cent of Canadians responded "no" to the question, "Do you believe that God exists?" while another 13 per cent said, "I don't think so."
In Vancouver, you probably couldn't swing a rosary without hitting a non-believer: non-religious citizens outnumber Catholics and Protestants according to the 2001 census. Maybe that's why Vancouverites are less likely to find it necessary to seek out like-minded people by joining clubs than atheists and agnostics in more religious cities. For example, Vancouver-based Peretz Centre, an organization for secular Jews, has only about 100 active members, and Victoria-based Victoria Secular Humanist Association has about 80 members.
But, three of seven board members of umbrella humanist group The Humanist Association of Canada (HAC) are B.C.-based, and Vancouver played host city to the second national HAC conference this past June. The conference looked like it was shaping up to be quite the rabble-rouser, on the heels of a provocative rally call published in HAC's April newsletter.
'Under siege from within'
In the essay, Paul Zollman writes: "Canadian society is under siege from within (with some help from south of the border)." He argues that because "the enemy is at the gates, victims must unite for their mutual defence," and believes that "reasonable people" need to face the fact that they are "under siege by a horde of fanatics bent on our conversion."
In order to counter the well-organized and well-funded religious groups, Zollman urges humanists to "STOP BEING REASONABLE AND UNDERSTANDING," [caps his] and "develop an appropriate guerrilla campaign." He says humanists need to raise their media visibility, and challenge the credibility of religious leaders.
Zollman closed the essay by noting that, "I know this will alarm many in HAC...But we can't afford to debate our differences unless we want to continue" as nothing more than a "genteel debating club."
Off the godless radar
What happened when these atheists descended on Vancouver? It didn't make the news. A mere 78 delegates from across Canada showed up at the Coast Plaza Hotel to politely partake in panels on genocide, environmental issues and the fundamentalist threat, and of course take the obligatory harbour cruise.
That's one of the reasons some Canadian youth groups are skeptical that established atheist groups like BCHA can really motivate the masses, particularly young people. "Maybe they could have at least thrown bibles out of the windows," says Justin Trottier, head of the year-old youth-based Toronto Secular Alliance, acknowledging that card-carrying humanists tend to be older academics, doctors and scientists: not a demographic prone to swinging on chandeliers and donning lampshades as party hats or acting like hedonistic libertarians.
Of course, there are some compelling reasons for atheists to be conservative in public. In the U.S., according to a University of Minnesota survey, atheists are seen as immoral hedonists and ranked as the most distrusted minority, even though various studies have documented that "nations marked by high levels of organic atheism -- such as Sweden, the Netherlands and France -- are among the healthiest, wealthiest, most educated and most free societies on earth," according to Phil Zuckerman, an American sociologist. Regardless, in some American states, including Bush's home state of Texas, atheists are banned from holding public office and are more likely to lose their kids in child custody courts.
Canada: supremacy of God
Here in Canada, we tend to believe that secularism and religious freedoms are safely entrenched in our culture. But our constitution recognizes the supremacy of God, which is why Pat O'Brien, from the B.C. Humanist Association, says that unlike the U.S., we have no official separation of church and state. Canadian school boards have sporadically pushed creationism in public schools, including attempts by the Abbotsford School District in the early 90s. And atheists have also experienced bias in the family court system.
Humanist fundraising abilities have also been periodically stymied by Canada's tax-exemption system: the Humanist Association of Toronto only gained charitable status from the Federal government in 2004, after years of political lobbying. All of this means that many humanist and atheist groups tend to behave with the opposite of fire and brimstone. So, how do they inject some spice into the mix in order to recruit young members?
"We could be a little bit more sexy," acknowledges Trottier, who has been busy trying to recruit students at Ontario campuses full-time as the first paid Canadian staffer of the New-York based Center for Inquiry, a group that he says "has invested considerable funds of money on U.S. campuses." Canadian campus atheist groups will need their support, considering that Campus Crusade For Christ Canada has 27 active university clubs across Canada and received over $23 million in donations last year (see page four).
Humanist inertia
Trottier says there's been almost nothing happening in the humanist movement for the last decade, which means there's a great deal of inertia. He also says atheists tend to be "freethinkers with anarchist streaks" which means they aren't naturally geared to PR, marketing and branding. While they "get behind all sorts of causes" like environmentalism, peace marches and other social justice issues, they "don't wave an atheist flag while doing it." But he says they need to because the current political climate makes it urgent. "Harper's 'God Bless Canada' speech caused a bit of a backlash and we need to ride the momentum."
So far, so good. Since Trottier started campaigning, the number of campus humanist groups has shot up from one to at least a dozen this semester. The bulk of those are in Ontario, though he's now talking to students at UBC and SFU. "Hopefully, in five years, we'll have a thriving network of atheist groups all across Canada. If churches can exist on every corner, we should have a similar gathering place for freethinking humanists."
Light of BCHA and Nancy Swartz of the Victoria Secular Humanist Association (VSHA) share similar atheist visions. All acknowledge the importance of community-based resources and the basic human desire to band together, whether it's for big-picture cultural issues, job-related networking or rallying around a sick friend with casserole dishes. But some atheists are skeptical that these ideas don't go far enough in engaging the public consciousness.
Atheist infighting
Derek Madson, founder of the University of Victoria-based Carpe Diem Club thinks that the Canadian humanist movement has failed miserably. The philosophy and psychology student started Carpe Diem after attending the Victoria humanist group's meetings. "I was quite disgusted by everything about them. They were void of vision, and meetings were gripe sessions that accomplished nothing," says Madson, which he says is also the case with BCHA and particularly HAC. "They refused to listen to my ideas. They actually conspired to have me turfed from their board...we have radically different views on humanism."
Madson calls Carpe Diem "a philosophical world view that rejects all forms of the supernatural, embraces scientific epistemology and informs all aspects of moral life and social community. The goal is to live a good, healthy life. It's similar to the YMCA without the C for Christian." So, the 100-member group does outdoor activities, holds social events like Friday night ballroom dancing and hosts word game nights. Interestingly, it's the kind of good clean fun traditionally promoted by Christian religious groups with their Friday night mixers and summer camps, but according to Madson, without the "religious dogma." His club started in 2003, at about the same time as The Brights conceived their "naturalistic world view" partly as a distancing from what they perceived as negative atheist branding.
Carpe Diem is indeed making a radical departure from traditional humanism and what Madson sees as a "cobbling together of special interests. Carpe Diem is not trying to save the whales or ensure abortion rights." Considering that Dr. Henry Morgentaler was one of the early leaders in the Canadian humanist movement, inspiring pro-choice groups around the globe to push for legal abortions, Madson is doing a bit of biting the hand that has at least partially fed his own atheist activist principles.
Will this kind of youth rebellion further disenfranchise the humanist movement at a time when leaders like Light of BCHA are pleading for a unified front? Will the masses and the media start paying attention without a strong foundation of politically vigilant humanists doing exhausting bureaucratic lobbying and generating critical think pieces through magazines like Humanist Perspective? Or is this injection of youthful rebellion and energy just what the movement desperately needs? Ironically, the very existence of an off-shoot like Carpe Diem might illustrate that atheism is evolving, whether the elders like it or not.
Related stories: