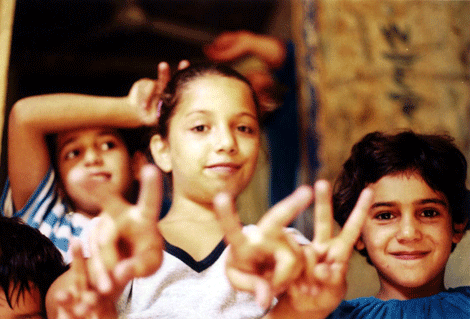 I have been to Lebanon just three times in my life, but I consider this beautiful, tragic country part of me and my family history. The first time I visited was in 1974, before the civil war, when my parents took me and my sister to visit our Iraqi relatives, who were summering in Beirut with my great-aunt, who lived near the Corniche. A photo album houses the happy photographs of that time -- my English mother wearing mini-skirts and my Iraqi father sporting a '70s moustache. Beside a photograph of us all together, my mother wrote: "We vowed at this moment to return to Beirut."
They never have.
When I returned in 1993 with one of my aunts, my great-aunt was still in Beirut, having lived through 20 years of war. She was in her 80s, still living alone, cooking and cleaning for herself. The civil war had ended three years earlier, but her apartment building in the hills above Beirut was still pockmarked with bullet holes. All the neighbours told stories of war: of seeing family members blown up, of having no contact with the outside world, of warlords smoking hashish in the hills. Yet the people were still full of warmth and hospitality. They invited us to their weddings and into their homes for tea. I toured the centre of Beirut then and it was a shock to me, a collapsed city centre, everything bombed out and destroyed, and poverty everywhere.
This was the opposite of the golden image that my parents still recalled when they talked of Beirut, a party city, the Riviera of the Middle East. My aunt guided me through the city of her memories, showing me the empty space where her father had taken her for ice cream as a girl and where my father had taken me as a girl. It seemed like the end of time to me, a Canadian who had never before seen a war zone.
One city, two realities
Then last year, 10 years later, I had the opportunity to visit Beirut again. My great-aunt is now in a nursing home run by nuns in the north of Beirut. The airport that had been a grim concrete cavern in 1993 had become a white sparklingly modern building. The city had recovered. Impossibly, the entire downtown had been rebuilt as if the war hadn't happened. The buildings that had been bombed beyond recognition had been recreated in the colonial style, reminiscent of Parisian streets.
The man with the vision to rebuild was former prime minister Rafik Hariri. My aunts and my parents, if they had been there to see it, would have had their memories jogged by this phoenix of a city. In this new downtown, books sold at HMV showed the before and after pictures of the neighbourhood. It was a modern miracle, and although some Lebanese didn't feel like it had much character, it was a shining new example of what investment, perseverance and vision could do for a war-torn country. It gave me hope.
I leafed through the photographs, recognized ruins I had seen in 1993, and then saw them newly built. It was almost eerie, the way they had erased 20 years of war and brought downtown Beirut back to what it had been. Yet much of the city still struggled, and I wondered if these images were a mirage. A week after I left, Harari was assassinated.
And it can't be forgotten that there are 400,000 Palestinian refugees living in Lebanon, about 10 per cent of the resident population. I had never met any Palestinian refugees in the Middle East, so I visited Palestinian refugee camps in the southern suburbs of Beirut with a volunteer from a women-run Lebanese NGO that helped Palestinian women weave tapestry to sell to tourists to create a small income. I finger the cushion that sits on my couch in Vancouver, thinking of the women I met there.
Naively I had imagined refugee camps were tent encampments in the countryside. I discovered that the Beirut camps are actually urban slums, with no running water, no electricity, no sewage or garbage facilities, and families living 10 people to a room. I could hardly bare to spend three hours touring the camps. I couldn't imagine being forced to live out my entire life there.
The women were mothers struggling to live in disused hospitals, thankful for the donation of a window or a door for their bare concrete rooms. I toured kindergartens that this incredible NGO had built for the children in the camps; spotlessly clean rooms were painted in pastel colours, and the yard was decorated with murals by the children. All this was a beacon of hope and a place of calm respite in an otherwise bleak and hopeless landscape.
'Is she deaf now?'
Let us not mince words. These Palestinians want and deserve a real home, yet they have nothing in Lebanon -- no citizenship, no work, no future. They live in the squalor of abject poverty with only their anger and desire for justice to keep them going. I was appalled at their living conditions when I visited them, but I was equally disturbed by the tensions there. These innocent victims of the machinations of world politics have nothing.
It is these people and their homes in the southern suburbs that the Israelis have been bombing in their attempts to disarm Hezbollah. When you can picture the faces of individual men, women and children, it is much harder to watch the nightly news of their bombing. Where will they live if not there? Where will they go?
The world has to take responsibility. We should give all the money we can provide to help them, because their lives have been destroyed. Why shouldn't we have the same compassion for their suffering as we did for the Asian tsunami victims?
I think of my great-aunt, very fragile at 95, living with other elderly women in the convent. When I met her, I was told that she might not remember me, as she had no short-term memory. But she did remember, and we spoke of my visit in 1993. I could see in her eyes that she was so happy to see me. When I think of Beirut, I think of her. All her family is gone and unable to visit because of the suffering of the Middle East. I wonder what she thinks when she hears the bombs falling. Does she think it is another war? Do the sounds rekindle memories 10, 20 years old? Do they remind her of her husband and the last decades of her life? Or is she deaf now, such that she can sleep peacefully through the night as if nothing is happening, as we do in the safety of North America?
Leilah Nadir is writing a book on Iraq, The Orange Trees of Baghdad: A Memoir of My Lost Family, slated to be published in the fall of 2007 by Key Porter. She has written commentaries for the CBC, The Globe and Mail and the Georgia Straight.
Related Tyee stories: Michael Byers looks at international lawbreaking in Harper's Unmeasured Support for Israel, Deborah Campbell surveys books that humanize the Middle East conflicts in What to Read While the Cradle Burns, Charles Demers asks why we need old, white guys to explain the Muslim mind in 'Terrorist' Offers Islam for Dummies, Karthika Sasikumar examines overreaction in India and Israel: Tale of Two Responses, Bill Metcalfe explores US draft dodger sentiments in As Iraq Burns, Haunted by Vietnam, and Angus Reid surveys world opinion in Who's for the War in Lebanon?