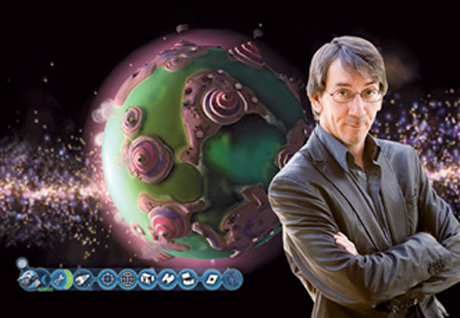 Will Wright describes a recent encounter with an airplane seatmate. After a brief conversation on the usual highbrow fare, novels and films, the woman asked Wright what he did for a living. When he replied that he's a video game designer, the woman was appalled. "She looked at me like I said I sold crack," he laughs. He's not a drug dealer, but Wright's Sims games have been addicting fans for nearly two decades.
This fall will see the launch of Wright's most ambitious project to date -- Spore, which has been heralded by the New Yorker as the most eagerly anticipated game of all time. In Spore, the player guides a single-celled organism out of the ocean and onto dry land as a macro-cellular organism, builds a tribe of similar critters, then a civilization, then a galactic empire. Every part of the process is directed by the players, from the evolutionary path taken by single-celled critters to the look and feel of the vehicles they build and their interaction with other planets. The best designs from players around the world will be shared online, appearing as rival critters and civilizations in other players' games.
You can watch Spore being demo-ed by Wright for The New Yorker here.
Wright acted as co-curator of KRAZY!: the Delirious World of Anime + Comics + Video Games + Art, a major exhibition at the Vancouver Art Gallery that runs until Sept. 7, 2008. Wright was tasked with representing the history of video games in 10 selected pieces, from the mushrooms and turtle shells of Super Mario World to the undead fiends and nail guns of Quake. The KRAZY! selections will inevitably lead to hours of debate between seasoned gamers on the merits of the titles included and, more importantly, those left out. He rues, for example, that he didn't have room for Flight Simulator and Tetris.
While they might not agree with all of his choices for the exhibition, few gamers could argue with Wright's choices in game development. In 1989, he released SimCity, an instant classic that created an entire new genre of video games -- the software toy. While most games put the player in the middle of a pre-made universe and offer a puzzle to solve or a princess to save, SimCity begins as a blank canvas. Players could build up a booming metropolis through clever urban design within the SimCity rules, but they could just as easily delight in their SimCitizens' discontent, removing green space, congesting traffic, or even unleashing natural disasters upon an unsuspecting city. There was no winning or losing, just imagination and play.
A bit over a decade and several revisions of SimCity later, Wright released The Sims, a software toy that gave the player a top-down view of a single household. Players could tell their own stories within The Sims, creating unique characters with their own appearance, interests and behaviors. Rather than being determined by a set narrative, the events and behaviors that shape the Sim's life emerge from the players' choices.
Wright came to Vancouver to deliver a Krazy! Talk lecture, as part of the exhibit he helped curate, and that afternoon sat down for a conversation with The Tyee. Here's what Wright had to say...
On why games aren't taken seriously as art:
"Games are a technological reinterpretation of what is more generally considered play. When people are playing Quake, it's really Cowboys and Indians. The same parents reacting against Quake would have been playing Cowboys and Indians in their back yard in the '50s. They just don't see it that way. They look at how much time and effort and mind-share kids invest in these games and the parents, not understanding it, feel threatened.
"The fact that a whole generation doesn't understand these things shows that it is a fairly radical shift in artistic expression. I don't really see it as a bad thing, because in some sense it indicates the power of the medium. The more powerful it is, the more threatening it feels to people and the more they tend to react against it. The cultural reaction is kind of an immune system response to games."
On what games do right:
"Games are inherently different because they're interactive. Because of that, I think they're in a fundamentally different space than most linear media -- books, comics, movies -- that mostly tell stories. In games, the most interesting stories are the stories the player acts out. The player is the director in the game.
"There has been a lot of tension in game design over whether the game designer should be imposing a story or should the game be looking at what the player is trying to do, and building a story around the player's actions. The trend has been toward respecting player story more and more.
"We've already seen games have a huge impact on other forms of media in things like visual style. Television is actually borrowing the visual language of video games when they put stuff up on the screen. They're also incorporating game-like and play-like experiences into their entire franchises. Just look at something like Lost, with all the clues they embed in each episode, and how they have websites where fans try to figure the puzzles out."
On user-created content:
"Games are one of the leading forms of media that are really pushing the envelope in user-created content. Any kid can grab a digital video camera, make a movie and put it on YouTube. They can burn CDs. They write a blog. All these forms of media we used to think of as one way are now becoming two-way. You're not just a consumer but also potentially a producer.
"I think games were one of the first to really lead that charge, and in the game industry we're trying to find new ways to empower players. We're almost surprising them with the fact that they can make stuff. It's not that hard, with the computer as an assistant. At some point, players stop playing the game as entertainment and start using it as a tool for self-expression."
On the Spore versus Second Life:
"As a designer, you have to balance ease of use and how expressive the user can be. There's a sweet spot depending on how many people you're trying to capture. I've seen people do amazing stuff with Second Life tools, but it's inaccessible to 90 per cent of the people. They'll never participate in Second Life. I want to bring the bar lower. For the average Sims player, what kind of tools can you give them that within five minutes they can be producing really high quality content? That's a lot of solid design work. You can get the computer to do a lot of assisting with that, pulling the player's creativity up higher, so it's more of an amplifier on the player's creativity."
On pitching Spore:
"I've been lucky to have enough successes that EA [Electronics Arts] doesn't seem to care how crazy my idea is. They'll back it. I told the executive team, "I have this great game, powers of 10, custom content, da-da-da-da...." They didn't know what I was talking about. They just said, 'Go do it.'
"The challenge has been with my team. With Spore, I brought 10 core team members in and told them what we were going to do. It went across genres, custom content for every level, procedural animation.... It sounded like too much. They looked at me like I was crazy. For me, that was the pitch job -- convincing the team that we could build it. They played devil's advocate, had a lot of great feedback, and we directed the design away from the areas they thought were land mines."
On the move away from photorealism in games:
"In games development, there was always this arms race for graphics. Every year, games would be a bit more realistic than last year, and games were always sold on their realism in their graphics. If you look at the history of art, the same thing happened. Primitive cave paintings gradually got better. By the Renaissance, people were doing almost photorealistic portraits. Art didn't just keep going along that path. It got more impressionistic, more imaginative, not just representing reality.
"Games are just now at the point where we can do photo realistic graphics on the screen with modern graphics cards. Now it's a matter of where we can go from there. It turns out that stylistic representations can actually be very interesting. That's one of the reasons I picked The Legend of Zelda: The Wind Waker as a part of the exhibition. Zelda took a major turn. The water and the puddles and splashes and smoke are styled after Japanese woodblock prints. There's all this delightful interpretation of animation within the game that gives it an inviting, playful feel, making it more toy-like. I think it's nice that games are beginning to move away from the notion that more realistic is always better."
On the next wave in games:
"We ended up being able to put these amazingly realistic-looking characters on the screen, but they behave like an end-table. They've fallen behind on intelligence; they get stuck in corners. Their behavior is lagging far behind their graphic representation, and the weakest link in the chain destroys believability. We had characters back in the early 1980s that were just a few pixels and had as much emotional expressiveness as one of the high resolution characters today. These little pixelated characters in the 1980s waved at me, and I could read emotion into them because the game was inviting my imagination in. The fact that I was imagining this made these characters seem more realistic than the graphically realistic characters where I can see them intersecting objects and having broken physics.
"I think we're starting to see more emphasis on things like artificial intelligence and kinesthetics in the characters, and that's going to be something we see more and more of in the future. There will be less of an emphasis on making things photorealistic, because when it's photorealistic, you expect it to behave as if it's physically real. If you make the visuals a little more abstract, then you can go for more abstract, playful physics."
On interacting with a virtual world:
"In a typical first-person shooter, one of the first things you get is a crowbar. The player goes around and hits everything with the crowbar to see what breaks open. If it doesn't break open, it's not a game-play element. They're pinging the world to see what's relevant. If the player can't break it with a crowbar, it's irrelevant to the game. This is the way players approach games. They want to find out which parts of the world are reactive, which parts are meaningful.
"In Zelda, you get a sword, and you start hacking and realize that you can cut the grass with the sword, and once you realize you can cut the grass, you start finding gems hidden in the grass. Players are using these tools to beat on the world until something breaks, and that tells them which part of the world actually works. The assumption should be that everything in the world works, but right now players are conditioned to the fact that only five per cent of the things in that world will react to them. The whole world needs to be reactive to some degree."
On games that get to know you:
"I'm really excited about the idea that games can learn about the player and will develop very deep insight into the player's psychology, their aesthetics, their skill levels, and customize the game to that player uniquely. Everybody's game evolves to fit them. Custom content and the harvesting of the creativity of players continues to be a fascination of mine. The Internet is one of the prime examples of what happens when you give people simple tools and allow them to do whatever they want with them. I think we've just scratched the surface."
Related Tyee stories: