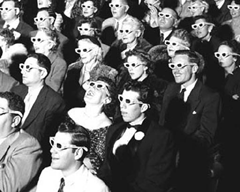 Now is the time to think about what we'd like to do differently in the coming year. What are your own cinematic resolutions? Here are a few of mine.
1. Go out to the theatre with other people
Going out to the cinema can make an enormous difference in your perception of a film. Of all the films I saw this previous year, there were many that needed to be seen in a theatre to achieve their fullest effect. The sheer power of films like Children of Men, The Host, Pan's Labyrinth, or even Deep Water, which played recently at the Vancity Theatre, came partly from scale -- the sense of total immersion only afforded by something that is large enough to swallow you whole. And in the case of The Host, I mean that quite literally.
Since I tend to watch a great many films entirely alone, the importance of seeing a film with other people has also been made explicitly clear. Many times I've watched a film by myself and had it echo in my head like a psychic thunderclap. In order to disassemble the thing, to decompress, one needs conversation with another human being, someone else to check your impressions with, to argue with, etc.
Even if you have to take your giggling brother, who has a bad habit of talking back to the movie screen, it's probably worth it. The solid, warm bulk of other people sitting around you isn't just comforting, the sense of shared experience can make the difference between whether a film kicks you in the gut and one that doesn't do anything at all. This year, I resolve to get kicked in the gut more often.
2. Take chances
If you've perused many top 10 film lists, a number of titles occur again and again. We've all heard about the Coen brothers return to form with No Country for Old Men, and how the heat-seeking missile that is Daniel Day-Lewis ignited Paul Thomas Anderson's There Will Be Blood.
But sometimes it's the films that you've heard nothing about that end up affecting you the most. Maybe it's because you come to them with no expectations or preconceptions. Many times in the past year I've been swept off my feet by a film that looked goofy, uninteresting or simply odd. One such a film was Stefan Schwietert's Echoes of Home, a documentary about the act and the practitioners of the art of yodeling. My first thought about the film was "Yodeling!? Oh, come on. . ." But, I was wrong. It's a lovely film, all the more so for its peculiar subject matter.
If you see them at your video story, pick up any of the following films: Na Kamalei: The Men of Hula, Fish Kill Flea, Distant Trumpet, Footy Legends and especially Tuya's Wedding. Director Wang Quan'an's film is the story of a young woman named Tuya, who lives on the Mongolian steppes with her two small children and her disabled husband. It's a brutally difficult existence, especially since the family has no well (her husband was crippled while trying to dig one). Every day Tuya herds sheep, fetches canteens of water, cooks, cleans, and falls asleep from sheer exhaustion. One day while buying hay in town, a truck tips over, trapping her neighbour Shenge underneath it. In the process of trying to pull him free, Tuya injures her spine and has to be hospitalized. During her recuperation she is forced to contemplate making a drastic change in her life. She needs an able-bodied man to help with the farm work, and the only way to get a man is to marry one.
Tuya's Wedding won the Golden Bear at the Berlin Film Festival last year. It's beautiful and ordinary, strange and utterly familiar all at the same time -- a wonderful film. It's always good to take a chance, even if you end up enduring some art house strangeness for two hours, because there is simply nothing better than surprise.
3. Go to more film festivals
Long before film festivals actually start, you can hear them coming. Like elephants in the forest, they're attended by clouds of buzz and hoopla. Sure, some of it is simply hype and hysteria, but there is still something about a festival that is exciting. Maybe it's something to do with being away from home, standing in line with people you've never met before, who are all happy to be there.
At the recent Whistler Film Festival, Atom Egoyan's talk was the highlight of the festival, but there were other happy accidents. Making decisions on the fly about what to go see, you sometimes wander into films that you know very little about. This can go good or bad, but in the case of Continental, a Film Without Guns, it was definitely the former. Young director Stéphane Lafleur is a natural-born storyteller and Continental is an odd, sweet, lovely film. I hope he makes more just like it.
The Vancouver, Victoria and Whistler film festivals are easy enough for me to get to, but this year I resolve to go after larger fish, and attend a big festival, somewhere far away.
4. Fight the power
Documentaries, as per usual, supplied more outrage than is possible to bear this year. But more surprisingly they also offered a glimpse of hope, which sometimes feels much more revolutionary than anything else. Director Oliver Hodge's film Garbage Warrior, which picked up the audience award at the VIFF this past fall, was one of the few films that made me feel not only a sense of hope, but more importantly, of resolve.
So too, Adam Curtis's The Trap, a doc made originally for the BBC that also played at the VIFF. If anyone can sort out the infinite variety of strange twists and turns from the previous century, it will be someone British. Richard Dawkins, Christopher Hitchens, George Monbiot are some of the most interesting writers and thinkers that currently hail from that tiny island, and Curtis is no exception. In a mild, gentle voice he sorts through a dizzying array of arcane facts and strange connections to reveal just how much the idea of democracy has been fundamentally altered over the past few decades.
Revolution popped up in the strangest of places this year. The Reel 2 Real Film Festival supplied one of the most curious experiences with their opening film We Shall Overcome.
Based on a true story, We Shall Overcome tells the tale of a young boy named Frits, who lives with his family on a small farm in rural Denmark. The year is 1969, and all over the world things are in the middle of enormous change. At home, life isn't easy for young Frits, his father has a history of mental instability, and his mother is trying to hold the family together. At school, things aren't much better. The word in the hallways is that the principal is a brute, who regularly beats and abuses the kids in his school.
When Frits is accidentally lured into the girls' changing room, the principal drags the boy away, literally tearing the ear off his head. Frits's parents are enraged, but everyone in the school and surrounding community are so terrified, no one will oppose the principal's reign of terror. Inspired by the example of Martin Luther King, Frits is the only one who makes a stand, and for his convictions, he has the shit beaten out of him.
I haven't actually seen many films, especially those made for children, where I thought I might have a heart attack in the theatre, but the scene where Frits, beaten and bloody, keeps getting up each time he is knocked down by a man twice his size, and calmly saying "Liar" is utterly stunning. It reminded me, almost painfully, of the terrible price of courage.
5. There's more to life than movies
If you'd like a list of even more 2007 films to watch for the first or for the hundredth time, I also recommend Zodiac, Ratatouille, Paprika, The Wind that Shakes the Barley, Anita O'Day: The Life of a Jazz Singer, Between Heaven and Earth, Vanaja, Khadak, How to Cook Your Life.
When I think back over the previous year of watching films, a few memories immediately jump out. But what I remember even more didn't actually take place in a theatre or sitting in front of a computer, it was outside in the big wide world, sitting on Kootenay Lake, watching the clouds roll by. About which my sister likes to say, "It's a like a really slow movie."
Related Tyee stories: